Possible grad schools
Master of Arts in Social Science (Applied Criminology) : CAL U - California University of Pennsylvania. Classes begin Fall Session Annually Cal U's Applied Criminology program is on the forefront of understanding advanced criminological theories, the behavioral manifestations of violent offenders, and applying this knowledge to create policies and practices to prevent and/or predict the occurrences of serious offenses, and for those major crimes that have been committed, to identify the offenders and develop relevant admissible evidence before any number of courts or tribunals.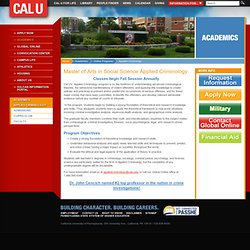 In the program, students begin by building a strong foundation of theoretical and research knowledge and skills. Anthropology Degree | Department of Anthropology. The Department of Anthropology at the University of Wyoming is known throughout the state of Wyoming and the region for its leadership in research and public education about our unique archaeological heritage.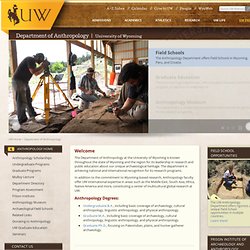 The department is achieving national and international recognition for its research programs. In addition to the commitment to Wyoming-based research, Anthropology faculty offer UW international expertise in areas such as the Middle East, South Asia, Africa, Native America and more, constituting a center of multicultural global research at UW.
Undergraduate B.A., including basic coverage of archaeology, cultural anthropology, linguistic anthropology, and physical anthropology.Graduate M.A., including basic coverage of archaeology, cultural anthropology, linguistic anthropology, and physical anthropology.Graduate Ph.D., focusing on Paleoindian, plains, and hunter-gatherer archaeology. Programs Overview | The Department of Anthropology, University of Illinois. Tiffiny A. Tung » Bioarch Graduate Students/Undergrads. I am always interested in accepting motivated and curious graduate students, so if you're interested in applying to the anthropology graduate program with a focus in bioarchaeology, please email me <t.tung at vanderbilt.edu>.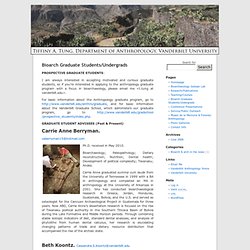 For basic information about the Anthropology graduate program, go to and for basic information about the Vanderbilt Graduate School, which administers our graduate program, go to GRADUATE STUDENT ADVISEES (Past & Present) Carrie Anne Berryman. caberryman15@hotmail.com Ph.D. received in May 2010. Forensic Anthropology MSc Postgraduate - Courses - University of Central Lancashire. Course Content Course Outline: Awards: MSc.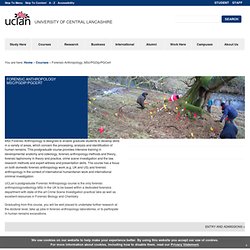 Postgraduate diploma and postgraduate certificate are exit awards for students failing to complete certain sections of the MSc programme. Forensic & National Security Sciences. Faculty — Department of Anthropology. About Us. Mary H.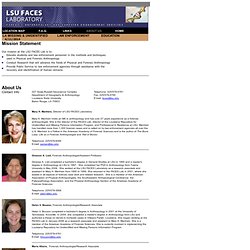 Manhein, Director of LSU FACES Laboratory Mary H. Applied Forensic Sciences Department | Mercyhurst Archaeological Institute. The Applied Forensic Sciences Department includes an Undergraduate Bachelor of Sciences Degree program as well as a Graduate Certificate program and Master of Science in Anthropology program which have a primary focus on Forensic and Biological Anthropology.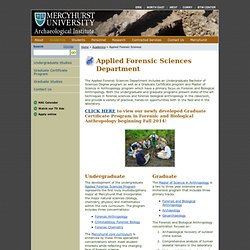 Both the undergraduate and graduate programs present state-of-the-art techniques in forensic sciences and forensic biological anthropology in the classroom, and provide a variety of practical, hands-on opportunities both in the field and in the laboratory. CLICK HERE to view our newly developed Graduate Certificate Program in Forensic and Biological Anthropology beginning Fall 2014! Graduate The Master of Science in Anthropology is a two to three year intensive and immersive program that includes three primary tracks:
Department of Anthropology at The University of New Mexico. UT Knoxville | College of Arts & Sciences - Department of Anthropology. Anthropology (literally the study of humans) is an extremely broad and diverse field concerned with every aspect of the human condition: past present and future.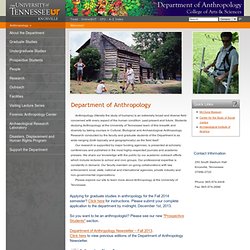 Students studying Anthropology at the University of Tennessee learn of this breadth and diversity by taking courses in Cultural, Biological and Archaeological Anthropology. Research conducted by the faculty and graduate students of the Department is as wide-ranging (both topically and geographically) as the field itself. Our research is supported by major funding agencies, is presented at scholarly conferences and published in the most highly-respected journals and academic presses.
Anthropology Department – Minnesota State University, Mankato. Go beyond the classroom.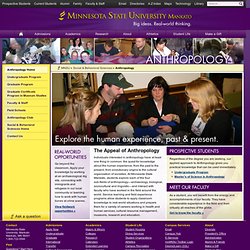 Apply your knowledge by working at an archaeological dig site, connecting with immigrants and refugees in our local community or learning how to work with human bones at crime scenes. View fieldwork opportunities » Individuals interested in anthropology have at least one thing in common: the quest for knowledge about the human experience, from the past to the present, from evolutionary origins to the cultural organization of societies. GRADUATE SCHOOL - Wichita State University. Webs.wichita.edu/depttools/depttoolsmemberfiles/gradschool/GBAnthropology.pdf. Department of Anthropology, Iowa State University, College of Liberal Arts and Sciences. Apply to Iowa State University.
Thank you for considering Iowa State University! Most of the information you need to complete the application for admission is in the documents linked on the left. (Note: There are different instructions for U.S. applicants than for international applicants, so make sure you select the correct link.) Included in this section is information on the application fee, multiple applications, academic records and test score requirements, and information on how to submit electronic letters of reference. Our various academic programs have different deadlines and supplemental information requirements, so please check out the important program specific instructions located in "Program Requirements.
" Since the Iowa State application process requires you to send some materials to the Admissions Office and some to the department to which you are applying, this section includes detailed mailing instructions as well.
---