Utilitaires
New York City Travel | New York City travel guide | New York Cit. New York City hardly requires any introduction– people in even the most remote corners of the world have heard of this dynamic city, and most travelers — regardless of their budget — aspire to pass through this so-called "crossroads of the world" at some point.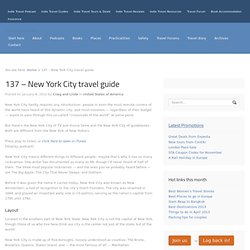 But there's the New York City of TV and movie fame and the New York City of guidebooks. Both are different from the New York of New Yorkers. Press play to listen, or click here to open in iTunes. [display_podcast] The Movie Cliches List, part 2. Movie elevators are always ready at that floor.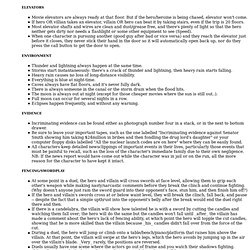 But if the hero/heroine is being chased, elevator won't come. If hero OR villian takes an elevator, villain OR hero can beat it by taking stairs, even if the trip is 20 floors. Most elevator shafts and wires are clean and dust/grease free, and there's plenty of light so that the hero neither gets dirty nor needs a flashlight or some other equipment to see (Speed). When one character is pursuing another (good guy after bad or vice versa) and they reach the elevator just before it closes, they never stick their hand in the door so it will automatically open back up, nor do they press the call button to get the door to open. Créez votre thème Wordpress de A à Z. Update du 5 Octobre 2011: les tutoriels ont beau datés de 2007, ils sont en cours de modifications pour y ajouter les fonctionnalités des dernières versions de WordPress.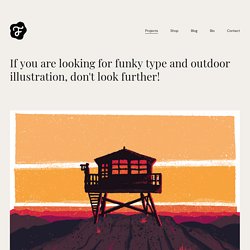 Quoi qu'il en soit, ils sont toujours d'actualité et ont été mis à jour plusieurs fois. Peut-être que vous aimeriez créer votre propre thème pour votre blog et que vous ne savez pas trop comment vous y prendre ? Et bien, dans les semaines qui vont venir, je vais vous expliquer les différentes étapes à suivre, pas à pas, pour que n'importe qui (ou presque) puisse créer son propre thème. On va voir l'installation de WordPress sur votre ordinateur, les différents types de fichiers, leurs hiérarchies, et les interactions entre eux. 60 Web Tools for Writers. Here is a collection of 60 web tools every writer should try.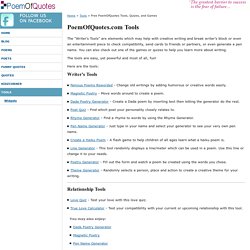 These tools will help you find an idea, take better notes, develop your characters, network with other authors, and promote your writings. Click on the name and find out for yourself how easy it is to improve your writing and yourself. Get an idea: wridea – Idea management and brainstorming utility. Imagination prompt – Get ideas to write about.
---