Cloud Telephony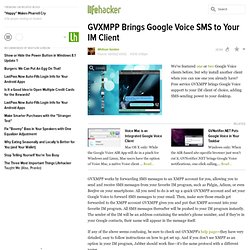 We've featured one or two Google Voice clients before, but why install another client when you can use one you already have? Free service GVXMPP brings Google Voice support to your IM client of choice, adding SMS-sending power to your desktop. GVXMPP works by forwarding SMS messages to an XMPP account for you, allowing you to send and receive SMS messages from your favorite IM program, such as Pidgin, Adium, or even Beejive on your smartphone. All you need to do is set up a quick GVXMPP account and set your Google Voice to forward SMS messages to your email. Then, make sure those emails get forwarded to the XMPP account GVXMPP gives you and put that XMPP account into your favorite IM program.
GVXMPP Brings Google Voice SMS to Your IM Client - Instant Messa
Flash Player 10.1 on Google's Nexus One
If you're an iPhone owner, you probably don't want to hear about Flash. Full support for Adobe's rich media technology has been promised for the iPhone many times, but it's still not there yet . However, if you plan on getting the Nexus One , you'll be one of the first users to be able try out Flash Player 10.1, currently in beta. Adobe posted a video showing the latest Flash Player happily working on the Nexus One. It can be used to browse Flash-heavy sites and play online games, but it can also be used to deliver Flash-based ads. From what we can see in the video, Nexus One's powerful Snapdragon CPU handles Flash with ease.
Google: Would You Like to Be Connected?
Voice (by Google) - Google Chrome extension gallery
Communication-mashups.com | Lift conference, what can the future
Creating Voice Powered Apps with Ribbit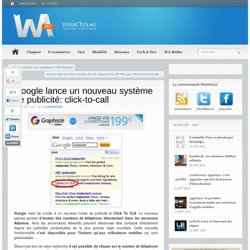 Google vient de s'initié à un nouveau mode de publicité le Click To Call . Le nouveau service permet d'insérer des numéros de téléphone directement dans les annonces Adsense . Ainsi les annonceurs Adwords peuvent désormais être contacté directement depuis les publicités contextuelles de la plus grande régie mondiale. Cette nouvelle fonctionnalité n'est disponible pour l'instant qu'aux utilisateurs mobiles qui sont géolocalisés. Désormais lors de votre recherche il est possible de cliquer sur le numéro de téléphone ce qui a pour effet d'appeler directement l'annonceur .
Google lance un nouveau système de publicité: click-to-call | We