Cloud Telephony
GVXMPP Brings Google Voice SMS to Your IM Client - Instant Messa
Flash Player 10.1 on Google's Nexus One
If you're an iPhone owner, you probably don't want to hear about Flash. Full support for Adobe's rich media technology has been promised for the iPhone many times, but it's still not there yet. However, if you plan on getting the Nexus One, you'll be one of the first users to be able try out Flash Player 10.1, currently in beta. Adobe posted a video showing the latest Flash Player happily working on the Nexus One. It can be used to browse Flash-heavy sites and play online games, but it can also be used to deliver Flash-based ads. From what we can see in the video, Nexus One's powerful Snapdragon CPU handles Flash with ease.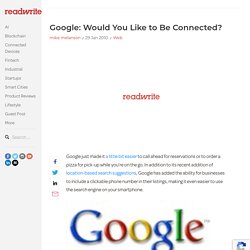 Google just made it a little bit easier to call ahead for reservations or to order a pizza for pick-up while you're on the go. In addition to its recent addition of location-based search suggestions, Google has added the ability for businesses to include a clickable phone number in their listings, making it even easier to use the search engine on your smartphone. Just as with location-based search suggestions, searching for businesses from your mobile phone will use your location to give you results closest to you.
Google: Would You Like to Be Connected?
Voice (by Google) - Google Chrome extension gallery
Make calls, send SMS, preview Inbox, and get notified of new messages. (US only) New: - Bug fixes. Extension Features: - Adds a button to the toolbar, which displays the number of unread messages in your Google Voice inbox. - Audible alert on new messages (can turn off in extension options). - Gives you quick access to your most recent messages with transcripts and voicemail playback. - Lets you initiate calls and send free text messages by just typing any number or contact name. - Makes phone numbers on websites callable via Google Voice by just clicking on them. - If a phone number doesn't turn into a link on any website (ex: Google Calendar), you can select the text with your mouse and the click to call popup will automatically display (note: might not work with all numbers).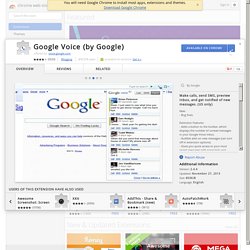 Creating Voice Powered Apps with Ribbit