School
Schhol
EDU. PowerPoint Lessons. The Educator's Best Friend. Teaching Resources. Mind Maps/Thinking Maps/Graphic Organizers. Teaching Resources. Top 25 Web 2.0 Sites for Education by David Kapuler.
Welcome to NBC Learn. Worksheets, Lesson Plans, Teacher Resources, and Rubrics from TeAch-nology.com. The Teacher Tap: Professional Development Resources for Educator. The Teacher Tap is a free, professional development resource that helps educators and librarians address common questions about the use of technology in teaching and learning by providing easy access to practical, online resources and activities.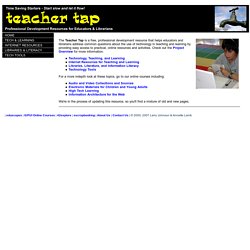 Check out the Project Overview for more information. For a more indepth look at these topics, go to our online courses including: We're in the process of updating this resource, so you'll find a mixture of old and new pages. Get Lessons | Microsoft Mouse Mischief. Download Microsoft Mouse Mischief (Thai) Before you may install or use the software you must accept the license terms below.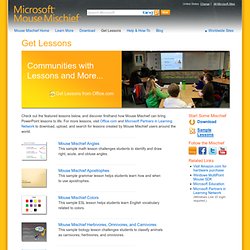 If you do not accept the license terms, installations will not proceed. You may print the license terms by clicking the "Print" button below. After installation, the license terms are available by returning to this page. Easy Web 2.0 Tools for Teachers. Save The Words. Instructional Technology Department - Resources. Interactive Whiteboard Resources: Maths, Key Stage 2 - Topmarks Education.
Caterpillar Ordering A flexible game for ordering numbers and for number sequences.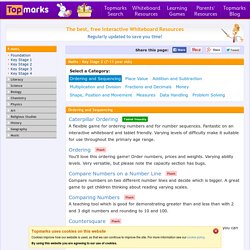 Fantastic on an interactive whiteboard and tablet friendly. Varying levels of difficulty make it suitable for use throughout the primary age range. Ordering. Interactive WhiteBoard Resources. Smartboard. How to Open Notebook Files Using the SMART Notebook Interactive. How to Open Notebook Files Not all districts are keen to have their teachers download and install programs on their school computers.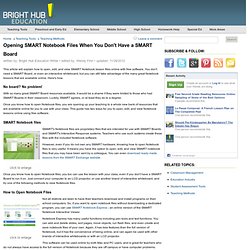 So, if you want to open notebook files without downloading a dedicated program, you can use SMART Notebook Express - an online version of the SMART Notebook Interactive Viewer. Notebook Express has many useful functions including pen tools and text functions. 12 Activities for Interactive Whiteboards You Can Use TODAY! Looking for new, fun, and educational ways to engage your students with interactive whiteboard activities?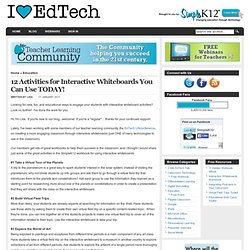 Look no further! I've done the work for you. The Top 5 Web 2.0 Sites for Teachers - Associated Content - asso. There has never been a better time for teachers to integrate technology into the classroom curriculum.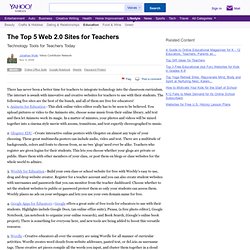 The internet is awash with innovative and creative websites for teachers to use with their students. The following five sites are the best of the bunch, and all of them are free for educators! 1. Animoto for Education - This slick online video editor really has to be seen to be believed. Top 25 Web 2.0 Sites for Education by David Kapuler. 100 Blogs That Will Make You Smarter.
By Alisa Miller Reading blogs doesn't have to be an exercise in futility or a waste of time.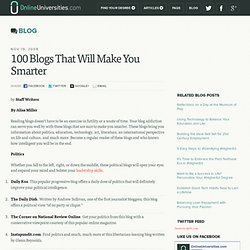 Your blog addiction can serve you well by with these blogs that are sure to make you smarter. These blogs bring you information about politics, education, technology, art, literature, an international perspective on life and culture, and much more. Educational Games.
---