Products
Speed Creating. HOME. Electrolux Molds Vacuum Cleaners Out of Ocean Trash | Co.Design. You've probably heard about those gigantic islands of plastic trash that accumulate out in the middle of the ocean.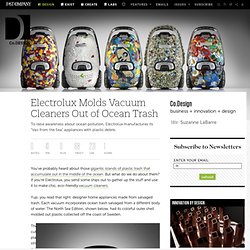 But what do we do about them? If you're Electrolux, you send some ships out to gather up the stuff and use it to make chic, eco-friendly vacuum cleaners. Yup, you read that right: designer home appliances made from salvaged trash. Each vacuum incorporates ocean trash salvaged from a different body of water. R.A. Mashelkar: Breakthrough designs for ultra-low-cost products. Moda - Escolha do dia: Roupas e tendências - Criativa - NOTÍCIAS - Empresa cria joias com pérolas magnéticas. - Atualizado em 04/11/2010 - 20:57 Juliana Costa Várias peças em um único produto Seguindo a linha dos acessórios feitos com ímãs, sobre os quais já falamos aqui, a empresa japonesa HK desenvolveu as Gravity Pearls, pérolas magnéticas que, quando unidas, formam vários tipos de joias.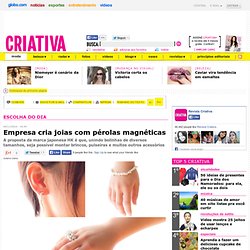 Sanit rios portugueses em hotel de luxo de Abu Dhabi. A portuguesa Cifial está a fornecer os sanitários de um hotel de cinco estrelas em Abu Dhabi, vencedor de um concurso internacional de design, no âmbito da sua aposta no sector hoteleiro nacional e internacional.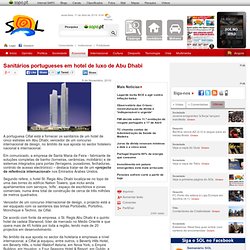 Em comunicado, a empresa de Santa Maria da Feira - fabricante de soluções completas de banho (torneiras, cerâmicas, mobiliário) e de sistemas integrados para portas (ferragens, puxadores, fechaduras, controlo de acesso electrónico) – destaca tratar-se de um «projecto de referência internacional» nos Emirados Árabes Unidos. Segundo refere, o hotel St. Regis Abu Dhabi localiza-se no topo de uma das torres do edifício Nation Towers, que inclui ainda apartamentos com serviços, 'lofts', espaço de escritórios e zonas comerciais, numa área total de construção de cerca de três milhões de metros quadrados. Vencedor de um concurso internacional de design, o projecto está a ser equipado com os sanitários das linhas Portobello, Portofino, Monchique e Techno, da Cifial.
Inside Jonathan Safran Foer's "Unmakeable" Interactive Book | Co.Design. Author Jonathan Safran Foer has been called many things: literary wunderkind, conscientious vegetarian, pretentious dweeb.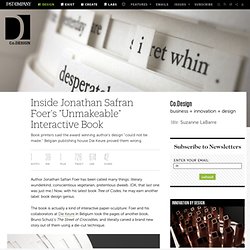 (OK, that last one was just me.) Now, with his latest book Tree of Codes, he may earn another label: book design genius. The book is actually a kind of interactive paper-sculpture: Foer and his collaborators at Die Keure in Belgium took the pages of another book, Bruno Schulz's The Street of Crocodiles, and literally carved a brand new story out of them using a die-cut technique.
According to Foer's publisher Visual Editions, Tree of Codes was turned down by every printer they approached: "Their stock line [was], 'the book you want to make just cannot be made'. " Relogik.com | Design & innovation | Showcase of Damjan Stanković. ThankThank Notes. Fluid Dress. Caderno Digital | IN4TOOLS. Hana « Nanika Limited. SenseWall: Universidade de Coimbra apresenta "parede" interactiva multi-toque - Tecnologia. Vogue russia december 2010 video ad martini. Connexion. Solar powered Cinema on ITV news. Objectos de design contemporâneo feitos com técnicas tradicionais. Beers Filling Up Through the Bottom!
---