Science/Medicine
New Zealand Formulary -- NZ Formulary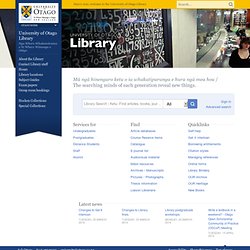 Accessibility Skip to Global Navigation Skip to Local Navigation Skip to Content Skip to Search Skip to Site Map Thinking of Otago? Close Apply now Current Students Blackboard Access online course material and forums.
University of Otago Library, New Zealand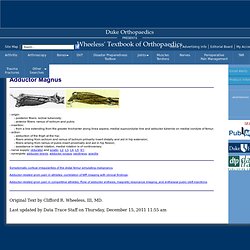 Adductor Magnus - Wheeless' Textbook of Orthopaedics
- origin: - posterior fibers: ischial tuberosity; - anterior fibers: ramus of ischium and pubis; - insertion: - from a line extending from the greater trochanter along linea aspera, medial suprcondylar line and adductor tubercle on medial condyle of femur; - action: - adduction of the thigh at the hip; - fibers arising from ischium and ramus of ischium primarily insert distally and aid in hip extension; - fibers arising from ramus of pubis insert proximally and aid in hip flexion; - assistance in lateral rotation, medial rotation is of controversey; - nerve supply: obturator and sciatic , L2 , L3 , L4 , L5 , S1 ; - synergists: adductor brevis , adductor longus , pectineus , gracilis Symptomatic cortical irregularities of the distal femur simulating malignancy . Adductor-related groin pain in athletes: correlation of MR imaging with clinical findings . Adductor-related groin pain in competitive athletes.
nimacardio.f1_default.jpg (JPEG Image, 1333 × 1859 pixels) - Scaled (35%)
MD Consult
Home - Medicine - LibGuides at University of Otago
Designed to be useful, relevant and user-friendly, this guide will provide you with access to a range of key library and information resources to aid your studies and research in Early Learning in Medicine and Advanced Learning in Medicine. It is always a work in progress, so we welcome suggestions for additional content. ELM andf ALM hard-copy resources can be found in the Medical Library located opposite Dunedin Hospital in the Sayers Building.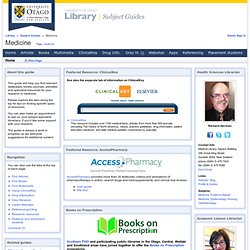 University of Otago Faculty of Medicine
Student BMJ: Succeeding in your OSCE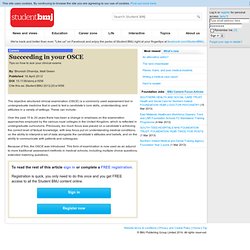 Tips on how to ace your clinical exams By : Bhoresh Dhamija, Matt Green Published : 16 April 2012 DOI : 10.1136/sbmj.e1656 Cite this as: Student BMJ 2012;20:e1656 The objective structured clinical examination (OSCE) is a commonly used assessment tool in undergraduate medicine that is used to test a candidate's core skills, understanding, and attitudes in a variety of settings. These can include: Over the past 15 to 20 years there has been a change in emphasis on the examination approaches employed by the various royal colleges in the United Kingdom, which is reflected in undergraduate curriculums. Previously, too much focus was placed on a candidate's achieving the correct level of factual knowledge, with less focus put on understanding medical conditions, on the ability to interpret a set of data alongside the candidate's attitudes and beliefs, and on the ability to communicate with patients and colleagues.
ThugMed — cuz you gotta be street
WTFisBehindYou comments on What was your biggest "holy shit why haven't I done this sooner" moment?