Tools and Utilities
[Tool] Minecraft Chunk Deleter
Minecraft Chunk Deleter Clean your world!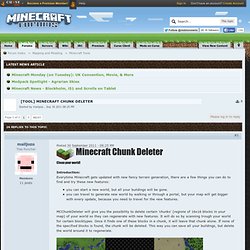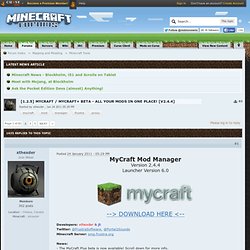 Version 2.4.4
8.1] MyCraft - All your mods in one place! [V2.3.8]
[PC, Mac, Linux] Minecraft Save Seed Reader 1.5 - Switch your worlds between Creative and Survival!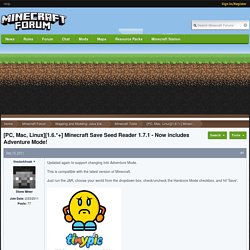 I don't mind at all; editing programs is one of the best ways to learn programming.
A tool for merging 1.7/1.8/1.9 maps
I've been working on a tool to merge Minecraft worlds for anyone that wants to keep their old b1.7 world and continue playing it in b1.8, 1.0, etc.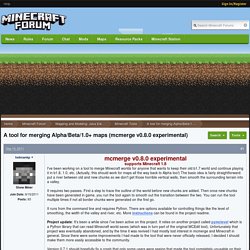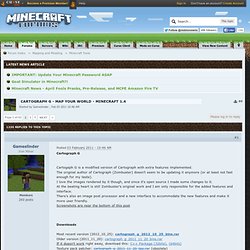 Cartograph G - map your Beta 1.8
Cartogaph G is a modified version of Cartograph with extra features implemented. The original author of Cartograph (Zombuster) doesn't seem to be updating it anymore (or at least not fast enough for my taste). I love the images rendered by it though, and since it's open source I made some changes to it.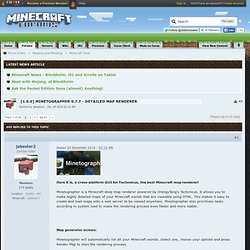 Here it is, a cross-platform GUI for Tectonicus, the best Minecraft map renderer!
Minetographer - Detailed Map Renderer [1.5 Support!] (0.7.3)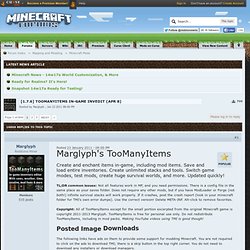 Marglyph's TooManyItems Create and enchant items in-game, including mod items.
8+] Game Mode Switcher
Game Mode Switcher by Quintinity So, today my little brother decided to make a puzzle map using the new Creative mode.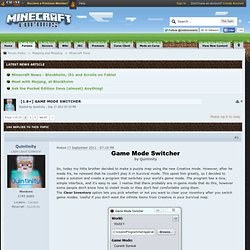 Gamemode Changer
INVedit
Teeth of Time - ruin your world version 1.0 ( Graywing full release) v1.0AWK Graywing USER PATCH - 7/11/2011 * Two crashbugs fixed by Minecraft forum user Awkisopen
Teeth Of Time - Ruin your world (v1.0 Graywing)