Minecraft
My very own gaming addiction. xp Aug 27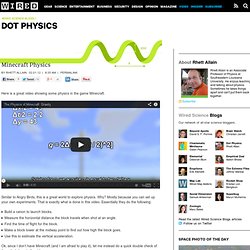 Here is a great video showing some physics in the game Minecraft. Similar to Angry Birds, this is a great world to explore physics. Why? Mostly because you can set up your own experiments. That is exactly what is done in this video. Essentially they do the following:
Minecraft Physics
0.0]Steve's Carts v0.10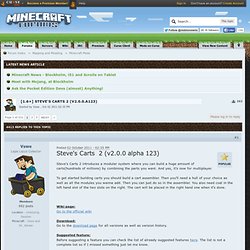 RunesGuy, on 02 October 2011 - 02:54 PM, said: A plugin is a sort of mod for SMP, but you can easily install and de-install. Most of the time it is a .jar file. Ok, thanks. Might be looking into it in the future. kevlarintervention, on 02 October 2011 - 03:01 PM, said:
[TP] Wormhole X-Treme - Multi-World capable Stargates v1.011 [1185
Double-Slit Experiment in Minecraft
Main Page - Steam-Craft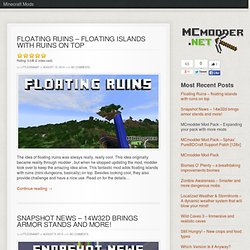 Minecraft Mods - Mods For Minecraft | mods-for-minecraft.com
Upcoming: Sonic Ether's Unbelievable Shaders v10.1 Rating: 5.0/5 (1 vote cast) The amazing Sonic Ether has been blowing our minds with his work on SEUS for a while now, but with update 10.1 comes a new level of awesome. We take a look at the prerelease version. While the version improves the existing effects and raises performance drastically, the flagship feature are probably the amazing new volumetric clouds.
MCModCenter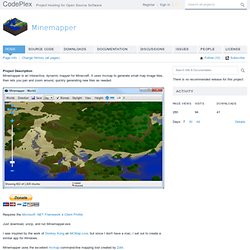 Minemapper - Home
Project DescriptionMinemapper is an interactive, dynamic mapper for Minecraft. It uses mcmap to generate small map image tiles, then lets you pan and zoom around, quickly generating new tiles as needed. Requires the Microsoft .NET Framework 4 Client Profile Just download, unzip, and run Minemapper.exe. I was inspired by the work of Donkey Kong on MCMap Live, but since I don't have a mac, I set out to create a similar app for Windows.
Minecraft World Map - Home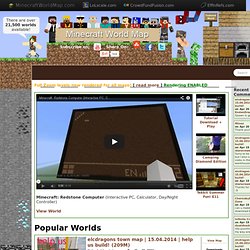 Made by: si_vle Last update 17th January 2014(New update almost every week!) If you want to support me click here. (shows you an ad.fly add and brings you back here) To stay up to date with the updates check out the Read More
Minecraft World Map - Pjpuas's Minecraft Worlds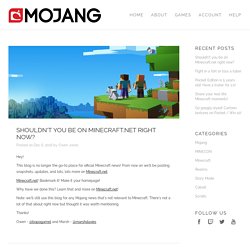 Update: The full release is now available, find out more here. That's a lot of numbers, but now Minecraft 1.7.6 pre-release 1 is available for testing! This is a huge step towards one of the most requested features since the birth of Minecraft; Name changes!
Let's say you're Neo, and you were the first person ever to come up with the idea of a novel. It's like a short story, but longer, and you're really proud of it. Trinity then runs up to you and takes one of the few printed copies of your novel. You don't want her to do that, as you paid good money to have it printed, and was hoping to get that money back, so you taze her. Trinity tried to commit theft. She sulks for a bit, then asks if she can borrow one copy to read it.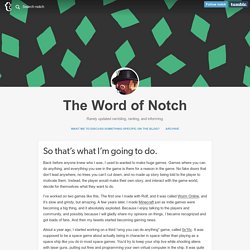 is a sandbox construction game, inspired by Infiniminer, Dwarf Fortress and Dungeon Keeper, created by Markus Persson, the founder of Mojang AB. The game involves players placing and breaking various types of blocks in a three-dimensional environment. The player takes on an avatar that can break and place blocks, forming fantastic structures, creations, and artwork, on multiplayer servers and singleplayer worlds across multiple game modes. Minecraft is available to all players for €19.95 (US$26.95, £17.95).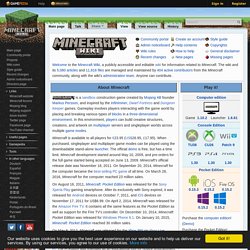 Minecraft is a game about breaking and placing blocks. At first, people built structures to protect against nocturnal monsters, but as the game grew players worked together to create wonderful, imaginative things. It can also be about adventuring with friends or watching the sun rise over a blocky ocean.
Powered Rail configurations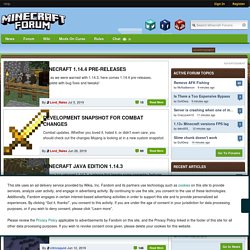 In light of his deep love for cats, Jeb has confirmed that this baby ocelot - named "Missus Puddums", cherished mascot at EA - will now be the Lead Developer for Minecraft, going forward, following the takeover of the game by gaming industry giant, Electronic Arts. This gives Puddums final say in all design decisions, though Jeb jokingly added that he made her "promise to not sell hats." Jeb cites personal time and additional projects as reasons for his stepping down, but makes it a point to say that he will still be involved in Minecraft development.
Currently Installed Mods (1.7_3)