International
Marijuana law introduced to Uruguay congress. By PABLO FERNANDEZ Associated Press Posted: 11/15/2012 01:11:18 PM PST0 Comments|Updated: about a year ago MONTEVIDEO, Uruguay—Uruguay came one step closer to turning the government into the country's leading pot dealer on Thursday, as lawmakers formally introduced to Congress a framework for regulating the production, sale and consumption of marijuana.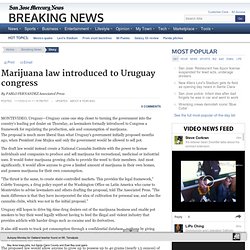 The proposal is much more liberal than what Uruguay's government initially proposed months ago, when President Jose Mujica said only the government would be allowed to sell pot. The draft law would instead create a National Cannabis Institute with the power to license individuals and companies to produce and sell marijuana for recreational, medicinal or industrial uses. Mankind and grass go back 5,000 years. Sri Lanka government wants to grow its own marijuana. By C.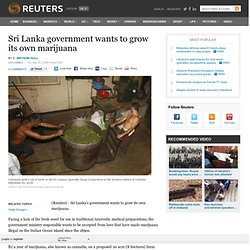 Bryson Hull COLOMBO Thu Sep 25, 2008 9:44am BST COLOMBO (Reuters) - Sri Lanka's government wants to grow its own marijuana. Facing a lack of the fresh weed for use in traditional Ayurvedic medical preparations, the government ministry responsible wants to be excepted from laws that have made marijuana illegal on the Indian Ocean island since the 1890s. Lombian president calls for legalisation of marijuana. A little legalizing, a big peace dividend. The American war on drugs – or, more generically, the global war on drugs – can't be won.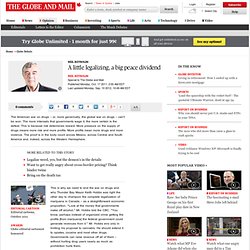 The more intensely that governments wage it, the more certain is the defeat. This is because risk determines reward. More pressure on the supply of drugs means more risk and more profits. More profits mean more drugs and more violence. The proof is in the body count across Mexico, across Central and South America and, indeed, across the Western Hemisphere.