Concrete Domes
Why a Concrete Dome?
Storm & Quake Safer Shelter for 100
How to Build a Concrete Geodesic Dome
Concrete Dome Kits Prices by Dome Inc. including Hurricane and Extreme Snow Load Certified geodesic domes.
New!! Hurricane & Extreme Snow Load Certified Domes Steel and wood frame geodesic dome kits Pre-cut roof panels Consulting Design and planning service Triangle glass skylights Dome School and dome school books Blueprints, cut sheets, detailed assembly manuals
ncrete Canvas - Civil applications of Concrete Canvas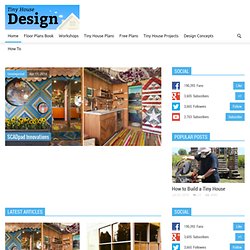 Julia was browsing tiny house videos on YouTube today and ran across this unusual shelter system. It's been developed for military and disaster relief missions as a quickly deployed hardened shelter. The dome is made out of a concrete impregnated fabric. To setup one of these structures you simple unroll it, inflate with a fan, and literally spray it with water. The structure will cure quickly and is usable in 12 to 24 hours depending on the size.
Concrete Canvas Shelters – Just Add Water
DOME SHELTER SYSTEM
Dome Homes made of concrete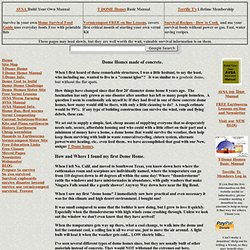 When I first heard of these remarkable structures, I was a little hesitant, to say the least, who including me, wanted to live in a "cement igloo"? It was similar to a geodesic dome, but without the flat spots. How things have changed since that first 20' diameter dome home 8 years ago.
Alternative Building Techniques & Construction
How to Build a Concrete Dome House: How to Build the Strongest, Most Fireproof, Tornado and Earthquake-resistant Concrete Dome House (9780741402240): Jan Hornas
THIS FERROCONCRETE DOME COST ONLY $400!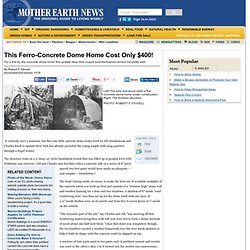 By Robert F. Stovell November/December 1978 It certainly ain't a mansion, but this cute little concrete dome — built by Jill Abrahamson and Charles Buell In upstate New York — has already provided the young couple with snug quarters through a frigid winter. The structure rests on a 3'-deep 14"-wide foundation trench that was filled up to ground level with fieldstone and concrete.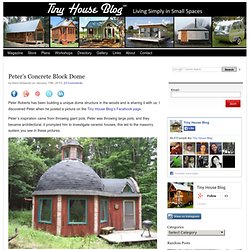 Peter's Concrete Block Dome
Peter Roberts has been building a unique dome structure in the woods and is sharing it with us. I discovered Peter when he posted a picture on the Tiny House Blog's Facebook page .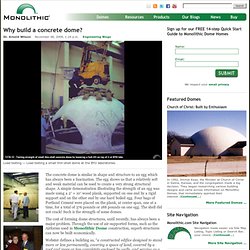 The concrete dome is similar in shape and structure to an egg which has always been a fascination. The egg shows us that a relatively soft and weak material can be used to create a very strong structural shape. A simple demonstration illustrating the strength of an egg was made using a 2′ × 10′ wood plank, supported on one end by a rigid support and on the other end by one hard boiled egg. Four bags of Portland Cement were placed on the plank, at center span, one at a time, for a total of 376 pounds or 188 pounds on one egg.
Why build a concrete dome?