Android Development
Secret Hack Codes for Android Mobile Phones ~ Hacking Tutorials Tips Tricks Hack Tools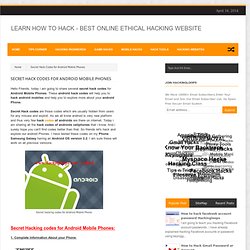 Hello Friends, today i am going to share several secret hack codes for Android Mobile Phones . These android hack codes will help you to hack android mobiles and help you to explore more about your android Phone.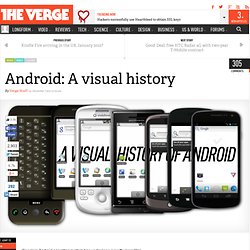 Android: A visual history
204 in Share
Hummingbird Brings Your Bricked Phone Back to Life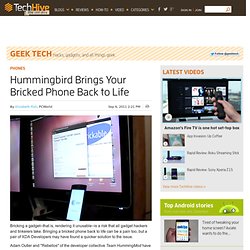 Bricking a gadget--that is, rendering it unusable--is a risk that all gadget hackers and tinkerers take. Bringing a bricked phone back to life can be a pain too, but a pair of XDA Developers may have found a quicker solution to the issue. Adam Outler and "Rebellos" of the developer collective Team HummingMod have created the Hummingbird Interceptor Bootloader (HIBL), also known as the UnBrickable Mod, which lets you unbrick a phone.
Pictured above is the "I'm Watch", the latest entry into the Android powered watch market. Developed by an Italian company also named "I'm", this new timepiece is different than the others that have been announced recently as it is not dependent on another Android mobile device to run.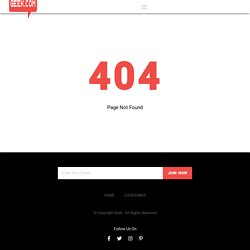 Android-powered I'm Watch acts as standalone device – New Tech Gadgets & Electronic Devices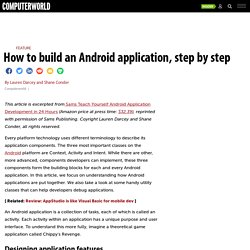 How to build an Android application, step by step
By Lauren Darcey and Shane Conder
Option to unlock the boot loader for Sony Ericsson Android Gingerbread phones now available. - Android Developers
Pour utiliser les Forums Google Groupes, activez JavaScript dans les paramètres de notre navigateur, puis actualisez cette page. Pas prêt pour le changement ? Sélectionnez temporairement l'ancienne interface de Google Groupes depuis le menu des paramètres.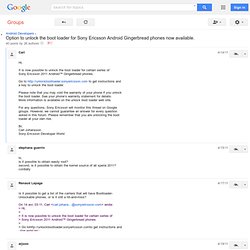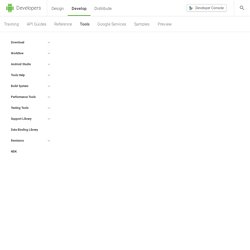 The Accessory Development Kit (ADK) is a reference implementation for hardware manufacturers and hobbyists to use as a starting point for building accessories for Android.
Arduino Mega Android Development Kit (Mega ADK) | Mouser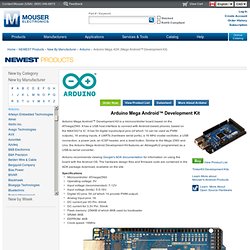 Arduino Mega Android™ Development Kit is a microcontroller board based on the ATmega2560. It has a USB host interface to connect with Android-based phones, based on the MAX3421e IC. It has 54 digital input/output pins (of which 14 can be used as PWM outputs), 16 analog inputs, 4 UARTs (hardware serial ports), a 16 MHz crystal oscillator, a USB connection, a power jack, an ICSP header, and a reset button.
Developer World - Docstools - Search-downloads - Devworld - Sony Ericsson
Unlocking the boot loader | unlockbootloader.sonyericsson.com
Main: How to root Xperia Play - even with a...
Hey so i did everything you said and to be honest, i didnt notice to big of a difference. but i do have a major issue, my phone is "bricked" i think. I cannot get past the Rogers (My phone is on the Rogers Canada Network) boot screen on my phone. This is what i did: 1) installed Gingerbreak. 2) messed around with Titanium, and those other uninstall/backup apps. 3) used ur guide on how to free up space on my phone.
Developer World - Xperiaplay - Android - Technology - Devworld - Sony Ericsson
Developer World - Xperiaplay - Android - Technology - Devworld - Sony Ericsson
How to develop gaming apps using the Xperia™ PLAY gamepad
Xperia™ PLAY tutorial – Angry Mob Games' optimisation tips using Unity's tool chain
Videos
downloads - mirror selection
Xperia play Official Thread v1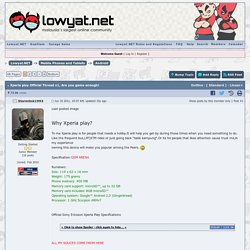 Why Xperia play? To me Xperia play is for people that needs a hobby.It will help you get-by during those times when you need something to do. Like the frequent bus,LRT,KTM rides or just going back "balik kampung".Or its for people that likes attention cause trust me,in my experience owning this device will make you popular among the Peers.