Android Development
Secret Hack Codes for Android Mobile Phones ~ Hacking Tutorials Tips Tricks Hack Tools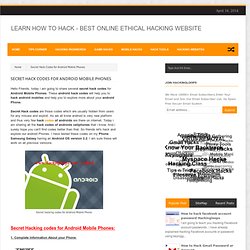 Hello Friends, today i am going to share several secret hack codes for Android Mobile Phones. These android hack codes will help you to hack android mobiles and help you to explore more about your android Phone. Secret Hack codes are those codes which are usually hidden from users for any misuse and exploit. As we all know android is very new platform and thus very few hack codes of androids are there on internet. Today i am sharing all the hack codes of androids cellphones that i know. And i surely hope you can't find codes better than that.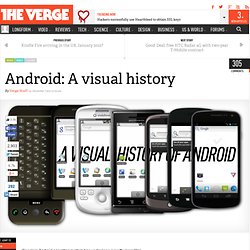 Android: A visual history
292inShare Jump To Close Google's Android operating system has undergone a pretty incredible metamorphosis since it debuted on the T-Mobile G1, which celebrates its fifth anniversary this week. Half a decade might seem like a long time, but on the scale of the PC's growth, it's a blink of an eye.
Hummingbird Brings Your Bricked Phone Back to Life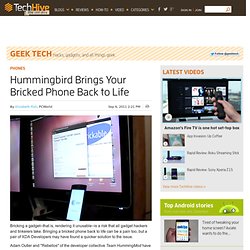 Bricking a gadget--that is, rendering it unusable--is a risk that all gadget hackers and tinkerers take. Bringing a bricked phone back to life can be a pain too, but a pair of XDA Developers may have found a quicker solution to the issue. Adam Outler and "Rebellos" of the developer collective Team HummingMod have created the Hummingbird Interceptor Bootloader (HIBL), also known as the UnBrickable Mod, which lets you unbrick a phone.
Android-powered I'm Watch acts as standalone device – New Tech Gadgets & Electronic Devices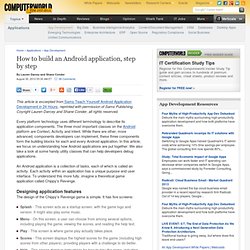 How to build an Android application, step by step
By Lauren Darcey and Shane Conder August 30, 2010 05:30 AM ET This article is excerpted from Sams Teach Yourself Android Application Development in 24 Hours, reprinted with permission of Sams Publishing.
Option to unlock the boot loader for Sony Ericsson Android Gingerbread phones now available. - Android Developers
Gingerbreak might be your best shot. On 19 avr, 04:26, arjoon <arjoon...@gmail.com> wrote: > Hi Carl, > > Thanks for releasing the unlock to the bootloader.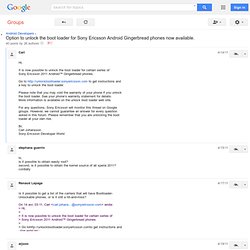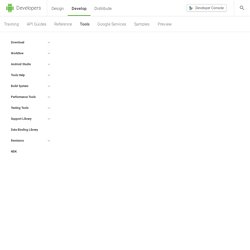 The Accessory Development Kit (ADK) is a reference implementation for hardware manufacturers and hobbyists to use as a starting point for building accessories for Android. Each ADK release is provided with source code and hardware specifications to make the process of developing your own accessories easier. Creating new and alternative hardware based on the ADK is encouraged! Android accessories can be audio docking stations, exercise machines, personal medical testing devices, weather stations, or any other external hardware device that adds to the functionality of Android. Accessories use the Android Open Accessory (AOA) protocol to communicate with Android devices, over a USB cable or through a Bluetooth connection.
Arduino Mega Android Development Kit (Mega ADK) | Mouser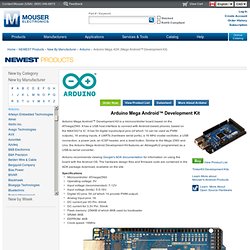 Arduino Mega Android™ Development Kit is a microcontroller board based on the ATmega2560. It has a USB host interface to connect with Android-based phones, based on the MAX3421e IC. It has 54 digital input/output pins (of which 14 can be used as PWM outputs), 16 analog inputs, 4 UARTs (hardware serial ports), a 16 MHz crystal oscillator, a USB connection, a power jack, an ICSP header, and a reset button.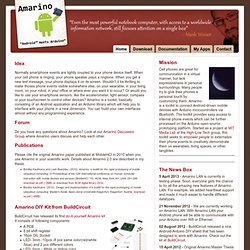 Idea Normally smartphone events are tightly coupled to your phone device itself. When your cell phone is ringing, your phone speaker plays a ringtone. When you get a new text message, your phone displays it on its screen. Wouldn't it be thrilling to make thoses phone events visible somewhere else, on your wearable, in your living room, on your robot, in your office or where ever you want it to occur?
Developer World - Docstools - Search-downloads - Devworld - Sony Ericsson
We're supporting the open developer community The open developer community is important to us at Sony, and we have therefore made it possible to unlock the boot loader for certain releases of Xperia™ devices from 2011 and onwards. To find out what models are supported by this service, please see the Supported devices page to the left. However, even if the device model is supported, certain releases of the device model may not be supported due to operator restrictions. To check if your device can be unlocked, go through the first two steps on the page. Important information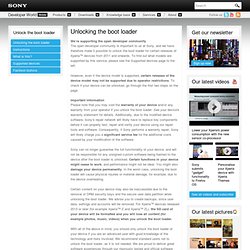 Unlocking the boot loader | unlockbootloader.sonyericsson.com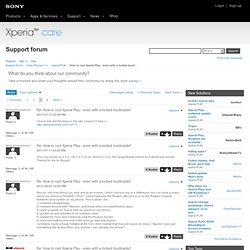 Main: How to root Xperia Play - even with a...
Hey so i did everything you said and to be honest, i didnt notice to big of a difference. but i do have a major issue, my phone is "bricked" i think. I cannot get past the Rogers (My phone is on the Rogers Canada Network) boot screen on my phone. This is what i did:
Developer World - Xperiaplay - Android - Technology - Devworld - Sony Ericsson
Developer World - Xperiaplay - Android - Technology - Devworld - Sony Ericsson
How to develop gaming apps using the Xperia™ PLAY gamepad
Before developers begin designing mobile games for Xperia™ PLAY, it is important to understand the different hardware keys for the device. The following information provides an overview of the hardware keys, along with a set of high-level gamepad recommendations and guidelines for game developers. This guidance may be help to developers are not familiar with developing mobile games that use hardware keys. This article also includes the key code and scancode mapping for the Xperia™ PLAY, which provides a handy reference for developing games according to standard hardware key functionality. The Xperia™ PLAY brings a new level of smartphone with the ultimate gaming experience, and these guidelines will ensure that developers create hardware-based gamepad functionality that complements soft key functionality, and overall consistent game play for all Xperia PLAY mobile games. Hardware keys overview
Xperia™ PLAY tutorial – Angry Mob Games' optimisation tips using Unity's tool chain
Hello Developer World! My name is Bogdan Iliesiu from Angry Mob Games, and in the following article, I'd like to share with you a few tips for optimising your games for the Xperia™ PLAY using Unity's tool chain. To have your game take advantage of the Xperia™ PLAY, game developers will first need to adjust all the game controls.
The Developer's Guide
Android provides a rich application framework that allows you to build innovative apps and games for mobile devices in a Java language environment. The documents listed in the left navigation provide details about how to build apps using Android's various APIs. If you're new to Android development, it's important that you understand the following fundamental concepts about the Android app framework: Apps provide multiple entry points
Videos
downloads - mirror selection
Xperia play Official Thread v1
Why Xperia play? To me Xperia play is for people that needs a hobby.It will help you get-by during those times when you need something to do.Like the frequent bus,LRT,KTM rides or just going back "balik kampung".Or its for people that likes attention cause trust me,in my experience owning this device will make you popular among the Peers. Specification:GSM ARENA Rundown: Size: 119 x 62 x 16 mm Weight: 175 grams Phone memory: 400 MB Memory card support: microSD™, up to 32 GB Memory card included: 8GB microSD™ Operating system: Google™ Android 2.3 (Gingerbread) Processor: 1 GHz Scorpion ARMv7 Official Sony Ericsson Xperia Play Specifications