Social Media Monitoring Tools
20 Not-for-Profit Organizations to Receive Free Media Monitoring Service from CyberAlert. STRATFORD, Conn.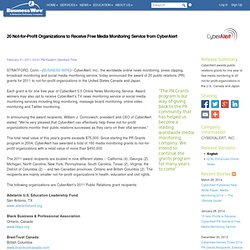 --(BUSINESS WIRE)--CyberAlert, Inc., the worldwide online news monitoring, press clipping, broadcast monitoring and social media monitoring service, today announced the award of 20 public relations (PR) grants for 2011 to not-for-profit organizations in the United States Canada and Japan. "The PR Grants program is our way of giving back to the PR community that has helped us become a leading worldwide media monitoring company. We intend to continue the grants program for many years to come" Social Media: How You Can Guide Lost Families to Their Strollers. My family and I were once leaving a crowded show at Disneyworld.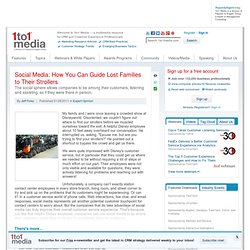 Disoriented, we couldn't figure out where to find our strollers before we muscled ourselves toward the exit. A helpful Disney employee about 10 feet away overheard our conversation. He interrupted us, asking, "Excuse me, but are you trying to find your strollers? " He pointed out a shortcut to bypass the crowd and get us there. We were quite impressed with Disney's customer service, but in particular that they could get us where we needed to be without requiring a lot of steps or much effort on our part. Social CRM Doesn't Exist, But a Need Does. Social CRM is to the social media craze what eCRM was to the dot com bubble.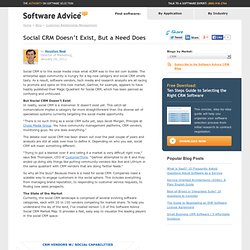 The enterprise apps community is hungry for a big new category and social CRM smells tasty. As a result, software vendors, tech media and research analysts are all racing to promote and opine on this new market. Making the research connection. How are market researchers using social media?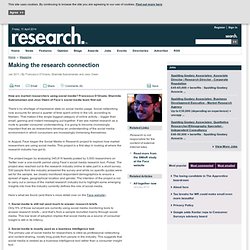 Francesco D'Orazio, Sharmila Subramanian and Jess Owen of Face's social media team find out. There's no shortage of impressive stats on social media usage. Social networking now accounts for about a quarter of time spent online in the US, according to Nielsen. 10 Ways To Measure Your Audience On Facebook. Promoting a brand's image in a setting such as Facebook means creating two-way conversations that eventually lead to more revenues.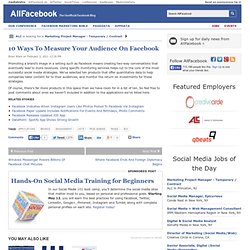 Using specific monitoring services helps cut to the core of the most successful social media strategies. We've selected ten products that offer quantitative data to help companies tailor content for to their audiences, and monitor the return on investments for these strategies. Of course, there's far more products in this space than we have room for in a list of ten. So feel free to post comments about ones we haven't included in addition to the applications we've listed here.
---