Money
What $1 buys around the world - travel tips and articles - Lonely Planet - StumbleUpon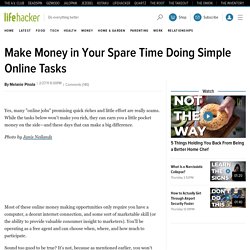 I've made a few hundred dollars taking surveys from SurveySavvy. [www.surveysavvy.com?id=2546139&action=join] It seems to be one of the few legitimate survey sites. Mind you, that's a few hundred dollars in an entire year, so I am not making bank, but it is cool to cash out at the end of the year and buy something a little nice.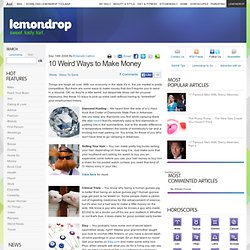 10 Weird Ways to Make Money
Things are tough all over. With our economy in the state it's in, the job market is pretty competitive. But there are some ways to make money that don't require you to send in a résumé.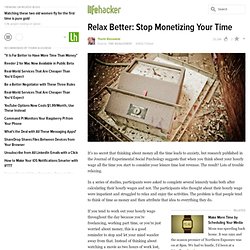 Relax Better: Stop Monetizing Your Time
It's no secret that thinking about money all the time leads to anxiety, but research published in the Journal of Experimental Social Psychology suggests that when you think about your hourly wage all the time you start to consider your leisure time lost revenue. The result? Lots of trouble relaxing. In a series of studies, participants were asked to complete several leisurely tasks both after calculating their hourly wages and not. The participants who thought about their hourly wage were impatient and struggled to relax and enjoy the activities.
When Money Can Buy Happiness, Use It
The Stupid Things You Do with Your Money (and How to Fix Them)
Money. You need it to live, but whether you're a spendthrift or a miser, money can make you do foolish things. You'll waste it trying too hard to save, spend it on things you don't need, and simply overpay on regular expenses every month. Here's how to avoid being stupid with your hard-earned cash.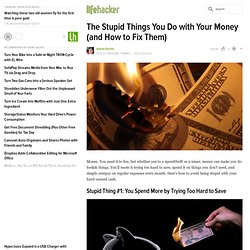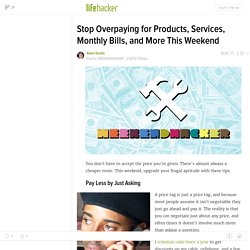 Stop Overpaying
Referring to the DreamHost section of the article, I am a current customer and have made a couple promo codes for my fellow lifehackers in the past, which are effective for the lifetime of your paid account with them: LH2FREE - Two free lifetime domain registrations (normally $9.95/year each) LHFREEIP - A free lifetime unique IP for SSL, anonymous FTP, etc (normally $3.95/month) Alternatively, DreamHost has given me five exclusive "DreamHost Invitations" that provide $15 off a one year plan or $100 off a two year plan. I only have two remaining; first-come, first-served!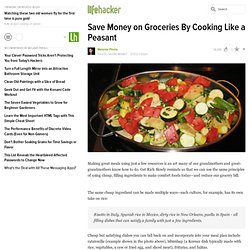 Save Money on Groceries By Cooking Like a Peasant
Making great meals using just a few resources is an art many of our grandmothers and great-grandmothers know how to do. Get Rich Slowly reminds us that we can use the same principles of using cheap, filling ingredients to make comfort foods today—and reduce our grocery bill. The same cheap ingredient can be made multiple ways—each culture, for example, has its own take on rice: