Money
What $1 buys around the world - travel tips and articles - Lonely Planet - StumbleUpon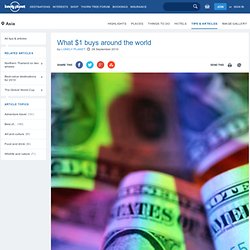 Sep 28, 2010 2:54:04 AM Jane Nethercote Lonely Planet Author At Lonely Planet, we're big fans of the travel bargain. After all, the first guide we produced was Asia on the Cheap – and then Southeast Asia on a Shoestring .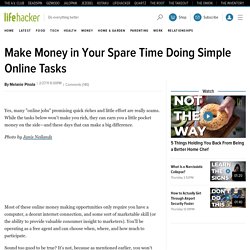 Yes, many "online jobs" promising quick riches and little effort are really scams. While the tasks below won't make you rich, they can earn you a little pocket money on the side—and these days that can make a big difference. Photo by Janis Neilands Most of these online money making opportunities only require you have a computer, a decent internet connection, and some sort of marketable skill (or the ability to provide valuable consumer insight to marketers).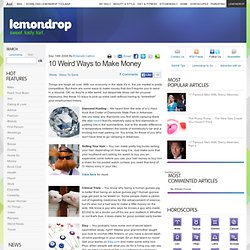 10 Weird Ways to Make Money
Things are tough all over. With our economy in the state it's in, the job market is pretty competitive. But there are some ways to make money that don't require you to send in a résumé.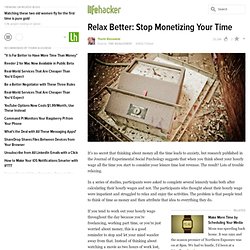 Relax Better: Stop Monetizing Your Time
It's no secret that thinking about money all the time leads to anxiety, but research published in the Journal of Experimental Social Psychology suggests that when you think about your hourly wage all the time you start to consider your leisure time lost revenue. The result? Lots of trouble relaxing. In a series of studies, participants were asked to complete several leisurely tasks both after calculating their hourly wages and not. The participants who thought about their hourly wage were impatient and struggled to relax and enjoy the activities.
When Money Can Buy Happiness, Use It
There are a handful of problems you can't solve by throwing money at them. Happily, money can still solve plenty of them. That's what this post is about—that and how paying for a housecleaner is one of the best things I've ever spent money on. B-b-b-b-backstory! I'm historically a very cheap human being. I do it myself when I can.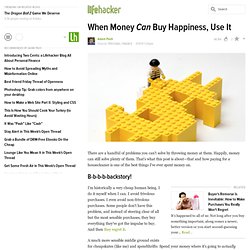 The Stupid Things You Do with Your Money (and How to Fix Them)
Money. You need it to live, but whether you're a spendthrift or a miser, money can make you do foolish things. You'll waste it trying too hard to save, spend it on things you don't need, and simply overpay on regular expenses every month. Here's how to avoid being stupid with your hard-earned cash.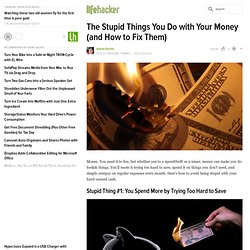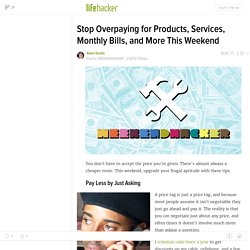 Stop Overpaying
You don't have to accept the price you're given. There's almost always a cheaper route. This weekend, upgrade your frugal aptitude with these tips. Pay Less by Just Asking A price tag is just a price tag, and because most people assume it isn't negotiable they just go ahead and pay it.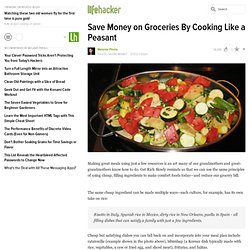 Save Money on Groceries By Cooking Like a Peasant
Making great meals using just a few resources is an art many of our grandmothers and great-grandmothers know how to do. Get Rich Slowly reminds us that we can use the same principles of using cheap, filling ingredients to make comfort foods today—and reduce our grocery bill. The same cheap ingredient can be made multiple ways—each culture, for example, has its own take on rice: