Abandoned
Some cities die. The people leave, the streets go quiet, and the isolation takes on the macabre shape of a forlorn ghost-town - crumbling with haunting neglect and urban decay. From Taiwan to the foothills of the Sierra Nevada mountains, these abandoned cities lurk in the shadows of civilization. Their histories are carried in hushed whispers and futures stillborn from the day of their collapse. Some have fallen victim to catastrophe while others simply outlive their function.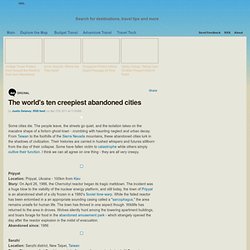 Abandoned Places: 10 Creepy, Beautiful Modern Ruins Abandoned Places | We humans are explorers by nature. The quest for discovery, both old and new, is part of what separates us from rest of the animal kingdom.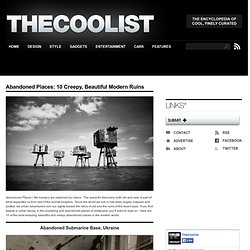 Call it exoticism: theme parks outside the US seem just a smidgen creepier than those we grew up visiting. Safety guidelines are questionable, attractions are a bit lees planned-out, and themes are chosen with a decidedly laissez-faire attitude. Although these factors might be a detriment to theme parks while they're still in business, they certainly increase foreign parks' appeal to urban explorers with an eye for the bizarre once they've been abandoned.