Home diy
Lo prometido es deuda - Mesa de Centro. Como lo prometido es deuda , aqui les presento mi proyecto terminado de la mesa de centro con papeles de muestrario de pinturas.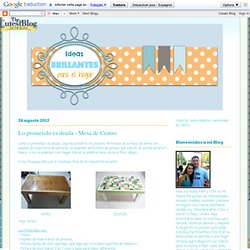 Se acuerdan de la mesa de ejemplo que subi en un posteo anterior? Bueno, si no se acuerdan solo hagan click en la palabra mesa. (esta al final ...abajo) Estoy muuuuuy feliz por el resultado final de mi mesa!!! Me encanto!
101 Crafty Gifts. To make all of these Instructables, download this collection of How To's as an ebook.
Download » 101 Crafty Gifts is a collection of simple, beautiful gifts you can make! Looking for that perfect gift to make for someone? This collection of over 100 projects from Instructables.com has step-by-step instructions and pictures to get you going! All Sales. Redecorating by Repurposing. Ladders and Suitcases!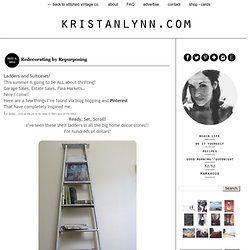 This summer is going to be ALL about thrifting! Garage Sales, Estate Sales, Flea Markets… here I come! Here are a few things I've found via blog hopping and Pinterest That have completely inspired me. (as always… click on the pic to be taken to there spot on the web) Unsimple Living. Perhaps I should begin this post by introducing you to my mom, also known as Her Ladyship Craftiness…er, Her Royal Craftiness?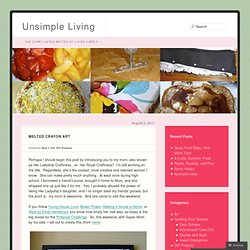 I'm still working on the title. Regardless, she's the coolest, most creative and talented woman I know. Tutorials for Recycling Books - StumbleUpon. We rode bikes around our neighborhood this weekend and stopped at all the garage sales we found along the way.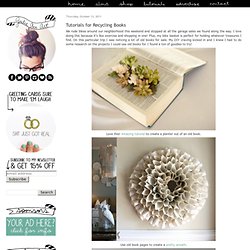 I love doing this because it's like exercise and shopping in one! Plus, my bike basket is perfect for holding whatever treasures I find. On this particular trip I was noticing a lot of old books for sale. My DIY craving kicked in and I knew I had to do some research on the projects I could use old books for. String Wedding Lanterns Yarn Chandeliers. Jessica of Wednesday Inc shows us how to make those gorgeous twine chandeliers from the inspiration shoot she shared with us this morning.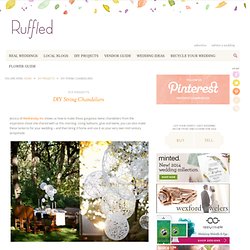 Using balloons, glue and twine, you can also make these lanterns for your wedding – and then bring it home and use it as your very own mid century lampshade. What you will need are: balloons, glue, yarn, tray for glue, corn starch 1/2 cup of Corn starch, 1/4 cup of Warm water, clear fast drying spray paint, hanging lamp cord or fishing line (depending on your desired final product), and a lighting kit if you're looking for a fully functional lantern. Page corner bookmark. This project comes to you at the request of Twitterer @GCcapitalM.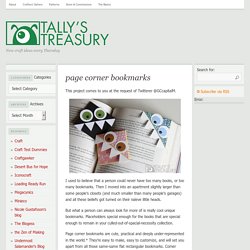 I used to believe that a person could never have too many books, or too many bookmarks. Then I moved into an apartment slightly larger than some people's closets (and much smaller than many people's garages) and all these beliefs got turned on their naïeve little heads. But what a person can always look for more of is really cool unique bookmarks. WELL WORN: Faux Real: Luxe Snow Globes. The Beauty of Mason Jars. Terrarium Centerpieces  The other week, my good friend Stephanie and I planned out a craft weekend.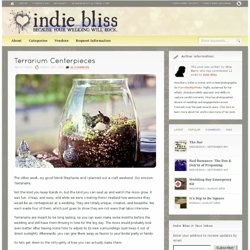 Our mission: Terrariums. Not the kind you keep lizards in, but the kind you can seal up and watch the moss grow. It was fun, cheap, and easy, and while we were creating them I realized how awesome they would be as centerpieces at a wedding. Booze it Up! 13 Rad Recycled Bottle Crafts & Projects. Got a recycling bin full of glass bottles?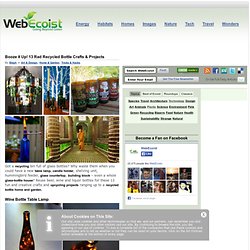 Why waste them when you could have a new table lamp, candle holder, shelving unit, hummingbird feeder, glass countertop, building block – even a whole glass-bottle house? Reuse beer, wine and liquor bottles for these 13 fun and creative crafts and upcycling projects ranging up to a recycled bottle home and garden. Wine Bottle Table Lamp (images via: wit and whistle) How to Make Cherry Blossom Lights. I love the way the cherry trees outside my building bloom cheerfully each Spring.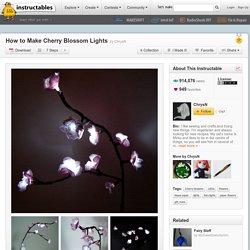 I wanted to bring the beauty of those cherry blossoms indoors so I made some out of tissue paper and to make them even more special I added LEDs These pretty lights are inexpensive and easy to make. They are made mostly from material found at a dollar store. You can make several branches for a spray of cherry blossoms to decorate your room. Sunburst mirror DIY. Remember the teaser of my new sunburst mirror... Well here she is in all her glory! She's nice and beefy, and has lots of texture. It's hard to tell in these photos (because we haven't had sun outside our windows in DAYS), but she has a really nice shine too. Here's how I did it! Hedra Lightshader.
--------Materials ------- 100 gr bristol paper 12 (35x50mm) We are usig this paper for printing 300 gr craft paper 12 (35x50mm) tracing paper 1 (70x100mm) setsquare utility knife ( you can use scissors but u can live problems if u cannot manage to cut properly) glue - you may prefer quick drying one Blueprint of the project Note :The paper size is up to you. It affects only the size of final product but dont change the paper aspect ratio . if u change it, it may not close properly (even not close) Compass Rose table. The files for the stencil are attached below. The stencils for the letters can be printed on regular letter-sized pieces of paper, but the main stencil is quite a bit bigger. The table I made this for is 36"x36" and so the image itself is nearly 24" wide. If you have a smaller table, you can certainly shrink it to fit what you're working on.
For the big stencil the image can be split up into multiple letter-sized pieces, but it is much easier to print it out on one sheet. How to Transfer a Photograph Onto a Block of Wood. Compass Table. One day I was playing around with a compass and a magnet noticing how much fun it was to manipulate the compass rose as I moved the magnet around. I'm of the mindset that when it comes to fun, more is usually better, so I rounded up 500 compasses and some rare earth magnets and decided to turn what started as just a little silly but entertaining play time into an actual piece of furniture. The compasses are inlaid into a custom table top underneath a piece of glass. Creating Environments That Optimize Creativity and Inspiration. Studio_Gorm. The iPhone Inspired DIY Kitchen Touch Screen Project.
DIY: Blueprint-Inspired Holiday Project. WOOD6.
---