Music
fm Archives
Digitally Imported - addictive electronic music
Music Catalog Select 1 of 8 different Sound Patterns from the small Matrixes icons on the right. Use your mouse to draw notes on each 16 Step Matrix. Adjust the volume of the iNudge. Click MORE for advanced adjustment abilities. For each Pattern, adjust Volume, Mute, Clear, or set Audio Pan from Left to Right. Click on the Tempo numbers and click up or down to change the overall Tempo.
inudge.net - Nudge
oud and abrasive noises (death metal included), making Hatebeak a strictly studio-based project. Is it a strain on the band to have a lead singer who's so particular about his recording/performing conditions? Do you sometimes feel that his rigid demands keep you from touring, socializing and other peripheral activities required to keeping a band afloat? BLK: No, I actually find it quite a relief, it'll be hard to tour the country and the world toting around a parrot. They are fairly similar to children.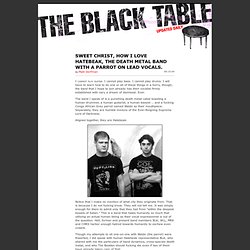 SWEET CHRIST, HOW I LOVE HATEBEAK, THE DEATH METAL BAND WITH A PARROT ON LEAD VOCALS.