Music
fm Archives
Digitally Imported - addictive electronic music
Music Catalog
The server encountered an internal error or misconfiguration and was unable to complete your request. Please contact the server administrator, webmaster@crunchyco.com and inform them of the time the error occurred, and anything you might have done that may have caused the error. More information about this error may be available in the server error log. Additionally, a 500 Internal Server Error error was encountered while trying to use an ErrorDocument to handle the request.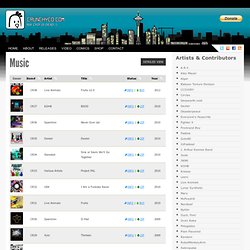 inudge.net - Nudge
oud and abrasive noises (death metal included), making Hatebeak a strictly studio-based project. Is it a strain on the band to have a lead singer who's so particular about his recording/performing conditions? Do you sometimes feel that his rigid demands keep you from touring, socializing and other peripheral activities required to keeping a band afloat? BLK: No, I actually find it quite a relief, it'll be hard to tour the country and the world toting around a parrot. They are fairly similar to children.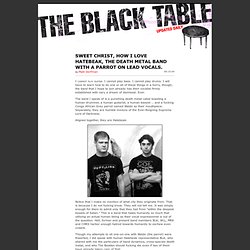 SWEET CHRIST, HOW I LOVE HATEBEAK, THE DEATH METAL BAND WITH A PARROT ON LEAD VOCALS.