Geeky
Plastic Brick Automaton comics.
The Path of Most Resistance
Printer Provocation
YouTerus
Horsing Around
Professional Pooping
The Truth Revealed
Pokehax
Underhanded Tactics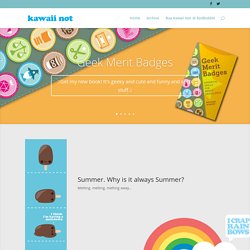 Kawaii Not is heavily inspired by desserts of all kinds, and pie holds a special place in the sweet stuff pantheon. Apple, cherry, lemon, pumpkin, even the in-name-cake-but-in-spirit pie that is known as cheesecake. All have a place at the table… and the stomach. Hooray!
Business Guys on Business Trips
gingerdead.com
I woke up this rainy Halloween morning and realized I couldn't let today go by without wishing you all a Happy Halloween… I've been struggling with whether or not I'd come back and announce that I was ending the comic or whether I was back or what. The last few months have been a combo of a few weeks of wrist pain followed by just spending all my spare time working in clay, experimenting with ceramic clays, functional art, finishing techniques, etc.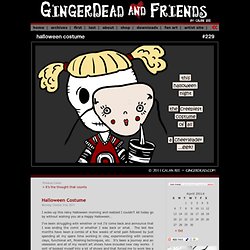 Ninjerktsu
''It's not MY fault I downloaded programming that made me this way!'' Personally, I can't wait to be replaced by a robot. Not because I'm lazy, but because I really can't wait to see robot engineered jokes.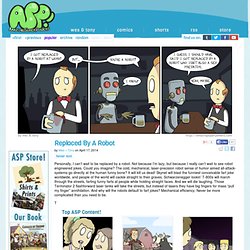 ◕ ◡ ◕
I'd Rather be Working Doot doot doot I may have brought back one of my favorite shirts and also made some messenger bags. The Winter Princess In case you were sitting around wondering how I'd write Captain America.
Apokalips no longer Mon/Thurs :( By mikegioia on Monday, August 30, 2010 Hi all - Unfortunately, due to a number of reasons (time, work, etc) maintaining a Monday / Thursday schedule is just too difficult. And I've noticed the comics I put out just for the sake of putting them out are less funny and less interesting than the ones that come about naturally. So, rather than pumping out crap, I've decided to only post t[...] March Radness