Theory
[Jeff] As a new generation of creators, producers and executives rise to power, we're going to see an exciting new video design and integration sensibility come into play. Video will segue into and out of a more fully realized interactive experience, one that is going to be easily navigable even for those of us who weren't raised with a game controller in our hands.
The Importance Of Online Video In Transmedia Campaigns - Starlight Runner's Jeff Gomez
Transmedia Keyword Research | From Search to Screen Blog
Lisa Hsia is Executive Vice President of Bravo Digital Media.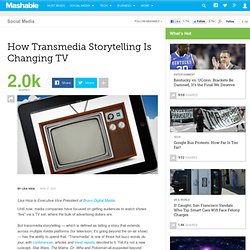 How Transmedia Storytelling Is Changing TV
Creating Transmedia Narratives: The Structure & Design of Stories T...
Why Transmedia Storytelling Matters To Your Brand | Story and Narrative