BOOT USB
Download Hiren's BootCD 15.0. Changes From Version 15.1 to 15.2 New Added Softwares, Updated Functions: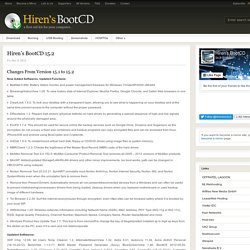 Launching Hiren's BootCD from USB Flash Drive. To launch Hiren's BootCD from USB flash drive, first of all, your BIOS settings should be configured in order to change the boot order of your computer to USB drive.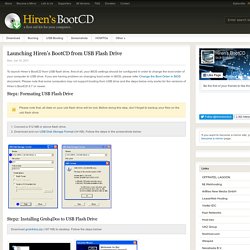 If you are having problem on changing boot order in BIOS, please refer Change the Boot Order in BIOS document. Please note that some computers may not support booting from USB drive and the steps below only works for the versions of Hiren's BootCD 9.7 or newer. Step1: Formating USB Flash Drive. S BootCD From USB Flash Drive (Pen Drive) - www.hiren.info. Step 1Connect USB Pen Drive (1GB or more) Step 2Download and Run USB Disk Storage Format USBFormat.zip (34KB) Step 3Download grubinst_gui grub4dos.zip (179KB) and Run as Administrator.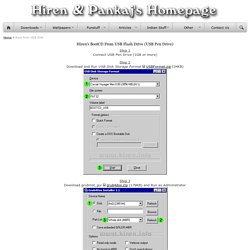 Tirez le meilleur de votre Eeepc ! – Installer Windows 7 et Vista ! Bonjour à tous !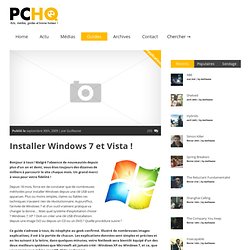 Malgré l'absence de nouveautés depuis plus d'un an et demi, vous êtes toujours des dizaines de milliers à parcourir le site chaque mois. Un grand merci à vous pour votre fidélité ! Depuis 18 mois, force est de constater que de nombreuses méthodes pour installer Windows depuis une clé USB sont apparues. Plus ou moins simples, claires ou fiables ces techniques n'avaient rien de révolutionnaire. Installer Windows XP avec une clef USB | CommentCaMarche. Voici une astuce pour créer une clef USB bootable et installer Windows XP depuis cette clé.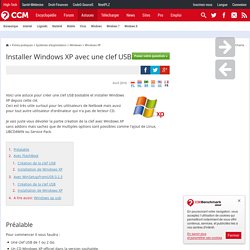 Ceci est très utile surtout pour les utilisateurs de Netbook mais aussi pour tout autre utilisateur d'ordinateur qui n'a pas de lecteur CD. Je vais juste vous dévoiler la partie création de la clef avec Windows XP sans addons mais sachez que de multiples options sont possibles comme l'ajout de Linux, UBCD4WIN ou Service Pack. Préalable Pour commencer il vous faudra : Une clef USB de 1 ou 2 Go. Télécharger Windows 7 USB/DVD Download Tool - Gratuit, Créez une clé USB bootable ou un DVD à partir d'une image ISO de Windows 7. Windows : Créer une clé USB d'installation | CommentCaMarche. Créer une clé USB bootable Cette astuce vous permettra de créer votre clé USB d'installation de Windows 7, ce qui est très utile dans le cas des mini pc portables dépourvus de lecteur/graveur DVD, mais aussi pour toutes personnes préférant ce type de supports.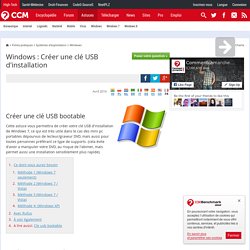 (cela évite d'avoir a manipuler votre DVD, au risque de l'abimer, mais permet aussi une installation sensiblement plus rapide). Ce dont vous aurez besoin.
---