History and impact of airtravel
List of airlines of the United States. Airline Tickets and Airline Reservations from American Airlines. Flights and Reservations at delta.com. Southwest Vacations Destinations - Vacation Packages - Cheap Airline Tickets, Hotels, Rental Cars, Activities, Attractions, Shows, Theme Parks, Tours. Aircraft That Changed the World | History of Flight. Boeing 747. The Boeing 747 is a wide-body commercial airliner and cargo transport aircraft, often referred to by its original nickname, Jumbo Jet, or Queen of the Skies.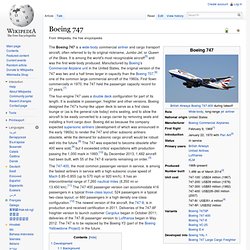 It is among the world's most recognizable aircraft[5] and was the first wide-body produced. Manufactured by Boeing's Commercial Airplane unit in the United States, the original version of the 747 was two and a half times larger in capacity than the Boeing 707,[6] one of the common large commercial aircraft of the 1960s. First flown commercially in 1970, the 747 held the passenger capacity record for 37 years.[7] Social History :Air Travel: Its Impact on the Way We Live and the Way See Ourselves. Air Travel: Its Impact on the Way We Live and the Way We See Ourselves Aviation, and air travel, has had a profound impact, both material and social, on American life.
It has affected the way Americans live, the way they view themselves and the world around them, and the way they do business. Although difficult to measure, aviation's history suggests that it has contributed to widespread awareness of and connection to people and places very different from one's own. Charles Lindbergh , the first person to fly an airplane nonstop across the Atlantic Ocean solo, called flying a "godlike act.
"
---