Libros
26 Books That Will Change The Way You See The World. 32 Books That Will Actually Change Your Life. Libros de ciencia ficción que todo geek debería leer. La ciencia-ficción es uno de los géneros más importantes del cine y la televisión, y en general uno de mis favoritos personales.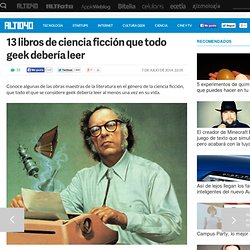 Pero es casi una blasfemia hablar de ciencia-ficción sin hablar de literatura, es sencillamente una locura. Los libros de ciencia ficción han marcado una base muy sólida para los artes modernos, y es casi obligatorio para todo el que se considere geek leer algunas de las más importantes obras del género. El primer nombre que llega a la mente de cualquier persona que desee hablar sobre libros de ciencia ficción es, indudablemente, Isaac Asimov, una de las mentes más brillantes del siglo pasado, conocido por ser no solo autor de algunas maravillosas sagas que serán eternas en la literatura, sino también por divulgador científico. Así que en ALT1040 rendimos tributo al género recomendando 12 libros de ciencia ficción bastante variados en cuando a trama y personalidad, y me parece correcto tanto iniciar como finalizar la lista con una obra del gran Asimov.
The 100 most meaningful books of all time - Literature. A 2002 survey of around 100 well-known authors from 54 countries voted for the most meaningful book of all time in a poll organised by editors at the Norwegian Book Clubs in Oslo.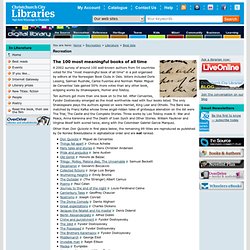 Voters included Doris Lessing, Salman Rushdie, Carlos Fuentes and Norman Mailer. Miguel de Cervantes' tale gained 50% more votes than any other book, eclipsing works by Shakespeare, Homer and Tolstoy. Ten authors got more than one book on to the list. 25 Books That Define Cool. Let's abandon the childish notion that reading isn't cool.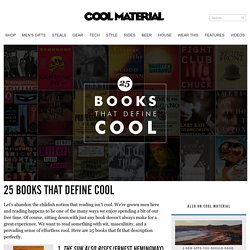 We're grown men here and reading happens to be one of the many ways we enjoy spending a bit of our free time. Of course, sitting down with just any book doesn't always make for a great experience. Libros PDF Gratis. El maestro y Margarita. Representación teatral de El maestro y Margarita, de Mijaíl Bulgákov.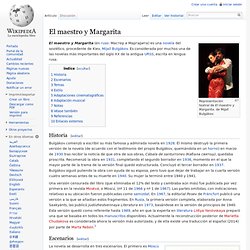 El maestro y Margarita (en ruso: Мастер и Маргарита) es una novela del soviético, procedente de Kiev, Mijaíl Bulgákov. Es considerada por muchos una de las novelas más importantes del siglo XX de la antigua URSS, escrita en lengua rusa. Historia[editar] Bulgákov comenzó a escribir su más famosa y admirada novela en 1928. Él mismo destruyó la primera versión de la novela (de acuerdo con el testimonio del propio Bulgákov, quemándola en un horno) en marzo de 1930 tras recibir la noticia de que otra de sus obras, Cábala de santurrones (Кабала святош), quedaba proscrita. Top 10 Best Novels of the Last 20 Years. Books The ten novels on this list all substantiate the belief that books are the most elastic, introspective, human and entertaining form of media that exist.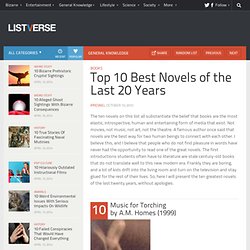 Not movies, not music, not art, not the theatre. A famous author once said that novels are the best way for two human beings to connect with each other. How to Start Writing a Book: 9 Steps to Becoming an Author. Writing a book is one of the most challenging and rewarding things you will ever do.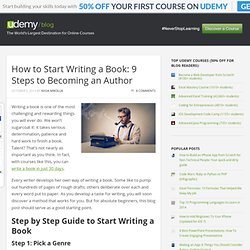 We won't sugarcoat it: it takes serious determination, patience and hard work to finish a book. Talent? That's not nearly as important as you think. Codex Seraphinianus – The World's Weirdest Book (45 pictures. 55 great books under 200 pages. You think you won't be able to finish that novel be the end of your holidays?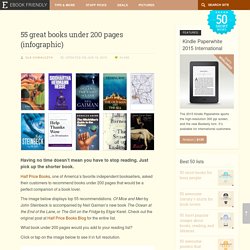 Why not trying to read something shorter? Half Price Books, one of America's favorite independent booksellers, asked their customers to recommend books under 200 pages that would be a perfect companion of a booklover. The image below displays top 55 recommendations. These Amazing Classic Books Are So Short You Have No Excuse Not To Read Them. As Books Editors, we set aside more designated reading time than most people do.
Still, even we are daunted by copies of The Goldfinch looming on our desks. Once we embark on a bulky book, will we have time for anything else (including, but not limited to, reading other books)? Sometimes, especially when in the midst of a reading slump, shorter books seem more approachable. Enter: the novella. How to be Well-read in No Time: 40 Short Novels - Listmuse.com. How to be well-read in no time: 40 short novels is a list of books that provides a varied glimpse of the written style of many of the great authors.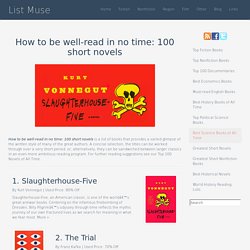 A concise selection, the titles can be worked through over a very short period, or, alternatively, they can be sandwiched between larger classics in an even more ambitious reading program. For further reading suggestions see our Top 100 Novels of All Time. 1. Slaughterhouse-Five By Kurt Vonnegut. The 100 Best Science Books of All Time - Listmuse.com. The 100 Best Science Books of All Time list contains a mixture of classic and popular works, chosen for their accessibility and relevance.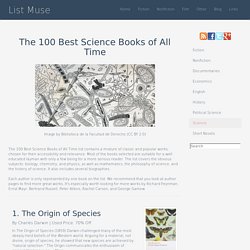 Most of the books selected are suitable for a well educated layman with only a few being for a more serious reader. The list covers the obvious subjects: biology, chemistry, and physics, as well as mathematics, the philosophy of science, and the history of science. 10 Forgotten Fantastical Novels You Should Read Immediately. Fans of magical prose and magical worlds, take heart. Titan Books has recently released a special limited edition version of steampunk legend James Blaylock's The Aylesford Skull, a classic from one of the genre's trailblazers. To celebrate the release, Blaylock has put together a list of forgotten or ignored works of literature that have inspired his own writing, and should be must-reads for anyone interested in science fiction or the fantastic.
Blaylock writes: "Why these novels turned out to be inspirational is a long story, too long to recount here, and in fact sometimes I can't quite say: a sensibility, maybe, that seemed to me to be True in some regard, a sense of humor that was also a sense of proportion, wisdom of a whimsical variety, an evocative atmosphere, intriguing characters, a level of eccentricity that was somehow made perfectly plausible, a giant cephalopod.
10 NONFICTIONAL books that will f**k up your reality (and make you smarter). Earlier I listed my "top 10 fictional books" and I promised I'd post the list with my "top 10 nonfictional books". So, here I am, keeping my promise (I'm a bit late). The books here are a mix of "face reality" , "thought provoking", and "do better in life" books, which I'm all for. Quick word- The fictional books were the books that opened up my eyes and let me see these nonfictional books, which are loaded with much more amazing info due to it being true. But, both lists are dire to the shaping of who I am today and I'm thankful I read them all. Without further ado, I will shut up, and just list them already:
15 Quotes That'll Make You Want To Change The WorldArs Spiritus. What my readers love most at Ars Spiritus are inspirational, chilling and touching quotes. Here's another awesome article on it so we all can want to change the world! Read them, feel inspired then take action. But always remember, it is not so much that you have to change the world, you just have to change yourself Enjoy. Don't ask what the world needs. The 50 Scariest Books of All Time. The air is getting crisper, the nights are getting longer, and All Hallow's Eve draws near. You know what that means: it's time to curl up with a book guaranteed to give you the shivers — or at least make you check the locks twice.
Here, for your horrifying pleasure, are 50 of the scariest books ever written in the English language, whether horror, nonfiction, or speculative futures you never want to see. One caveat: the list is limited to one book per author, so Stephen King fans will have to expand their horizons a little bit. Check out 50 books that will keep you up all night after the jump, and add any other scary favorites to the list in the comments.
The 50 Books Everyone Needs to Read, 1963-2013. The thing about reading is this: it takes a long time. There are innumerable books in the world, and many more good ones than can be read by any mortal in a lifetime. It's hard to choose — especially if you're a slow reader. 5 Mind-Blowing Books That Are Worth The Struggle To Read. 23 Books for Your Perfect Young Adult Summer Reading List. 10 Most Disturbing Books of All Time (Plus Bonuses!) 40 Modern Nonfiction Books Everyone Should Read.
50 Novels to Read When You Need a Good Laugh. [i carry your heart with me(i carry it in] by E. E. Cummings. Five Books That Changed My Life | Remy Carreiro. 19 Quotations. How to write a book - Now Novel. Www.altera.net/nueva/libros/sueno.pdf. Books to Make You Think. Charles Bukowski | "The Aliens" 10 Weirdest Science Fiction Novels That You've Never Read. June 03st to June 09th. Free online speed reading software | Spreeder.com.
The 100 Best Books of All Time. Dante's Inferno - Prologue - Cantos 1 & 2.
---