Libros
10 counter culture novels that will get you high on life. From the European Romantics of the 18th century avant-garde to the pre-WWI Bohemians, the world's been struck by many a powerful counter-cultural movement.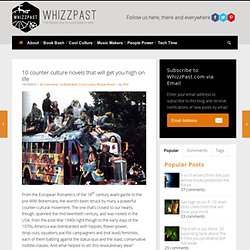 The one that's closest to our hearts, though, spanned the mid-twentieth century, and was rooted in the USA: from the post-War 1940s right though to the early days of the 1970s, America was bombarded with hippies, flower-power, drop-outs, squatters, pacifist campaigners and (not least) feminists, each of them battling against the status-quo and the staid, conservative middle-classes. And what helped to stir this revolutionary stew? We are going to die, and that makes us the lucky o. We are going to die, and that makes us the lucky ones.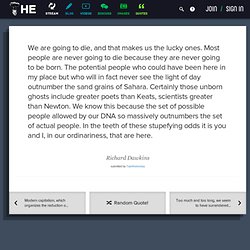 Most people are never going to die because they are never going to be born. The potential people who could have been here in my place but who will in fact never see the light of day outnumber the sand grains of Sahara. Certainly those unborn ghosts include greater poets than Keats, scientists greater than Newton. Popular Science - A Nerd's Guide to Reading. A magnificent, profoundly humane "biography" of cancer—from its first documented appearances thousands of years ago through the epic battles in the twentieth century to cure, control, and conquer it to a radical new understanding of its essence.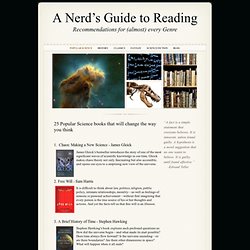 Physician, researcher, and award-winning science writer, Siddhartha Mukherjee examines cancer with a cellular biologist's precision, a historian's perspective, and a biographer's passion. H2Oh...Shit. 53 Quotes That Will Make You Rethink Everything. 1.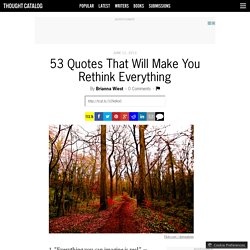 "Everything you can imagine is real." ― Pablo Picasso 2. 15 Brilliant Websites That Will Inspire And Change Your Life. I have to say that I love living in the world as it is today.
Even with all its warts, it's still pretty great. The main reason I love it is that information about anything is right at your fingertips via the internet. There are millions of people putting out life-changing information because it is their passion, and it's all available at the click of a button. One of the drawbacks of this age, though, is that sometimes there is too much information and you have to rely on friends to help you weed out the good from the bad or useless.
Appreciate The Trouble Makers. A Brilliant List of Science Books for People Who Want Their Minds Blown. Have you tried audio books?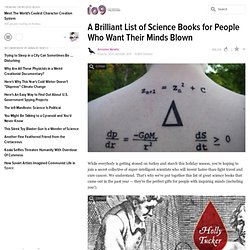 You can listen to them while you're doing something else. Often works wonders for people who believe they "can't concentrate. " It may turn out you want to listen to books instead of look at them! My Next Life. After a While - Veronica A. Shoffstall. After a While After a while you learn The subtle difference between Holding a hand and chaining a soul And you learn that love doesn't mean leaning And company doesn't always mean security.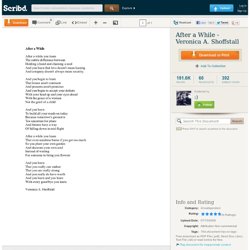 And you begin to learn That kisses aren't contracts And presents aren't promises And you begin to accept your defeats With your head up and your eyes ahead With the grace of a woman Not the grief of a child And you learn T o build all your roads on toda y Because tomorrow's ground is T oo uncertain for plans And futures have a way Of falling down in mid flight After a while you learn That even sunshine burns if you get too much So you plant your own garden And decorate your own soul Instead of waiting For someone to bring you flowers And you learn That you really can endure That you are really strong And you really do have wo rth And you learn and you learn With every good bye you learn. 3 Books Every Intermediate Guitarist Should Own | Deft Digits Guitar Lessons. I love guitar books.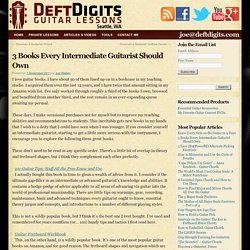 I have about 50 of them lined up on in a bookcase in my teaching studio. I acquired them over the last 12 years, and I have twice that amount sitting in my Amazon wish list. I've only worked through roughly a third of the books I own, browsed and benefited from another third, and the rest remain in an ever-expanding queue awaiting my perusal. Neil deGrasse Tyson Lists 8 (Free) Books Every Intelligent Person Should Read. A Reddit.com user posed the question to Neil deGrasse Tyson: "Which books should be read by every single intelligent person on the planet?"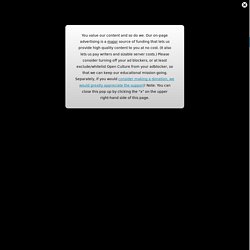 Below, you will find the book list offered up by the astrophysicist, director of the Hayden Planetarium, and popularizer of science. Where possible, we have included links to free versions of the books, all taken from our Free Audio Books and Free eBooks collections. Or you can always download a professionally-narrated book for free from Audible.com. Details here.
If you're looking for a more extensive list of essential works, don't miss The Harvard Classics, a 51 volume series that you can now download online. 10 Books You ABSOLUTELY MUST READ If You Are Tired Of Being Broke (No Self-Help Rah-Rah Bullshit) 1.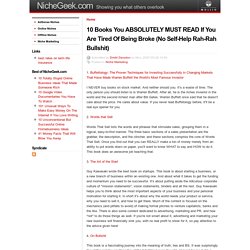 Buffettology: The Proven Techniques for Investing Successfully in Changing Markets That Have Made Warren Buffett the World's Most Famous Investor I NEVER buy books on stock market. And neither should you. It's a waste of time. The only person you should listen to is Warren Buffett. 26 Books That Will Change The Way You See The World. 32 Books That Will Actually Change Your Life. Libros de ciencia ficción que todo geek debería leer. La ciencia-ficción es uno de los géneros más importantes del cine y la televisión, y en general uno de mis favoritos personales.
Pero es casi una blasfemia hablar de ciencia-ficción sin hablar de literatura, es sencillamente una locura. Los libros de ciencia ficción han marcado una base muy sólida para los artes modernos, y es casi obligatorio para todo el que se considere geek leer algunas de las más importantes obras del género. El primer nombre que llega a la mente de cualquier persona que desee hablar sobre libros de ciencia ficción es, indudablemente, Isaac Asimov, una de las mentes más brillantes del siglo pasado, conocido por ser no solo autor de algunas maravillosas sagas que serán eternas en la literatura, sino también por divulgador científico.
Así que en ALT1040 rendimos tributo al género recomendando 12 libros de ciencia ficción bastante variados en cuando a trama y personalidad, y me parece correcto tanto iniciar como finalizar la lista con una obra del gran Asimov. The 100 most meaningful books of all time - Literature. A 2002 survey of around 100 well-known authors from 54 countries voted for the most meaningful book of all time in a poll organised by editors at the Norwegian Book Clubs in Oslo. Voters included Doris Lessing, Salman Rushdie, Carlos Fuentes and Norman Mailer. Miguel de Cervantes' tale gained 50% more votes than any other book, eclipsing works by Shakespeare, Homer and Tolstoy.
Ten authors got more than one book on to the list. 25 Books That Define Cool. Let's abandon the childish notion that reading isn't cool. We're grown men here and reading happens to be one of the many ways we enjoy spending a bit of our free time. Of course, sitting down with just any book doesn't always make for a great experience. Libros PDF Gratis. El maestro y Margarita. Representación teatral de El maestro y Margarita, de Mijaíl Bulgákov. El maestro y Margarita (en ruso: Мастер и Маргарита) es una novela del soviético, procedente de Kiev, Mijaíl Bulgákov.
Es considerada por muchos una de las novelas más importantes del siglo XX de la antigua URSS, escrita en lengua rusa. Historia[editar] Bulgákov comenzó a escribir su más famosa y admirada novela en 1928. Él mismo destruyó la primera versión de la novela (de acuerdo con el testimonio del propio Bulgákov, quemándola en un horno) en marzo de 1930 tras recibir la noticia de que otra de sus obras, Cábala de santurrones (Кабала святош), quedaba proscrita. Top 10 Best Novels of the Last 20 Years. Books The ten novels on this list all substantiate the belief that books are the most elastic, introspective, human and entertaining form of media that exist. Not movies, not music, not art, not the theatre. A famous author once said that novels are the best way for two human beings to connect with each other. How to Start Writing a Book: 9 Steps to Becoming an Author. Codex Seraphinianus – The World's Weirdest Book (45 pictures. 55 great books under 200 pages. These Amazing Classic Books Are So Short You Have No Excuse Not To Read Them.
How to be Well-read in No Time: 40 Short Novels - Listmuse.com. The 100 Best Science Books of All Time - Listmuse.com. 10 Forgotten Fantastical Novels You Should Read Immediately. 10 NONFICTIONAL books that will f**k up your reality (and make you smarter). 15 Quotes That'll Make You Want To Change The WorldArs Spiritus. The 50 Scariest Books of All Time. The 50 Books Everyone Needs to Read, 1963-2013. 5 Mind-Blowing Books That Are Worth The Struggle To Read. 23 Books for Your Perfect Young Adult Summer Reading List. 10 Most Disturbing Books of All Time (Plus Bonuses!) 40 Modern Nonfiction Books Everyone Should Read.
50 Novels to Read When You Need a Good Laugh. [i carry your heart with me(i carry it in] by E. E. Cummings. Five Books That Changed My Life | Remy Carreiro. 19 Quotations. How to write a book - Now Novel. Www.altera.net/nueva/libros/sueno.pdf. Books to Make You Think. Charles Bukowski | "The Aliens" 10 Weirdest Science Fiction Novels That You've Never Read. June 03st to June 09th. Free online speed reading software | Spreeder.com. The 100 Best Books of All Time. Dante's Inferno - Prologue - Cantos 1 & 2.
---