Iditarod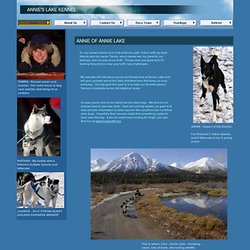 NATHAN - My buddy who's finished multiple Quests and Iditarods. Hi, my name's Annie and I live at Annie Lake, Yukon with my best friends and my owner Tamra, who's raised me, my parents, my siblings, and my kids since birth. Things here are great and I'm looking forward to a new year with new challenges. My website will introduce you to my friends here at Annie Lake and will give updates about the daily activities here that keep us busy everyday.
Laughing Eyes Kennel
John Baker, Iditarod Musher, Sled Dog Race, Kotzebue, Alaska, Dog Mushing
Happy Trails Kennels
Husky Homestead Jeff King Iditarod Champion - Alaska Dog Sled Tours
Husky Homestead Tours Bid! Win! Ride!!Who will it be this year?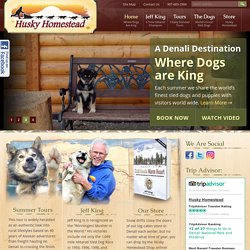 Team Redington
Lance Mackey Iditarod Champion
This tactical inspired parka has been modified for the "The World's Toughest Athlete" and four-time Iditarod champion; Lance Mackey. The Lance Mackey Constable, with a unique oversized fur ruff, is perfect for frigid Alaskan days spent training dog teams and can withstand the wear and tear of the 9+ days and 1000+ miles it takes to win the Iditarod. Outfitted with all the exact same sponsor patches that appear on Lance's actual racing jacket "Lance Mackey" drop down name tag from the back yoke.