Programming
The Oracle+PHP Cookbook | Creating an Ajax Process Using PHP and. Understanding Where to Install the ODI Standalone AgentWith no middle tier required in the ODI architecture, the most common question from people who are new to ODI is where to install the standalone agent: source, target or middle tier systems?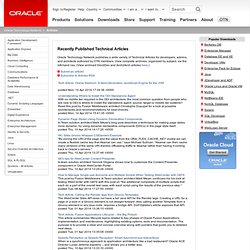 Read this post by Fusion Middleware architect Christophe Dupupet for a look at possible architectures and recommendations for best choices.posted Mon, 14 Apr 2014 15:41:35 +0000 WC Sites Groovy Wrapper CSElement Example"By joining the URI of the page and the value from the ORA_FLEX_CACHE_KEY cookie we can create a flexible cache key that Akamai can use," says Michael Sullivan. "Akamai can then cache many versions of the same URI thereby offloading traffic to Akamai rather than having it coming back to Oracle's servers. " EveryHit.com. ADOdb with PHP and Oracle. (c)2004-2005 John Lim.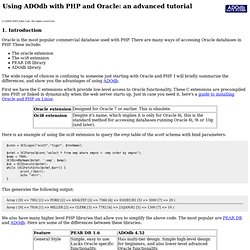 All rights reserved. 1. Introduction Oracle is the most popular commercial database used with PHP. There are many ways of accessing Oracle databases in PHP. Zend Framework: Using Smarty as template engine || Dmytro Shtefl. Zend Framework's View class has very bad capability for extending.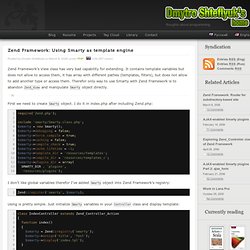 It contains template variables but does not allow to access them, it has array with different pathes (templates, filters), but does not allow to add another type or access them. Therefor only way to use Smarty with Zend Framework is to abandon Zend_View and manipulate Smarty object directly. First we need to create Smarty object. Php: The Holy Grail of PHP. Thought I'd share this with the community.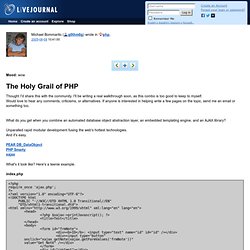 I'll be writing a real walkthrough soon, as this combo is too good to keep to myself.Would love to hear any comments, criticisms, or alternatives. If anyone is interested in helping write a few pages on the topic, send me an email or something too. What do you get when you combine an automated database object abstraction layer, an embedded templating engine, and an AJAX library? Utl_smtp attachment. All About Smarty - The PHP Template Engine [PHP & MySQL News. Smarty is a PHP template engine written by Monte Ohrt and Andrei Zmievski.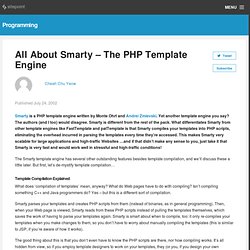 Yet another template engine you say? The authors (and I too) would disagree. Mike Lopez Blogs » PHP Image Resize Script. So, you want to resize an image in PHP?
PHP Image resizing has not been so easy especially to newbies so let's make this as simple as possible. All you have to do is save the script below to a file named 'imgsize.php' and give it a try. I use it myself on some of my projects and I wrote the script myself. Some usage examples are listed below after the script. Click here to . Random Image Rotation. One of the challenges facing the modern web designer is to create sites that appear fresh and new every time a visitor shows up.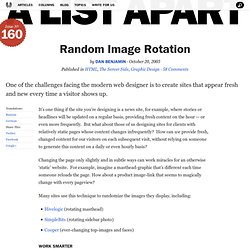 It's one thing if the site you're designing is a news site, for example, where stories or headlines will be updated on a regular basis, providing fresh content on the hour — or even more frequently. But what about those of us designing sites for clients with relatively static pages whose content changes infrequently? How can we provide fresh, changed content for our visitors on each subsequent visit, without relying on someone to generate this content on a daily or even hourly basis?
Changing the page only slightly and in subtle ways can work miracles for an otherwise 'static' website. Mon.itor.us - FREE website monitoring. Here's what our monitoring tools can do for IT Consultants, ISPs, ISVs, Web Developers and Web Designers Imagine how much you could grow your business if you weren't chained to your desk.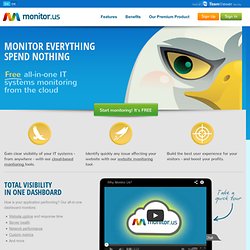 Monitor.Us makes this possible. Because Monitor.Us is Cloud-based it not only lets you keep an eagle eye on everything, from anywhere; it also takes complex set-ups, installs, updates, reinstalls and server monitoring... and drops them from a very large height.
---