Programming
everyHit.com
(c)2004-2005 John Lim. All rights reserved. 1. Introduction Oracle is the most popular commercial database used with PHP. There are many ways of accessing Oracle databases in PHP.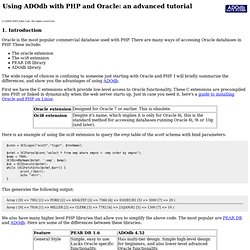 ADOdb with PHP and Oracle
Zend Framework: Using Smarty as template engine || Dmytro Shtefl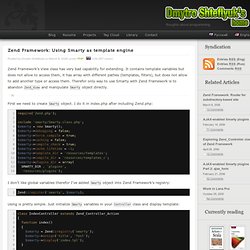 Zend Framework's View class has very bad capability for extending. It contains template variables but does not allow to access them, it has array with different pathes (templates, filters), but does not allow to add another type or access them. Therefor only way to use Smarty with Zend Framework is to abandon Zend_View and manipulate Smarty object directly. First we need to create Smarty object.
Thought I'd share this with the community. I'll be writing a real walkthrough soon, as this combo is too good to keep to myself.Would love to hear any comments, criticisms, or alternatives. If anyone is interested in helping write a few pages on the topic, send me an email or something too. What do you get when you combine an automated database object abstraction layer, an embedded templating engine, and an AJAX library?
php: The Holy Grail of PHP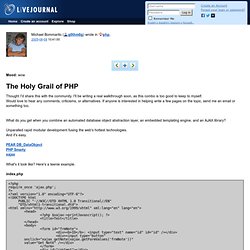 utl_smtp attachment
All About Smarty - The PHP Template Engine [PHP & MySQL News
Smarty is a PHP template engine written by Monte Ohrt and Andrei Zmievski. Yet another template engine you say? The authors (and I too) would disagree.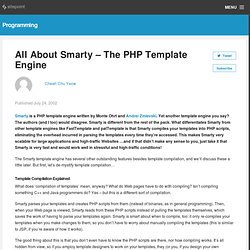 Mike Lopez Blogs » PHP Image Resize Script
So, you want to resize an image in PHP? PHP Image resizing has not been so easy especially to newbies so let's make this as simple as possible. All you have to do is save the script below to a file named 'imgsize.php' and give it a try. I use it myself on some of my projects and I wrote the script myself. Some usage examples are listed below after the script. Click here to .
Random Image Rotation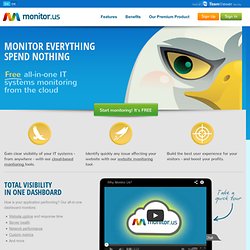 Here's what our monitoring tools can do for IT Consultants, ISPs, ISVs, Web Developers and Web Designers