Disney sites
Centro - Digital Media Made Easy. Disney's PhotoPass - Add some Disney magic to your memories. Walt Disney World Resort Vacation Planning Information. Home > Walt Disney World This is the year to visit the Walt Disney World Resort!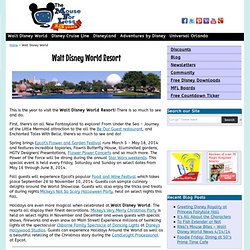 There is so much to see and do. First, there's an all New Fantasyland to explore! From Under the Sea ~ Journey of the Little Mermaid attraction to the all the Be Our Guest restaurant, and Enchanted Tales With Belle, there's so much to see and do! My Vacation Countdown Ticker - Disney Vacation Countdown Clock. Welcome to www.MyVacationCountdown.com What is a ticker?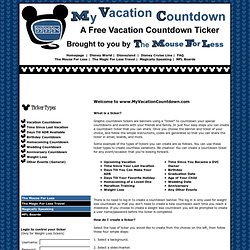 Graphic countdown tickers are banners using a "ticker" to countdown your special countdowns and events with your friends and family. Disney Parks Blog - The official blog for Disneyland Resort, Walt Disney World and Disney Cruise Line. Anyone want $1 million?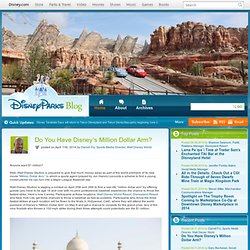 Well, Walt Disney Studios is prepared to give that much money away as part of the world premiere of its new movie "Million Dollar Arm," in which a sports agent (played by Jon Hamm) concocts a scheme to find a young cricket pitcher he can turn into a Major League Baseball star. Walt Disney Studios is staging a contest on April 25th and 26th to find a real-life "million dollar arm" by offering guests (you have to be age 18 and over with no prior professional baseball experience) the chance to throw the fastest strike.
Here's how it works: Participants at three locations;­ Walt Disney World Resort, Disneyland Resort and New York City, get three chances to throw a baseball as fast as possible. The Daily Disney. Moved Temporarily. Special offers are available to Members at various times.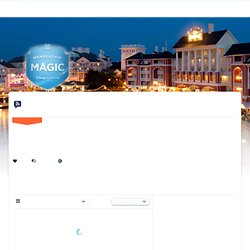 Members should visit dvcmember.com or contact Member Services for the most up-to-date information. To receive any of these offers, you must present your Disney Vacation Club Member ID along with corresponding valid photo ID. Disney Vacation Club Member discounts cannot be used in conjunction with any other discounts or promotions. All offers are subject to availability, change, and/or termination without notice. You should not purchase a real estate interest in a Disney Vacation Club Resort in reliance upon the confirmed availability or renewal or extension of these offers. Tokyo Disney Resort Official WebSite. Owner's Locker - The Purple Place for Storing Your Vacation Stuff.™ Walt Disney Parks and Resorts Online Jobs. Walt Disney World Crowds and Travel Planning | TouringPlans.com.
Planning Strategy Calculator for Disney Reservations. WDWMAGIC.COM WDW, Walt Disney World News Rumors Photos Reviews Discussion Forum. MouseSavers.com - Disney Discount Source - Disney World Discounts, Disneyland Discounts, Disney Cruise Discounts. Disney World - The Largest Unofficial On-Line Guide to Disney World, Walt Disney World.
Disney World Go! Blog l Fan page with tips for you next Disney World vacation. LaughingPlace.com: Walt Disney World, Disneyland and All of Disney. Garden Grocer. MouseOwners.com - The Web's Most Friendly and Reliable Source for Information on the Disney Vacation Club (DVC) Disney World Vacation Discounts Resorts Hotels Tickets Planning Tips Maps and More for Disney World. The disney food blog. Welcome, Foolish Mortals... to DoomBuggies - a Tribute to Disney's Haunted Mansion > Free email, fan forums, multimedia and more... The Unofficial Disney Planning Guide for Walt Disney World, Disneyland and the Disney Cruise Line.
Walt Disney World - Disney World Vacation Information Guide - INTERCOT - Walt Disney World Inside & Out.
---