Disney sites
Centro - Digital Media Made Easy
Disney's PhotoPass - Add some Disney magic to your memories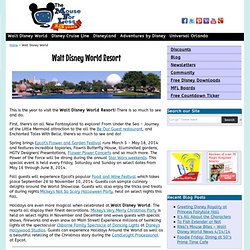 Walt Disney World Resort Vacation Planning Information
Home > Walt Disney World This is the year to visit the Walt Disney World Resort! There is so much to see and do. First, there's an all New Fantasyland to explore! From Under the Sea ~ Journey of the Little Mermaid attraction to the all the Be Our Guest restaurant, and Enchanted Tales With Belle, there's so much to see and do!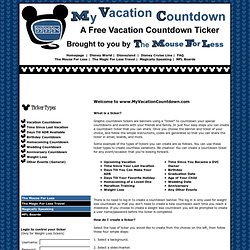 My Vacation Countdown Ticker - Disney Vacation Countdown Clock
Welcome to www.MyVacationCountdown.com What is a ticker? Graphic countdown tickers are banners using a "ticker" to countdown your special countdowns and events with your friends and family.
Anyone want $1 million? Well, Walt Disney Studios is prepared to give that much money away as part of the world premiere of its new movie "Million Dollar Arm," in which a sports agent (played by Jon Hamm) concocts a scheme to find a young cricket pitcher he can turn into a Major League Baseball star. Walt Disney Studios is staging a contest on April 25th and 26th to find a real-life "million dollar arm" by offering guests (you have to be age 18 and over with no prior professional baseball experience) the chance to throw the fastest strike. Here's how it works: Participants at three locations;­ Walt Disney World Resort, Disneyland Resort and New York City, get three chances to throw a baseball as fast as possible.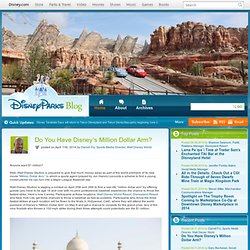 Moved Temporarily
Tokyo Disney Resort Official WebSite
Owner's Locker - The Purple Place for Storing Your Vacation Stuff.™
Walt Disney Parks and Resorts Online Jobs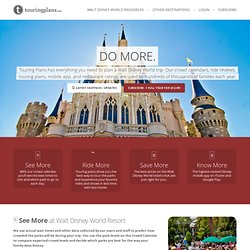 Validate your book to receive a discount! What is the first word in the name of the title of Part 21? (remember initial caps) What is the first word of Part Three, Where to Stay? (remember initial caps) What is the first word of the title of Part 8?
The Trail's End Buffet in Disney's Fort Wilderness Resort and Campground is one of the best kept secrets at the Walt Disney World resort. It is nestled next to the Pioneer Hall where the popular Hoop-Dee-Doo Musical Revue dinner show takes place. Up until a couple of years ago, Trail's End did not take advanced reservations. After a short re-make and expansion, Trail's End re-opened bigger and better than ever. With still the same great food and one of the best deals on property.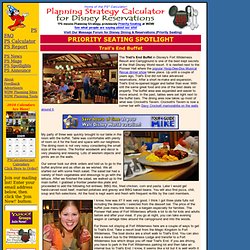 Planning Strategy Calculator for Disney Reservations
Get the latest news and construction photos from Disney Springs Spice Road Table review - our thoughts on Epcot's latest Disney releases new information & concept art for AVATAR land New Disney Festival of Fantasy coming to the Magic Kingdom Get the latest news and construction photos from Disney Springs Spice Road Table review - our thoughts on Epcot's latest WDWMAGIC is an unofficial Walt Disney World fan site bringing you the most up-to-date news and information since 1996. Walt Disney World Weather Fri 57|44°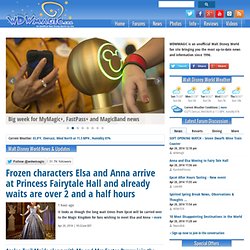 WDWMAGIC.COM WDW, Walt Disney World News Rumors Photos Reviews Discussion Forum
Since 2001, MouseSavers.com has provided hundreds of pages of FREE information about Disney discounts, including Disney ticket discounts. Whether you need a Disney World hotel discount, a Disneyland vacation package discount, a deal on one of Disney's Broadway shows or Disney on Ice, or any other Disney discount, deal or offer, you're in the right place! LAST UPDATE: 1/17/14 Mary Waring is retiring from MouseSavers.com, but the site and newsletter will continue under the leadership of her brother Don and sister-in-law Sarah! Get special MouseSavers rates + $10 per night food & beverage credit at Buena Vista Suites! This all-suite hotel near Walt Disney World includes FREE daily buffet breakfast in the room rate, plus FREE parking and NO resort fees!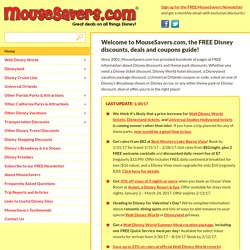 Disney World Go! Blog l Fan page with tips for you next Disney World vacation
LaughingPlace.com: Walt Disney World, Disneyland and All of Disney
Garden Grocer
Welcome to MouseOwners.com -- the internet's most honest Disney Vacation Club (DVC) community! Here you can find points charts, information about each of the resorts, maps, the latest news and rumors, resort reviews, and people who are willing to share their time and knowledge with you: Just click on one of the pictures or links above to take you where you want to go. We're not experts, and we're certainly not affiliated with Disney in any way.
MouseOwners.com - The Web's Most Friendly and Reliable Source for Information on the Disney Vacation Club (DVC)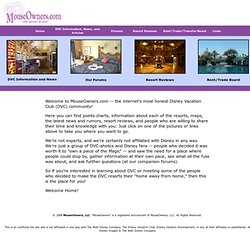 Disney World Vacation Discounts Resorts Hotels Tickets Planning Tips Maps and More for Disney World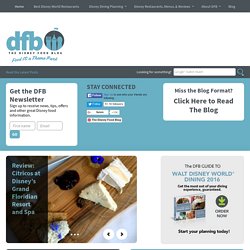 Man, I love Sci-Fi Dine-In Restaurant in Disney's Hollywood Studios. I hardly ever go, because it's next to impossible to review the place since it's SOOOO dark (you guys would laugh if you knew what I did to get good lighting for these shots); but I really do enjoy it. And I couldn't wait to head over to try out the new menu on my trip to Disney World last week! And this review experience comes just in time for the super busy Star Wars Weekend time of the year — as well as the newly announced Star Wars-themed character meals that will be available for a limited time at Sci-Fi and Hollywood & Vine. It will be breakfast here — but at least you'll get a feel for the place.
Welcome, Foolish Mortals... to DoomBuggies - a Tribute to Disney's Haunted Mansion > Free email, fan forums, multimedia and more...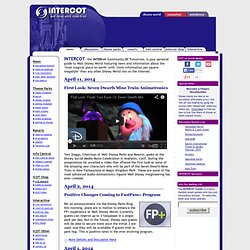 INTERCOT- the INTERnet Community Of Tomorrow, is your personal guide to Walt Disney World featuring news and information about the "most magical place on earth" with "more information per square megabyte" than any other Disney World site on the Internet. January 2, 2014 INTERCOT Insider Live Disney Podcast - Episode 58: Ian's Got A Toque On, Gary's Got The Anorak The long anticipated Episode 58 is finally online despite a bevy of technical issues that would have kept a lesser podcast down!
Walt Disney World - Disney World Vacation Information Guide - INTERCOT - Walt Disney World Inside & Out