Skirts
Get flash to fully experience Pearltrees
Have you survived the middle of the week so far?
My very first ever tutorial for this here blog was the Milkmaid Skirt .
I used to think that a gathered skirt was the easiest skirt to sew. But I may have changed my tune.
Sometimes I buy too much fabric. I admit it. Just don't you dare email my husband and tell him that I've admitted it. ;) If he ever notices that I have purchased new fabric and he happens to ask what it's for……..I just mumble and laugh myself through some crazy explanation like, " oh, it's for this one thing that I'm going to make next week to try out a new technique and I really needed this particular fabric to test it out, and, yeah……..isn't it great?!?!
I made this skirt for St.
Jen and Autie over at icandy handmade are some of our go-to girls when we're looking for sewing inspiration.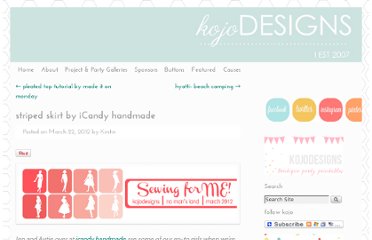 Last week, I bought a cute dress from Target (the coral floral color).
So, remember how 2 weeks ago I told you I had a new skirt tutorial?
One thing that I LOVE to sew is something vintage mixed with a modern twist.
Or maybe the title of this post should be "how the Vintagely Modern Skirt became a Bubble Skirt." For this skirt I took The Vintagely Modern Skirt tutorial and made it a bubble skirt (or you can use any fuller skirt pattern, for that matter). Here's what you need:
I have received a few requests to explain how to a simple tiered twirl skirt.