Fashion, make up....
Are you invited to a party tonight and in a bind for last minute Halloween ideas? With a few tips and tricks around the eyes, your face can be the focal point for all sorts of creative costumes. Get inspired by these last minute Halloween makeup ideas. A lace overlay is perfect for ethereal, fairytale-inspired characters. Place a lace fabric swatch over the area you wish to cover, then hold the fabric down with your fingers or medical tape while you apply cream or powder shadow over the fabric.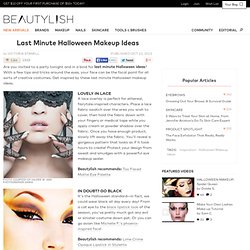 Happy Friday ladies! I just love this time of year- summer is just around the corner! Naturally, as weather changes so does my hairstyle. However, I am feeling like I need something new. My usual summer top knot, braids, or loose pony tail is just getting a bit…well, boring. So, this week while I was in the shower (the place where I have most of my revelations) I came up with a fast and easy hair style that can be dressed up for a weekend date-night or dressed down for a day at the beach.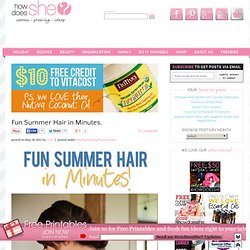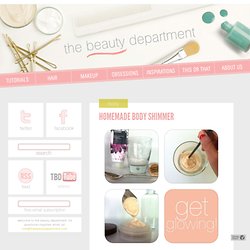 photos + post by amy nadine Temperatures are rising and prom, formals + weddings are just around the corner! Which means our skin needs a little help after a long dry winter! After giving your body a good buff with our D.I.Y. brown sugar scrub, add a little shimmer to your lotion to get that perfect glow (without having to spend any money!). Here's what I made last week in 3 easy steps to use on my clients on talk shows (Brittany Snow with her gorgeous new red hair on her visit to Conan, stunning + raven-haired Krysten Ritter on her visits to both Jimmy Kimmel and Conan and our lovely Lauren Conrad on her visit to Chelsea Lately last night!)
HOMEMADE BODY SHIMMER
I love the messy hair/bohemian look. I also love the beach. So, here is a DIY Sea Salt Beach Hair Spray that I can not live without anymore! The hair just looks so pretty, just like after a day at the beach. And it works for any hair length!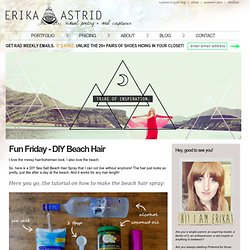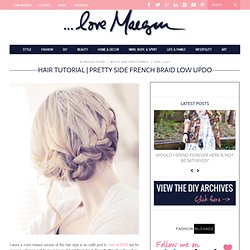 I wore a more relaxed version of this hair style in an outfit post in June of 2009 but for reasons unbeknownst to me, I never did a tutorial for it. Recently though, a few of my lovely readers have asked for it …so here it is. Enjoy! If you can't see the video go to: Pretty Side French Braid Updo * * * it would be so pretty with flowers pinned in * * * *