Fitness
Calorielab supplies a calorie calculator for generic foods, nutrition facts for brand name foods, a calorie counter for fast food chains, and nutritional information for table service restaurants. In addition to calorie content, you'll find carbohydrate information for low carb diets, and, for many foods, trans fat, sodium, sugar, and other food composition data to help you plan a weight loss or fitness diet. The values in the "Pts" column are computed by CalorieLab from our nutrient database, and are not endorsed by or connected with Weight Watchers International, Inc.
Calorie Counter (CalorieLab)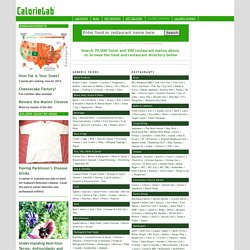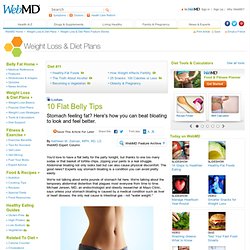 Stomach feeling fat? Here's how you can beat bloating to look and feel better. Why do I need to register or sign in for WebMD to save? We will provide you with a dropdown of all your saved articles when you are registered and signed in. You'd love to have a flat belly for the party tonight, but thanks to one too many sodas or that basket of tortilla chips, zipping your pants is a real struggle.
10 Flat Belly Tips: How to Beat Bloating
Slideshow: High-Fiber Super Foods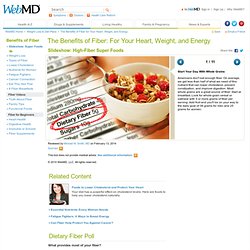 Start Your Day With Whole Grains Americans don't eat enough fiber. On average, we get less than half of what we need of this nutrient that can lower cholesterol, prevent constipation, and improve digestion. Most whole grains are a great source of fiber.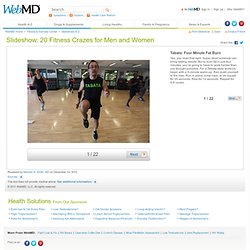 20 Workout & Fitness Crazes Slideshow
Jerry Holt/Minneapolis Star Tribune/ZUMAPRESS.com Per Breiehagen / Taxi Getty Images Philip Lee Harvey / Taxi Peter Muller/cultura/Corbis Washington Post/Getty Images Stephen J. Coddington/Tampa Bay Times/ZUMApress.com Associated Press Barry Brecheisen/Wire Image Mike Roach/Zuffa LLC Pat Vasquez-Cunningham/Albuquerque Journal Steve Pomberg/WebMD Kangoo Jumps Mike Powell/Digital Vision Isifa/Getty Images Sport Joe Raedle/Staff Mario Tama Julian Finney Sacramento Bee/McClatchy-Tribune Steve Pomberg/WebMD Thinkstock Steve Casimiro/Photographer's Choice ABC Health and Wellbeing: "Fitness: Boxercise." ACE Fitness Matters: "As Good As the Real Thing?"
Core Training Workout Slideshow: Flat Abs, Strength, and Balance
Measure your Body Fat Percentage, not Weight
While your weight is way you can track your performance , it isn't the best indicator of your overall Fat loss achievement. What truly shows you the best picture is your Body Fat percentage. What 8 out of 10 people will continue to do is, give their weight more importance than their body fat percentage. This is very important to understand because, at times in your fat loss effort, you might see no change in weight, but only in inches.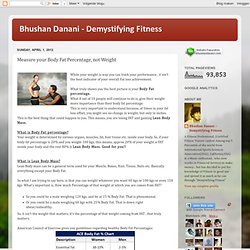 Sign Up! 6-Week Challenges Want to know more?
Fitness-Aerobic Fitness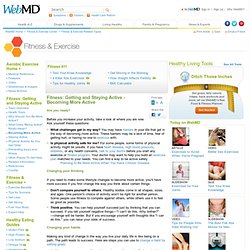 Avengers Stars' Workouts: Celebrity Trainers' Plans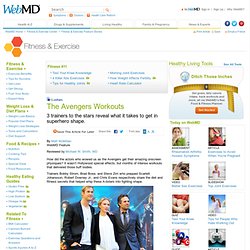 3 trainers to the stars reveal what it takes to get in superhero shape. Why do I need to register or sign in for WebMD to save? We will provide you with a dropdown of all your saved articles when you are registered and signed in.
pizza vs. hamburger
Stretching and Flexibility - How to Stretch
Fitness.jpg (JPEG Image, 180 × 360 pixels)
unnamed pearl
100 foods that can serve as the basis of your Healthiest Way of Eating. Links to the articles about these foods can be found below. In addition to questions about our foods, we often get asked about beverages and sweeteners. In the beverage category, water and green tea have been especially popular topics, and in the sweetener category, so have blackstrap molasses, honey and maple syrup.
The World's Healthiest Foods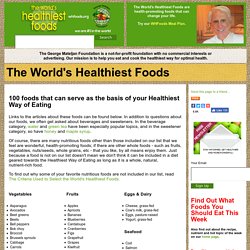 Fruits 01. Apricots The Power: Beta-carotene, which helps prevent free-radical damage and protect the eyes. The body also turns beta-carotene into vitamin A, which may help ward off some cancers, especially of the skin.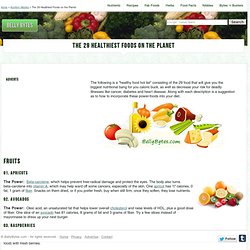 The 29 Healthiest Foods on the Planet | Belly Bytes
The beginning was ugly man. Tiny meals, bulimia, allotting for a half a bottle of whiskey a day, etc... I could tell you every little adjustment I made or just tell you to skip ahead to what I've found to be perfect now: eat at least 0.8g protein per lb, keep carbs low, and eat in a 6-8 hour window after you workout.
In a good mood today, so wanted to share my fat2fit/loser2winner transformation! (209->160lbs, 5'7") : Fitness