Blogs
Geek Papa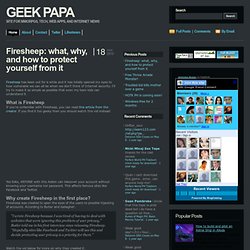 Firesheep has been out for a while and it has totally opened my eyes to how vulnerable we can all be when we don't think of Internet security. I'll try to make it as simple as possible that even my teen kids can understand it. What is Firesheep If you're unfamiliar with Firesheep, you can read this article from the creator. If you find it too geeky then you should watch this vid instead:
The Sidewok Vendor - The Sidewok Vendor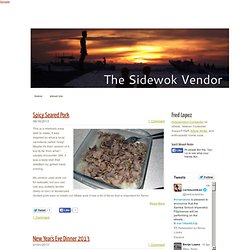 First off, I'd like to greet everyone a Happy New Year! Its a Dragon Year and they say its the best year to launch new enterprises and projects. One of the resolutions I have for this year is to update my recipe list again. I didn't really learn any new dishes in the last few months. It was pretty mundane lifestyle until mid December when my mom arrived from overseas. She bought a new oven and we used it to cook a few classic dishes.
FRINGE BLOGGERS - Blog Fansite for FOX Television Show FRINGE from JJ. ABRAMS
Jessica Zafra Official Blog
Catching up: 30. Vertigo. Our annual viewing. We were trying to convince Juan to drop by San Juan Bautista and "reenact" the body on the roof, but the drive to San Simeon took longer than he expected. 31.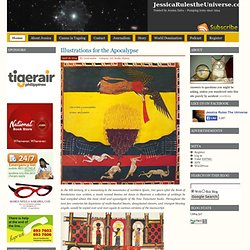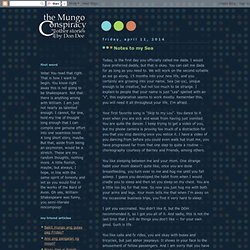 the mungo conspiracy
Today, is the first day you officially called me dada. I would have preferred daddy, but that is okay. You can call me dada for as long as you need to. We will work on the second syllable as we go along. 15 months into your new life, and you certainly are growing into your name, Sea (se-ya), unique enough to be creative, but not too much to be strange. I explain to people that your name is just "Lea" spelled with an "s", this explanation seems to work mostly.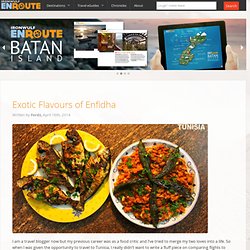 Ferdz Decena's Ironwulf.net: En Route - Best Philippines and Asia, Travel, Photography Blog
I am a travel blogger now but my previous career was as a food critic and I've tried to merge my two loves into a life. So when I was given the opportunity to travel to Tunisia, I really didn't want to write a fluff piece on comparing flights to Palermo (just off of both Tunisia and Italy) versus flights to Enfidha (although I started to consider it because the costs are vastly different), I decided rather to do a little recon on how authentic the food was at the resort I was staying and whether tourists were adopting the local food and using the flavours to spice up their lives. It's funny sometimes that destinations within the neighbourhood can be off our radar I guess it's the same case with the locals in the provinces. We admire places and their attractions, however for them, they rub it off as they see them everyday.
Notes From Clair
July 14, 2012 My friend and I accompanied our supervisor to Mactan Airport. She was flying back to Manila after giving us our first yearly appraisal in MediCall Philippines, Inc. I can't believe it has been a year and a half already. How time flies indeed! :)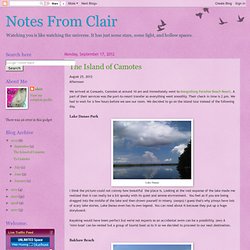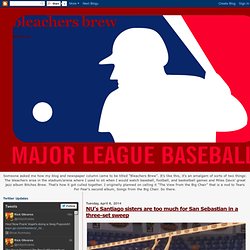 This appears in the NBA Philippines website. What plagues Indy? I think it's their youth. by rick olivares The Indiana Pacers (53-25) are 3-8 since March 17 following a victory over the hapless Philadelphia 76ers, 99-90.
Bleachers' Brew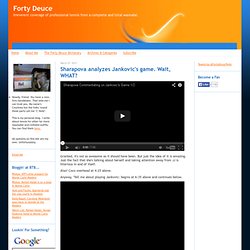 Forty Deuce
In light of the discussion this week about cyberbullying and Twitter abuse, which resulted in Rebecca Marino and Laura Robson deleting their Twitter accounts (Laura has since reinstated it) I figured I'd post this email exchange I had with Slate's Emily Bazelon a few years ago. Bazelon was working on a project about bullying at the time, the result of which will be released as a book this week. The book is called "Sticks and Stones: Defeating the Culture of Bullying and Rediscovering the Power of Character and Empathy" and I'm looking forward to reading it. I've followed Bazelon's reporting about the issue over the years and the results of her research should be interesting. Here's a link to Bazelon's recent appearances on The Colbert Report and NPR's Fresh Air.
Mindanaoan | Blogging the fun what, when, where, why, who and how | Mindanao blogger on news and current events, publicity, media, lifestyle, business, travel, food and advocacies