Jquery Plugins
Fixie
HoverAlls v1.3
www.lemonsanver.com/jQuery/easingAnimationPlugin.html
jQTwitter - TechFul Tuts
jQuery.Smart3D « Info for Coders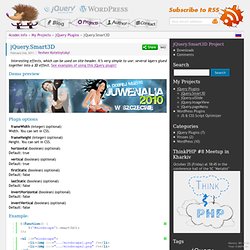 Interesting effects, which can be used on site-header. It's very simple to use: several layers glued together into a 3D effect. See examples of using this jQuery plugin!
FireFly | ExpressionEngine & CodeIgniter Hosting featuring 24/7 Support
Video controls:Play | Pause | Volume Up | Volume Down | Mute Tubular is a jQuery plugin that lets you set a YouTube video as your page background. Just attach it to your page wrapper element, set some options, and you're on your way. $(page content wrapper element).tubular(options); Tubular's hello, world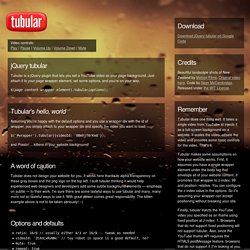 This section describes how to install the plugin and get it working. Upload the videojs-html5-video-player-for-wordpress folder to the /wp-content/plugins/ directoryActivate the plugin through the 'Plugins' menu in WordPressUse the [videojs] shortcode in your post or page using the following options. ##Video Shortcode Options mp4 The location of the h.264/MP4 source for the video.
VideoJS - HTML5 Video Player for WordPress