How-To
The Ultimate Photoshop Toolbox. Sep 07 2010 For years now, whenever designers have been asked about their go-to program for image editing and creation, one of the top answers that comes back, is Adobe Photoshop.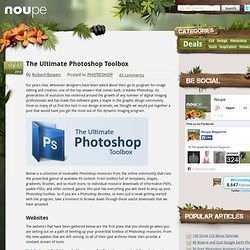 Its generations of evolution has centered around the growth of any number of digital imaging professionals and has made this software giant a staple in the graphic design community. Since so many of us find this tool in our design arsenals, we thought we would put together a post that would have you get the most out of this dynamic imaging program. How to Create an Eclipse Effect. HDR Photoshop effect. The most important is first step, it is a base of HDR Photoshop effect.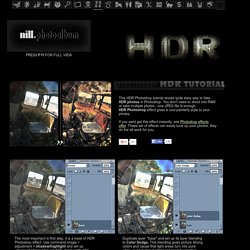 Use command image > adjustment > shadow/highlight and set up values: shadows amount: 50%, tonal width 45%, radius 41 px; High-light amount 83%, tonal width 76%, radius 1120px; Duplicate layer "base" and set up its layer blending to Color Dodge. This blending gives picture strong colors and cause that light areas turn into pure white. 20 High Quality Photoshop Web Design Tutorials | Tutorials. 30 Recent Photoshop Tutorials for Web Designers.
Photoshop is near-ubiquitous with graphics-based web design.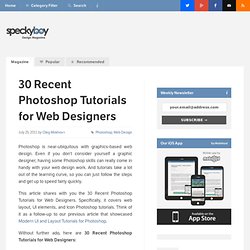 Even if you don't consider yourself a graphic designer, having some Photoshop skills can really come in handy with your web design work. And tutorials take a lot out of the learning curve, so you can just follow the steps and get up to speed fairly quickly. This article shares with you the 30 Recent Photoshop Tutorials for Web Designers. 760+ Photoshop Tutorials For Web & Graphic Designers. I have compiled together the ultimate Photoshop tutorial list for web and graphic designers.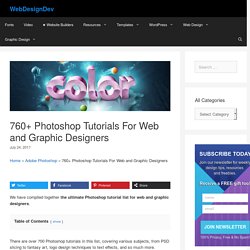 Mixed in here are a large array of over 760 tutorials from PSD slicing to fantasy art, logo design techniques to text effects, and so many more. Some tutorials are for beginners and some much more advanced. Many thanks to all the websites who have had the time to compile and showcase these lists. Enjoy! 30 Useful Photoshop Tutorials for Vintage and Retro Style. 25 Photoshop Tutorials for Web Designers. Adobe Photoshop is the tool of choice for most web designers.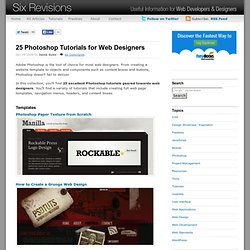 From creating a website template to objects and components such as content boxes and buttons, Photoshop doesn't fail to deliver. In this collection, you'll find 25 excellent Photoshop tutorials geared towards web designers. You'll find a variety of tutorials that include creating full web page templates, navigation menus, headers, and content boxes. If you know of a good Photoshop tutorial for web designers – why don't you share it with all of us in the comments. 40+ Greatest Web Interface Design Photoshop Tutorials, Part I. Whether you kick off a web interface design by sketching on papers or blank Photoshop canvas, it's good to get some guides and inspirations.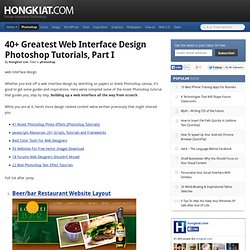 Here we've compiled some of the nicest Photoshop tutorial that guides you, step by step, building up a web interface all the way from scratch. While you are at it, here's more design related content we've written previously that might interest you Full list after jump. Beer/bar restaurant website layout Design a Web 2.0 tab with Photoshop How To Create a Stunning Vista Inspired MenuHow to make a semi-transparent Vista-inspired menu using gradients, shadows, and blurring to produce a stunning modern effect. How to Create Intense Light Streaks in Photoshop. This post was originally published in 2008 The tips and techniques explained may be outdated.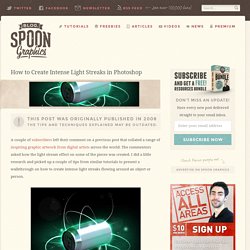 A couple of subscribers left their comment on a previous post that collated a range of inspiring graphic artwork from digital artists across the world. The commentors asked how the light stream effect on some of the pieces was created. I did a little research and picked up a couple of tips from similar tutorials to present a walkthrough on how to create intense light streaks flowing around an object or person. View Full Size. Photoshop. Illustrator. Inspire Magazine: September 2011 - Learn to create a 3D scene in Adobe Photoshop. 12 Top Quality Photoshop Light Effect Tutorials. Below are a few Photoshop light effect tutorials that have caught my eye while looking over the tutorial sites, for me these produce the best results while using brushes, blurs and other media such as textures to create a top quality effect.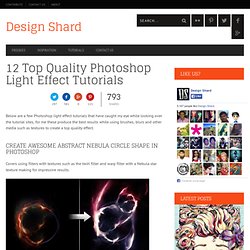 Create Awesome Abstract Nebula Circle Shape in Photoshop Covers using filters with textures such as the twirl filter and warp filter with a Nebula star texture making for impressive results. How to design a Vectorial Mascot design in Illustrator | SOSFactory Blog. Choose your language / Elige tu idioma: Hi guys, I recorded the whole process in the making of Cheeky Monkey vectorial mascot design in Illustrator, there will be several videos and I will update this post frequently, so subscribing to my Youtube Channel, my Facebook page or my Twitter is a good idea to stay up to date.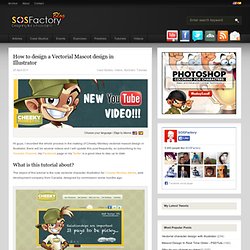 What is this tutorial about? The object of this tutorial is the cute vectorial character illustration for Cheeky Monkey Media, web development company from Canada, designed by commission some months ago.
---