Astrology
How to Calculate the Sun/Moon Midpoint. How to Find the Sun/Moon Midpoint.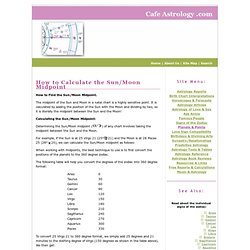 The midpoint of the Sun and Moon in a natal chart is a highly sensitive point. It is calculated by adding the position of the Sun with the Moon and dividing by two, so it is literally the midpoint between the Sun and the Moon! Calculating the Sun/Moon Midpoint: Determining the Sun/Moon midpoint ( Horoscopes. Free Synastry - Astrology Software Configuration Hunter. Astrology, Signs, and Planets on StellarDays.com | Astrology Basics | Houses. The astrological chart wheel is divided into twelve segments, each one representing a major sphere of life experience.
House Systems When a chart is calculated for a given event, such as someone's birth, the size of each house is determined by the time and location of the event. The house system used by the ancients was the Equal House system, in which all houses. "Learn Astrology", Free Lessons SystemsApproach Learn Astrology - the easy way, "Learn Astrology" and be your own astrologer, "Learn Astrology - Lessons onFundamentals", "Learn Astrology- Lessons on Theory", "Learn Astrology- Lessons on Application - Stum.
Juno in horoscope - Lesson 21.3 , Astrology Lessons by Bob Marks. Juno in the horoscope gives a good indication of the kind of marriage partner that we need and will get.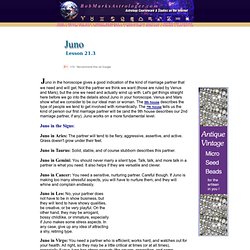 Not the partner we think we want (those are ruled by Venus and Mars), but the one we need and actually wind up with. Let's get things straight here before we go into the details about Juno in your horoscope. Venus and Mars show what we consider to be our ideal man or woman. The 5th house describes the type of people we tend to get involved with romantically. Astrology, Astrology by Bob Marks. Aspect Meanings in Birth Charts - Aspects involving Venus.
How to Guess Someones Astrological Sign. Favorite This Article Edit Article Edited by David J, Brett, Vivek Kumar Rohra, Jack Herrick and 76 others.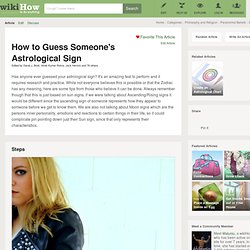 ---