Joomla!
Weblog von Hagen Graf. Stefan Luckow ( Drupal Initiative ) braucht Hilfe , es geht um folgendes Event: CMS-Garden @ CeBIT 2013 Wann: 05.-09.03.2013 Wo: CeBIT 2013 - Hannover Alle relevanten Open-Source-Content-Management-Systeme an einem Ort.
1.6 - Das Einsteigerbuch. Mit diesem Buch lernen Sie, Ihre Webprojekte mit Joomla!
1.6 umzusetzen, zu gestalten und zu pflegen. Autor Hagen Graf installiert und konfiguriert mit Ihnen die neue Joomla! -Version 1.6. Joomla Templates Club - Joomla Templates Club - Home. More Than 3100 Free Joomla CMS Templates. Fragen und Antworten zu Joomla 1.5 - FAQ. Joomla Magento Templates Club - JoomlArt.com. 4.0.0 Beta1 for Joomla! 1.6 is now available - News - Blog - JYAML. This is a compatibility release for Joomla 3.2.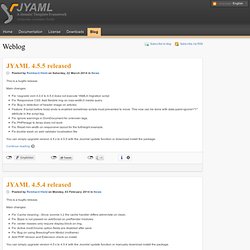 You can simply upgrade version 4.5.1 to 4.5.2 with the Joomla! Update function or manually installing the complete package. The update contains an migration at the last step to solve an CSS issue where col1 and col2 sometimes was permanently visible (for example in combination with fullpage.php template) Main changes: J!German - Joomla! auf Deutsch - J!German - Joomla! auf Deutsch. Joomla Templates, Drupal Themes, WordPress Themes and phpBB3 Styles - RocketTheme.
Joomla Templates and Extensions, WordPress Themes, Stock Icons - YOOtheme - Blog. Joomla! Joomla CMS Downloads - Templates und Erweiterungen.
---