Geothermal
There are many valid reasons for building a golf course. These include wanting a course as an amenity for a resort or hotel, to benefit selling houses around its fairways and within a residential golf community, for the recreation of club members, as the site for tournaments, as a "green" business to operate for profit, by a municipality for the healthful recreation of its citizens while also attracting visitors or tourists and combinations of these reasons. Most golfers expect a golf course to have 18 holes with a par of about 72, plus a practice range and practice greens. This typically requires from 140 to 180 acres of useable land.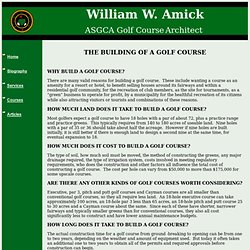 Building Golf Courses
Sustainable Greenhouse Projects | English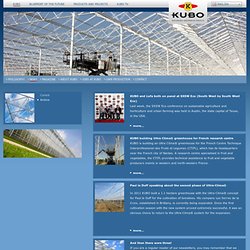 KVR Greenhouse Projects Many years of partnership in international horticulture recently prompted KUBO Greenhouse Projects and Verkade Climate to enter into a new joint venture. The activities of both companies, who are based in the Westland region of the Netherlands, extend to all corners of the globe, with previous collaboration resulting in a number of successful high-quality and sustainable projects. Despite the extensive knowledge and expertise in specific greenhouse and climate issues both companies have since gained in numerous different countries, conquering the Russian market still poses a number of challenges. more...
Welcome to Bom Group
Vegetables - Dalsem
Investment and financing of geothermal projects | Think GeoEnergy - Geothermal Energy News
Financing geothermal is more difficult the earlier the development stage of the project. This reflects the risks of geothermal projects until the resource has been proven. The further the project develops the more the risk decreases, making its financing easier. Knowledge and experience are therefore key for any geothermal development and that applies not only to the developer but also to financial players, such as banks or investors. The industry gained some valuable support through financial players with a unique interest in geothermal, which will help to increase overall interest in this important energy segment of the future. Geothermal development has always been tied to and grown with increases in price developments on electricity markets.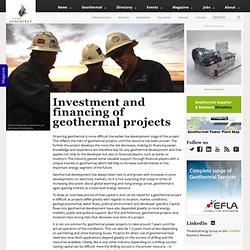 Turkey - Contracts Awarded
Kalina
Envo Energy Services
REGIO Energy
Viele Disziplinen - Ein Team Sonntag & Partner ist eine multidisziplinäre Wirtschaftskanzlei mit Büros in Augsburg, München und Frankfurt, die Ihnen deutschlandweit und im internationalen Kontext Steuerberatung, Rechtsberatung und Wirtschaftsprüfung in einem Team bietet. Unser Dienstleistungsangebot in den Bereichen Family Office und Vermögensbetreuung und weiteren speziellen Beratungsfeldern rundet unser Kanzleiprofil ab.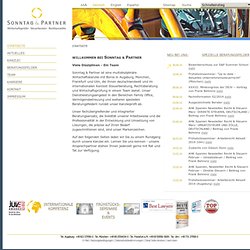 Sonntag & Partner
Erdwerk
TURBODEN clean energy ahead Main Menu Made in Steel Fieramilanocity, Milan, 3-5 April.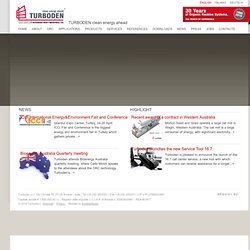 Turboden
European Commission on Geothermal
Geothermiekompetenz
Ormat