Hbase
How to Create A Table in HBase for Beginners | Dive into A Data Deluge. I have accumulated some knowledge and know-how about MapReduce, Hadoop, and HBase since I participated in some projects.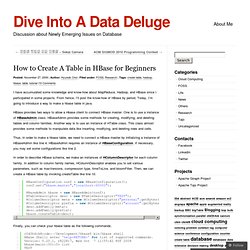 From hence, I'll post the know-how of HBase by period. Today, I'm going to introduce a way to make a hbase table in java. HBase provides two ways to allow a Hbase client to connect HBase master. HBase schema design case studies. What are the best tutorials on HBase schema. Understanding HBase and BigTable - Jimbojw.com. From Jimbojw.com The hardest part about learning HBase (the open source implementation of Google's BigTable), is just wrapping your mind around the concept of what it actually is.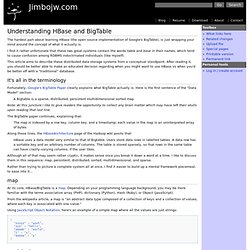 I find it rather unfortunate that these two great systems contain the words table and base in their names, which tend to cause confusion among RDBMS indoctrinated individuals (like myself). Rdbms - how to design Hbase schema. HBase Installation - Cloudera Support. HBase - HBase Home. Mysql - Large Data Sets - NoSQL, NewSQL, SQL..? Brain Fried. Hbase Map Reduce Example : Frequency Counter -- Sujee Maniyam.
---