Hbase
I have accumulated some knowledge and know-how about MapReduce, Hadoop, and HBase since I participated in some projects. From hence, I'll post the know-how of HBase by period. Today, I'm going to introduce a way to make a hbase table in java. HBase provides two ways to allow a Hbase client to connect HBase master.
How to Create A Table in HBase for Beginners | Dive into A Data Deluge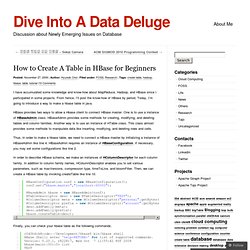 HBase schema design case studies
What are the best tutorials on HBase schema
From Jimbojw.com The hardest part about learning HBase (the open source implementation of Google's BigTable), is just wrapping your mind around the concept of what it actually is. I find it rather unfortunate that these two great systems contain the words table and base in their names, which tend to cause confusion among RDBMS indoctrinated individuals (like myself).
Understanding HBase and BigTable - Jimbojw.com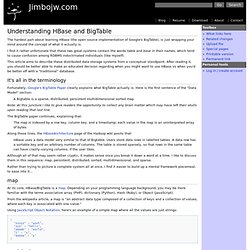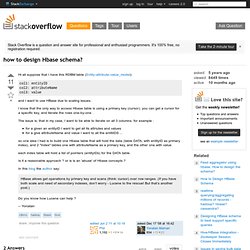 Hi all suppose that I have this RDBM table (Entity-attribute-value_model): col1: entityID col2: attributeName col3: value and I want to use HBase due to scaling issues.
rdbms - how to design Hbase schema
HBase Installation - Cloudera Support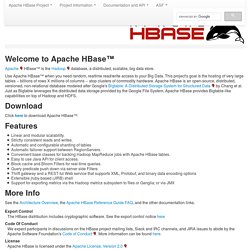 Welcome to Apache HBase™ Apache HBase™ is the Hadoop database, a distributed, scalable, big data store. When Would I Use Apache HBase? Use Apache HBase when you need random, realtime read/write access to your Big Data. This project's goal is the hosting of very large tables -- billions of rows X millions of columns -- atop clusters of commodity hardware.
I'm in need of some advice. I working on a new start-up in the data mining field. This is basically the spin off of a research project. Any way we have a large about of data that is unstructured, we are doing various NLP, classification and clustering analysis on this data.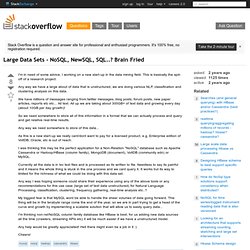 mysql - Large Data Sets - NoSQL, NewSQL, SQL..? Brain Fried
Hbase Map Reduce Example : Frequency Counter -- Sujee Maniyam