Hbase
I have accumulated some knowledge and know-how about MapReduce, Hadoop, and HBase since I participated in some projects. From hence, I'll post the know-how of HBase by period. Today, I'm going to introduce a way to make a hbase table in java. HBase provides two ways to allow a Hbase client to connect HBase master.
How to Create A Table in HBase for Beginners | Dive into A Data Deluge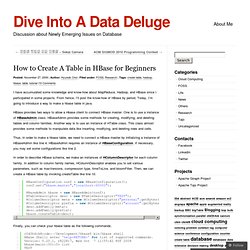 HBase schema design case studies
What are the best tutorials on HBase schema
From Jimbojw.com The hardest part about learning HBase (the open source implementation of Google's BigTable), is just wrapping your mind around the concept of what it actually is. I find it rather unfortunate that these two great systems contain the words table and base in their names, which tend to cause confusion among RDBMS indoctrinated individuals (like myself).
Understanding HBase and BigTable - Jimbojw.com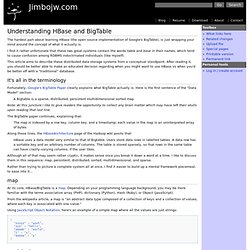 rdbms - how to design Hbase schema
Contents Apache HBase provides large-scale tabular storage for Hadoop using the Hadoop Distributed File System (HDFS). Cloudera recommends installing HBase in a standalone mode before you try to run it on a whole cluster. Upgrading HBase to the Latest CDH3 Release The instructions that follow assume that you are upgrading HBase as part of an upgrade to the latest CDH3 release, and have already performed the steps under Upgrading CDH3 .
HBase Installation - Cloudera Support
mysql - Large Data Sets - NoSQL, NewSQL, SQL..? Brain Fried
Hbase Map Reduce Example : Frequency Counter -- Sujee Maniyam