Linux sound
distro
Download 64 Studio 2.1 / 3.0 Beta 3 for Linux - A collection of software for digital content creation on x86_64 hardware
64 Studio is developing a collection of software for digital content creation on x86_64 hardware (that's AMD's 64-bit CPUs and Intel's EM64T chips). It's based on the pure 64 port of Debian GNU/Linux, but with a specialised package selection and lots of other customisations. 64 Studio has Debian Pure 64 with X.org, the Gnome desktop, kernel 2.6.12 with realtime preemption patches and a selection of creative applications. Please note that this release is provided for testing only, and comes with no warranty.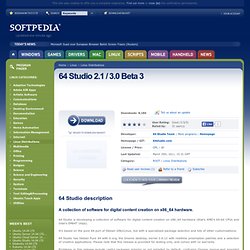 Top 10 Linux Distributions for Audio Production
Linux Audio Users Guide
Introduction for newbies Before you startA bit of Linux historySome basic tips for using LinuxSome of the more useful Linux commands are:Netiquette Before you start If you are new to Linux we recommend doing a basic tutorial. If you need to know more the Linux howtos are the place to look.