SiteMaps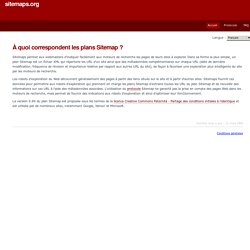 Langue : Sitemaps permet aux webmasters d'indiquer facilement aux moteurs de recherche les pages de leurs sites à explorer. Dans sa forme la plus simple, un plan Sitemap est un fichier XML qui répertorie les URL d'un site ainsi que des métadonnées complémentaires sur chaque URL (date de dernière modification, fréquence de révision et importance relative par rapport aux autres URL du site), de façon à favoriser une exploration plus intelligente du site par les moteurs de recherche. Les robots d'exploration du Web découvrent généralement des pages à partir des liens situés sur le site et à partir d'autres sites. Sitemaps fournit ces données pour permettre aux robots d'exploration qui prennent en charge les plans Sitemap d'extraire toutes les URL du plan Sitemap et de recueillir des informations sur ces URL à l'aide des métadonnées associées.
Accueil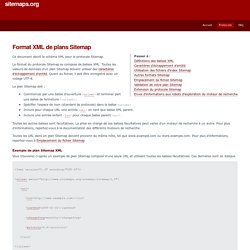 Protocole
Passer à : Définitions des balises XML Caractères d'échappement d'entité Utilisation des fichiers d'index Sitemap Autres formats Sitemap Emplacement du fichier Sitemap Validation de votre plan Sitemap Extension du protocole Sitemap Envoi d'informations aux robots d'exploration du moteur de recherche Ce document décrit le schéma XML pour le protocole Sitemap. Le format du protocole Sitemap se compose de balises XML. Toutes les valeurs de données d'un plan Sitemap doivent utiliser des caractères d'échappement d'entité. Quant au fichier, il doit être enregistré avec un codage UTF-8. Le plan Sitemap doit :
Un article de Wikipédia, l'encyclopédie libre. L' UTF-8 est utilisé par 78,1 % des sites web en novembre 2013[1]. Le répertoire Unicode peut contenir plus d'un million de caractères, ce qui est bien trop grand pour être codé par un seul octet (limité à des valeurs entre 0 et 255). La norme Unicode définit donc des méthodes standardisées pour coder et stocker cet index sous forme de séquence d'octets : UTF-8 est l'une d'entre elles, avec UTF-16, UTF-32 et leurs différentes variantes. La principale caractéristique d'UTF-8 est qu'elle est rétro-compatible avec la norme ASCII, c'est-à-dire que tout caractère ASCII se code en UTF-8 sous forme d'un unique octet, identique au code ASCII. Par exemple « A » (A majuscule) a pour code ASCII 65 et se code en UTF-8 par l'octet 65.
UTF-8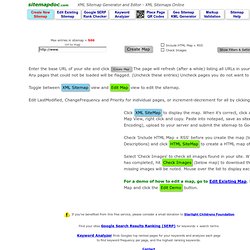 Enter the base URL of your site and click The page will refresh (after a while) with a list of the pages from your site. Any pages that could not be loaded will be flagged. (Uncheck these entries) Uncheck pages you do not want to include. Toggle between XML Sitemap view and Edit Map view to edit the sitemap. Edit LastModified, ChangeFrequency and Priority for individual pages, or increment-decrement for all by clicking arrows.
SitemapsPal
GSiteCrawler
Google Sitemaps allows the webmaster to help Google index their pages optimally. The GSiteCrawler will help you generate the best Google Sitemap file for your website. The GSiteCrawler uses different ways to find all the pages in your website and can generate all sorts of files, statistics and more. The sitemaps file format has lately been also adapted by Yahoo!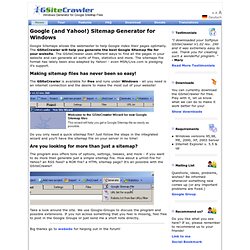 Introduction: AutoSitemap is a useful tool that allow you to create the google sitemap of your site visually.Unlike the other tools, AutoSitemap can add dynamic URLs with serial parameters (eg. http://d/show.php?id=1, http://d/show?
Autositemap.sourceforge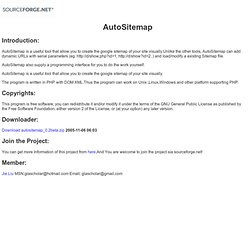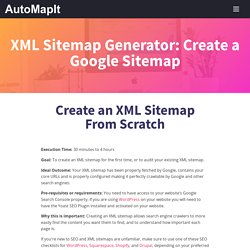 Attention ALL Webmasters... Finally... A ThatWon't Slow Down Your Site, Doesn't Require Downloads, AND Boosts Your Google Rankings! What a great, timesaving service!! I will be signing up my other 4 sites now!!
Automapit