Systèmes embarqués
Newsroom : Tiny and tinier: EU projects minimise size of semiconductor chips
Tiny and tinier: EU projects minimise size of semiconductor chips
Embedded Newsletter for 07-25-11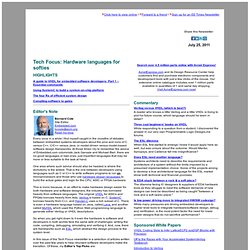 Tech Focus: Hardware languages for softies
5 tech breakthroughs: Chip-level advances that may change computing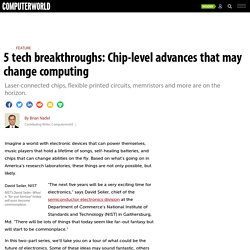 September 13, 2011 06:00 AM ET
eetimes
The 4004 spawned the age of ubiquitous and cheap computing. "We always overestimate the change that will occur in the next two years and underestimate the change that will occur in the next ten." —Bill Gates If one human generation represents 20 years, as many sources suggest, two entire generations have been born into a world that has always had microprocessors.
Modeling of embedded designs - Part 1: Why model?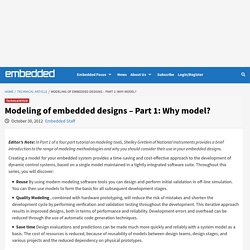 Editor's Note: In Part 1 of a four part tutorial on modeling tools, Shelley Gretlein of National Instruments provides a brief introduction to the range of modeling methodologies and why you should consider their use in your embedded designs. Creating a model for your embedded system provides a time-saving and cost-effective approach to the development of dynamic control systems, based on a single model maintained in a tightly integrated software suite. Throughout this series, you will discover: Reuse By using modern modeling software tools you can design and perform initial validation in off-line simulation. You can then use models to form the basis for all subsequent development stages.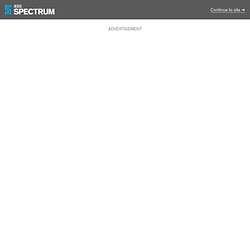 The discovery that microbial nanowires inside the bacterium Geobacter sufurreducens can conduct electricity not only represents a paradigm shift in our fundamental understanding of biology but also could completely change how we manufacture and use electronics.
Paradigm Shift in Understanding of Biology Could Alter Electronics
Apple's A6 Details and Timeline Emerge