Dev Site
Activer les logs de requêtes MySQL à la volée - Le blog d'un DSI. Voici une astuce pour activer/désactiver les logs de requêtes (general log) de MySQL sans avoir à redémarrer le service. 1.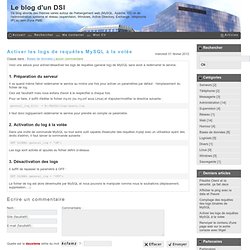 Préparation du serveur Il va quand même falloir redémarrer le service au moins une fois pour activer un paramètres par défaut : l'emplacement du fichier de log. Built With Bootstrap. Skeleton: Beautiful Boilerplate for Responsive, Mobile-Friendly Development. What Is It?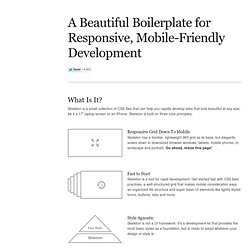 Skeleton is a small collection of CSS files that can help you rapidly develop sites that look beautiful at any size, be it a 17" laptop screen or an iPhone. Skeleton is built on three core principles: Responsive Grid Down To Mobile Skeleton has a familiar, lightweight 960 grid as its base, but elegantly scales down to downsized browser windows, tablets, mobile phones (in landscape and portrait). Go ahead, resize this page! Conversion Tracking and Conversion Rate Optimization. Enterprise IT management reinvented in the cloud.
jQuery.Gantt. Downloads Download latest: 1.2.2 Download previous: 1.1.0 (stable) Sources Other branches and tags are located at github: jQuery.Gantt.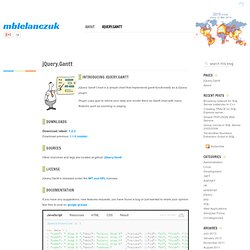 VirtualBox et Ubuntu Server, un vrai serveur de développement en local. Lorsque l'on développe des sites web, il est bien utile d'avoir un serveur où faire ses tests, ne serait-ce que pour éviter de casser un site déjà en ligne.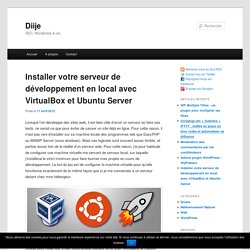 Pour cette raison, il n'est pas rare d'installer sur sa machine locale des programmes tels que EasyPHP ou WAMP Server (sous windows). Mais ces logiciels sont souvent assez limités, et parfois assez loin de la réalité d'un serveur web. Pour cette raison, j'ai pour habitude de configurer une machine virtuelle me servant de serveur local, sur laquelle j'installerai le strict minimum pour faire tourner mes projets en cours de développement. Le but du jeu est de configurer la machine virtuelle pour qu'elle fonctionne exactement de la même façon que si je me connectais à un serveur distant chez mon hébergeur. Puisque la configuration d'une telle machine est parfois un poil compliquée, voici un tutoriel pour créer pas à pas votre propre serveur local avec VirtualBox et Ubuntu Serveur. Documentation - Yii PHP framework.
9 Useful PHP Functions and Features You Need to Know. Twice a month, we revisit some of our readers' favorite posts from throughout the history of Nettuts+.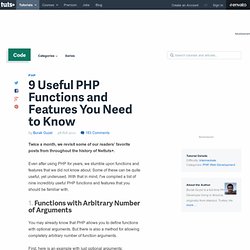 Even after using PHP for years, we stumble upon functions and features that we did not know about. Some of these can be quite useful, yet underused. With that in mind, I've compiled a list of nine incredibly useful PHP functions and features that you should be familiar with. CSS Sprites generator. Professor Cloud. Cloud Zoom is a popular fly-out jQuery image zoom plugin used on many high profile retail sites.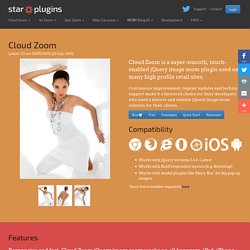 Continuous improvement, regular updates and technical support make it a favoured choice for busy developers who need a mature and reliable jQuery image zoom solution for their clients. Works with jQuery versions 1.4.3 - Latest, 2.0.3 Works with fluid/responsive layouts (e.g. Bootstrap) Works with modal plugins like Fancy Box* for big pop-up images *Fancy box is available separately here. Créer un menu à onglets avec CSS. Introduction Propos Je vais montrer comment utiliser le langage des feuilles de style en cascade (CSS) pour créer un menu à onglets.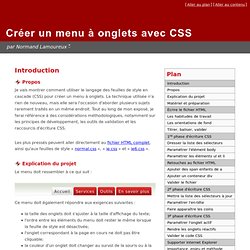 Styled Css Menus - High Quality Web Based Professional Css Menus: Jogi Css Menu. SQL Injection Cheat Sheet. Find and exploit SQL Injections with free Netsparker SQL Injection Scanner SQL Injection Cheat Sheet, Document Version 1.4 About SQL Injection Cheat Sheet Currently only for MySQL and Microsoft SQL Server, some ORACLE and some PostgreSQL.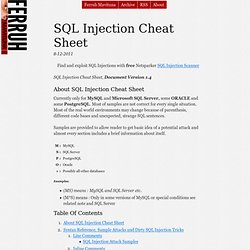 Most of samples are not correct for every single situation. Most of the real world environments may change because of parenthesis, different code bases and unexpected, strange SQL sentences. Performance.
CSS Sprite Generator | Project Fondue. Sprites. Zend. Debug. Asynchronous Php. CSS.
---