Blogs
Advancing Sourcing Technologies: Five Product Reasons to Go Beyond Basic Sourcing/Reverse Auctions. Back in October, I recorded a podcast with Next Level Purchasing's Charles Dominick covering advanced sourcing tools.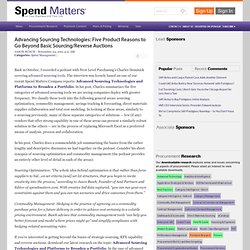 The interview was loosely based on one of our recent Spend Matters Compass reports: Advanced Sourcing Technologies and Platforms to Broaden a Portfolio. In his post, Charles summarizes the five categories of advanced sourcing tools we are seeing companies deploy with greater frequency. We classify these tools into the following general areas: sourcing optimization, commodity management, savings tracking & forecasting, direct materials supplier collaboration and total cost modeling. In looking at these areas, similarly to e-sourcing previously, many of these separate categories of solutions — few (if any) vendors that offer strong capability in one of these areas can present a similarly robust solution in the others — are in the process of replacing Microsoft Excel as a preferred means of analysis, process and collaboration.
Spend Matters. Procurement Blog - Procurement Leaders Blog | Procurement News | Procurement Opinions | Procurement Views. Supplier Opinion Surveys 3: A component of supplier relationship management : SmartProcurement.co.za - FREE on-line newsletter for purchasing and supply management professionals. Introduction "Organisations are increasingly realising the impact that suppliers have on their organisation and that total service quality not only applies to servicing the customer but also to the supplier as an integral part of the total value chain", Andrew Hillman, Managing Director of Bespoke Sourcing Solutions, told SmartProcurement.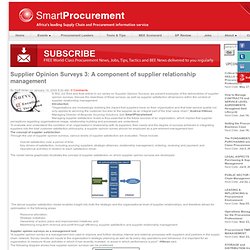 Managing supplier satisfaction levels is thus essential to the future success of an organisation, which implies that supplier perceptions regarding organisational image, relationship building and processes are understood. To evaluate and understand the condition of an organisation's relationship with its suppliers, their needs and the degree of success achieved in integrating suppliers into the total customer satisfaction philosophy, a supplier opinion survey should be employed as a pre-eminent management tool.
Prix et valeur de la collaboration dans le travail. Il y a une logique économique qui pervertit bien des projets menés au forfait.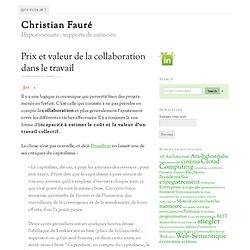 C'est celle qui consiste à ne pas prendre en compte la collaboration et plus généralement l'ajustement entre les différentes tâches effectuées. Il y a toujours là une forme d'incapacité à estimer le coût et la valeur d'un travail collectif. La chose n'est pas nouvelle, et déjà Proudhon en faisait une de ses critiques du capitalisme : « Le capitaliste, dit-on, a payé les journées des ouvriers ; pour être exact, il faut dire que le capitalisme a payé autant de fois une journée qu'il a employé d'ouvriers chaque jour, ce qui n'est point du tout la même chose.
Coopération, management et technologies » coopération. Ce billet est le premier d'une série sur la théorie de la coopération, dans lesquels nous reviendrons notamment sur les travaux de Robert Axelrod.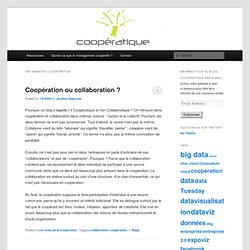 Entre autres réalisations, Robert Axelrod est l'auteur de l'ouvrage The evolution of cooperation, publié en français sous le titre attrayant, provocateur mais réducteur "Comment réussir dans un monde d'égoïstes ?" Vous trouverez dans le centre de ressources un résumé et commentaire de ce livre par François Audiat. Le livre passe en revue différentes stratégies d'interaction entre les membres d'un groupe. Parmi ces stratégies, il y a le modèle dit "donnant – donnant". Le principe de la coopération donnant – donnant consiste à interagir sur un mode coopératif avec un partenaire tant que celui-ci fait de même.
Managers hiérarchiques et transversaux : coopérez ! Le lecteur de ce billet trouvera probablement le titre quelque peu incantatoire et il aura raison : la coopération ne se décrète pas.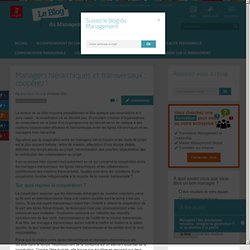 Et pourtant combien d'organisations se construisent sur la base d'un organigramme qui devrait servir de viatique à des relations transversales efficaces et harmonieuses entre les lignes hiérarchiques et les managers hors hiérarchie. Signalons que la coopération entre les managers hiérarchiques et les chefs de projet est le plus souvent balisée : lettre de mission, affectation d'une équipe dédiée, définition des temps alloués au projet, hiérarchisation des priorités, objectivation des la contribution des collaborateurs au projet… Il en va encore bien souvent tout autrement en ce qui concerne la coopération entre les managers transversaux, les lignes hiérarchiques et les collaborateurs-contributeurs des missions transversales. Quelles sont donc les conditions d'une coopération durable indispensable à la réussite de la mission transversale ? Raising procurement's self-esteem. First impressions Procurement professionals are indoctrinated into the profession with messages such as "you have to take the internal customer along with you", "you have to persuade them" and "you have to get their buy-in first".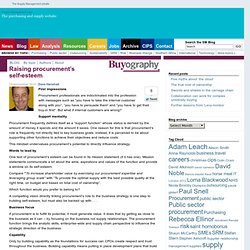 But what if internal customers are wrong? Support mentality. Is the Facebook generation the key to procurement's future? As the owner of a website, blog, LinkedIn group and a novice Twitter user, I am no stranger to social media, but certainly no expert.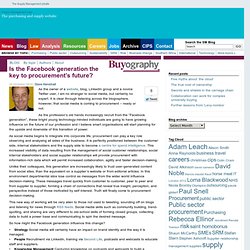 It is clear through listening across the blogosphere, however, that social media is coming to procurement – ready or not. As the profession's old hands increasingly recruit from the "Facebook generation", these bright young technology-minded individuals are going to have growing influence on the future of our profession and I believe smart organisations will start planning for the upside and downside of this transition of power. A waste of collaborative buying expertise. Why, when government is touting centralisation as the answer to all its spending ills, is it disbanding collaborative buying groups?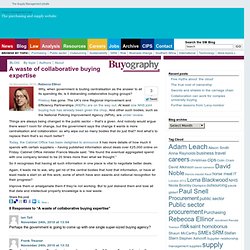 Firebuy has gone. The UK's nine Regional Improvement and Efficiency Partnerships (RIEPs) are on the way out. At least one NHS joint buying hub has already been given the chop. Thinking outside the inbox. According to French IT firm Atos Origin, the tired old email is on its way out of business and set to be replaced by a younger, funkier way of communicating.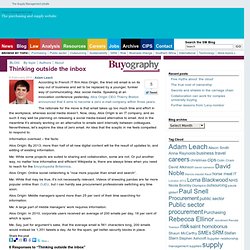 Aka: social media. Speaking at an innovation conference yesterday, Atos Origin CEO Thierry Breton announced that it aims to become a zero e-mail company within three years. The rationale for the move is that email takes up too much time and effort in the workplace, whereas social media doesn't. A new philosophy. Collaboration and streamlined policies are helping HR and procurement to improve services at Westminster City Council.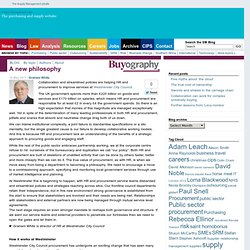 The UK government spends more than £220 billion on goods and services and £170 billion on salaries, which means HR and procurement are responsible for at least £2 in every £4 the government spends. So there is an high expectation that monies of this magnitude are managed exceptionally well. Yet in spite of the determination of many leading professionals in both HR and procurement, pitfalls and snares that absorb and neutralise change drag both of us down. How Sourcing Pros Can Improve Social Technology Plans.
Opinion By Chris Andrews October 19, 2010 09:36 AM ET CIO - It's no surprise that enterprise use of social technologies continues to grow rapidly. In fact, Recent Forrester data confirms what many business professionals already suspect: 32 percent of organization are now supporting social networking sites, and 28 percent of enterprise IT decision-makers use collaboration platforms for Web 2.0 functionality. But even as social in the enterprise grows, far too many sourcing professionals seem content to sit on the sidelines-letting individual social technology adoption grow organically within the company, showing minimal regard for long-term sourcing considerations.
Partage, P2P… bienvenue dans l'économie collaborative! Boostés par les outils web et la crise, la consommation collaborative émerge comme une véritable alternative à une société propriétaire. De la voiture partagée au booksurfing, Antonin Léonard dissèque les nouvelles tendances. Un jour, nous regarderons le XXe siècle et nous nous demanderons pourquoi nous possédions autant de choses. Geckonaute. Delicious a été mon outil de prédilection pour gérer mes favoris, j'en ai déjà d'ailleurs déjà parlé ici et expliqué là pourquoi ce service (et d'autres) de gestion de favoris en ligne est utile.
Seulement voilà, il y a quelque temps, des rumeurs que Yahoo (propriétaire de Delicious) allaient peut-être "tuer" le service m'ont fait chercher une alternative. Depuis, les rumeurs sont devenues réalités puisque Delicious a été vendu. FredCavazza.net. De l'apport du social dans l'évolution de votre S.I. Le système d'information est une composante essentielle de l'entreprise. Une entreprise sans S.I. est une entreprise qui tourne nécessairement au ralenti. Un S.I. performant est synonyme de compétitivité pour une entreprise : De l'information qui circule plus vite, des connaissances mieux partagées et des données mieux exploitées. Ceci étant dit, nous pouvons relativiser cette vision en disant qu'un S.I. performant ne compensera jamais un modèle économique bancal ou des équipes de mauvaise volonté. De même, il existe un certain nombre de prérequis pour que le S.I. délivre tout son potentiel : Une adoption complète par les employés, une organisation adéquate, des budgets bien maitrisés… Il n'empêche que nous pouvons résumer l'impact du S.I. de cette façon : Un S.I. défaillant peut pénaliser la croissance et la rentabilité d'une entreprise alors qu'un S.I. performant peut l'aider à se développer plus vite.
Les achats dans tous leurs états... Acheteur "à venir" Le métier d'acheteur s'est développé depuis quelques années (depuis 2000 essentiellement). Je me suis plus particulièrement intéressée à cette fonction lors de mon année de licence suite à un cours de stratégie au cours duquel j'ai réalisé l'enjeu stratégie de cette fonction. Non seulement ce métier représente un enjeu certain mais c'est surtout un métier où il faut savoir faire preuve de polyvalence et de relationnel ! Nous aurons l'occasion, je l'espère d'échanger sur ce thème via vos commentaires !! Je vais d'abord commencer par vous présenter mes 3 objectifs : - aider toute personne intéressée par cette fonction en développement – car il n'est pas toujours très simple de savoir comment accéder à ce métier.
Strategic Purchasing: The Nature of Strategic Purchasing - Part 3 - SCM - Supply Chain Resource Cooperative (SCRC) - North Carolina State University. What is supplier segmentation and why is it important in supplier relation management | Daily Trader Blog.
---