Architectes
doucerain delziani architectes
rick joy architect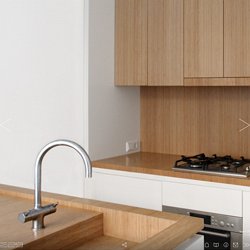 News We are looking for new people: experienced interior architects / draftsman. i29 WINNER THE GREAT INDOORS AWARDS 2013 From 271 entries from 39 countries, our project social 01 won in the categorie Concentrate & Collaborate. It has been the third time in a row that i29 interior architects ends as a winner for this international award.
ARCHITEKTEN
João Luís Carrilho da Graça
+++++ Lussi + Halter dipl. Architekten ETH SIA BSA +++++
Metron AG. Metron AG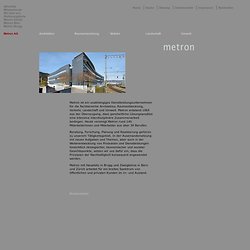 Metron ist ein unabhängiges Dienstleistungsunternehmen für die Fachbereiche Architektur, Raumentwicklung, Verkehr, Landschaft und Umwelt. Metron entstand 1965 aus der Überzeugung, dass ganzheitliche Lösungsansätze eine intensive interdisziplinäre Zusammenarbeit bedingen. Heute vereinigt Metron rund 140 Mitarbeiterinnen und Mitarbeiter aus über 30 Berufen. Beratung, Forschung, Planung und Realisierung gehören zu unserem Tätigkeitsgebiet. In der Auseinandersetzung mit neuen Aufgaben und Themen, aber auch in der Weiterentwicklung von Produkten und Dienstleistungen hinsichtlich ökologischer, ökonomischer und sozialer Gesichtspunkte, setzen wir uns dafür ein, dass die Prinzipien der Nachhaltigkeit konsequent angewendet werden.
einsatz des betonvorhangs in tarsem singhs neuem hollywood blockbuster "KRIEG DER GÖTTER" mit henry cavill und mickey rourke als innenverkleidung des palast des königs 1000 designs for the garden - laurence king, london concrete - ullmann verlag ausstellung: young austrian design sztuki gallery - krakau/pl 40under40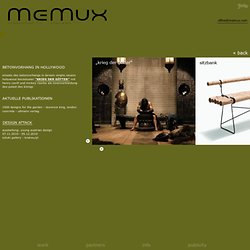 memux.com – wer bremst, verliert
Gonçalo Byrne Arquitectos
Baserga Mozzetti Architetti
Dietrich Untertrifaller
Architekten Hermann Kaufmann ZT GmbH
Adjaye Associates News David Adjaye & Taiye Selasi: Gwangju River Reading Room has opened. The Gwangju Biennale Foundation is proud to announce the opening of the Gwangju Folly II.+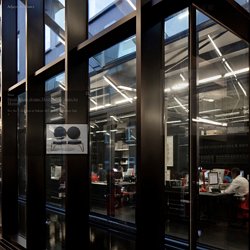 burkhalter sumi architekten | www.swiss-architects.com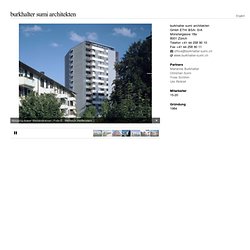 dipl. Arch ETH/BSA/SIA 1950 Born in Biel Studies architecture at the ETH Zurich 1977 Diploma with Prof. Dolf Schnebli 1978-1981 Worked at the German Archaeological Institute in Rome (DAI) with Dr.
Peter Barber Architects
Andreas Fuhrimann Gabrielle Hächler Architekten ETH/BSA
BUCHNER BRÜNDLER ARCHITEKTEN
Jean Christophe QUINTON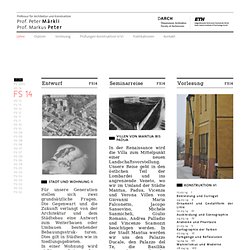 In der Renaissance wird die Villa zum Mittelpunkt einer neuen Landschaftsvorstellung. Unsere Reise geht in den östlichen Teil der Lombardei und ins angrenzende Veneto, wo wir im Umland der Städte Mantua, Padua, Vicenza und Verona Villen von Giovanni Maria Falconetto, Jacopo Sansovino, Michele Sanmicheli, Giulio Romano, Andrea Palladio und Vincenzo Scamozzi besichtigen werden. In der Stadt Mantua werden wir uns den Palazzo Ducale, den Palazzo del Te, die Basilika Sant'Andrea und die Kirche San Sebastiano anschauen. Der Maler Franz Wanner, ein Kenner der italienischen Architektur, Malerei, Bildhauerei und der italienischen Küche, wird uns auf dieser Reise begleiten.
Professur Märkli Peter ETH Zürich
Architekten Hermann Kaufmann ZT GmbH
frei & ehrensperger - architekten
Bevk Perović arhitekti
Gonçalo Byrne Arquitectos
PEDRO REIS arquitecto
Wespi De Meuron Architekten - Projekten