Forums et Docs
WinkSound
Electronic Music 411
Manuels de Synthes
Control Freak Live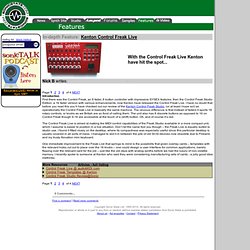 Page1 2 3 4 of 4NEXTIntroduction First there was the Control Freak, an 8 fader, 8 button controller with impressive SYSEX features, then the Control Freak Studio Edition, a 16 fader version with various enhancements, now Kenton have released the Control Freak Live. I have no doubt that before you read this you'll have checked out our review of the Kenton Control Freak Studio, (or at least I hope so!) as operationally the Control Freak Live is basically the same machine. The obvious difference is that instead of faders it sports 16 rotary controls, or knobs as we British are so fond of calling them. The unit also has 8 discrete buttons as opposed to 16 on Control Freak though 9-16 are accessible at the touch of a (shift) button. Oh, and of course it's red.
Audiokeys
Novation Forum
Ableton LiveTips
Vidéos sur l'audio et la musique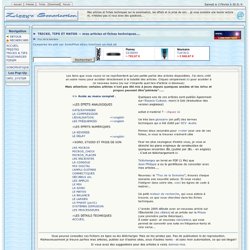 Les liens que vous voyez ici ne représentent qu'une petite partie des articles disponibles. J'ai donc créé un autre menu pour accéder directement à la totalité des articles. Cliquez simplement ici pour accéder à ce nouveau menu (ou sur n'importe quel lien d'article ci-dessous) Mais attention: certains articles n'ont pas été mis à jours depuis quelques années et les infos et propos peuvent être"périmés"..... Quelques uns de ces articles sont publiés également sur l'Espace-Cubase ; merci à Seb (traducteur des version anglaises)
TRICKS, TIPS ET MATOS
Forum Reaktor Francophone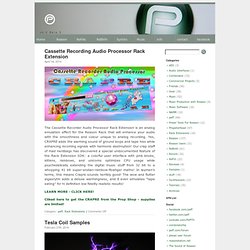 Cassette Recording Audio Processor Rack Extension April 1st, 2014 The Cassette Recorder Audio Processor Rack Extension is an analog emulation effect for the Reason Rack that will enhance your audio with the smoothness and colour unique to analog recording. Yes, CRAPRE adds the warming sound of ground loops and tape hiss while enhancing incoming signals with harmonic destroytion! Our crap staff of mad nerdbags has discovered a special undocumented feature of the Rack Extension SDK: a colorful user interface with pink knobs, kittens, rainbows, and unicorns optimizes CPU usage while psychedelically extending the digital music stuff from 32 bit to a whopping 41 bit super-endian-rainbow-floatiger maths! In laymen's terms, this means Crapre sounds terribly good!
peff.com
Ce site est prévu pour un écran en 1024X768 : This site is optimized for 1024X768 screen ce site reçoit une moyenne de 4000 visites par mois (analyse Xiti) this site receives around 4000 visitors per month (monitored by Xiti) from all over the world : France, USA, Singapore,Turkey, Bosnia, Japan, Australia,Russia,Slovenia,Spain,Brazil,UK,China,Algeria,Thailand,Canada, Québec,Netherland United Kingdom, China, Germany, Italy, Russia, Australia, New Zealand, Senegal, Tanzania, Laos, Cambodia, Irland, etc. if you visit this page from Groenland, please click here Contact us ! Nous contacter
Techno-iD