Forums et Docs
WinkSound. Upload Subscription preferences Loading...
Electronic Music 411. Manuels de Synthes. Control Freak Live. Page1 2 3 4 of 4NEXTIntroduction First there was the Control Freak, an 8 fader, 8 button controller with impressive SYSEX features, then the Control Freak Studio Edition, a 16 fader version with various enhancements, now Kenton have released the Control Freak Live.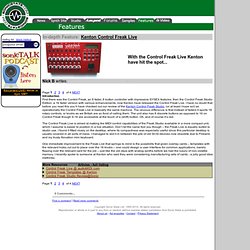 I have no doubt that before you read this you'll have checked out our review of the Kenton Control Freak Studio, (or at least I hope so!) As operationally the Control Freak Live is basically the same machine. The obvious difference is that instead of faders it sports 16 rotary controls, or knobs as we British are so fond of calling them. The unit also has 8 discrete buttons as opposed to 16 on Control Freak though 9-16 are accessible at the touch of a (shift) button. Oh, and of course it's red. Audiokeys. Novation Forum. Ableton LiveTips. Audiofanzine : Home Studio, MAO, Guitares, Basses, Sono et DJ - Audiofanzine. Vidéos sur l'audio et la musique. TRICKS, TIPS ET MATOS. Les liens que vous voyez ici ne représentent qu'une petite partie des articles disponibles.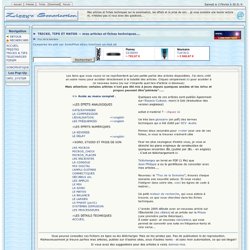 J'ai donc créé un autre menu pour accéder directement à la totalité des articles. Cliquez simplement ici pour accéder à ce nouveau menu (ou sur n'importe quel lien d'article ci-dessous) Mais attention: certains articles n'ont pas été mis à jours depuis quelques années et les infos et propos peuvent être"périmés"..... Quelques uns de ces articles sont publiés également sur l'Espace-Cubase ; merci à Seb (traducteur des version anglaises)
Forum Reaktor Francophone. Sonic State - News, Reviews, Video Features, Music Making Gear. Peff.com. Techno-iD.
---