Words
Best Text-to-Speech Demo: Create Talking Avatars and Online Characters | SitePal TTS Demo This website helps you to generate tree clouds from a text, that is word clouds where the words are arranged on a tree which reflects their semantic proximity inside the text. The first tree cloud appeared on Jean Véronis's blog in December 2007, you can now create your own with this website, or with the TreeCloud software. Create your own tree cloud online! Ce site web vous permet de générer des nuages arborés à partir d'un texte, c'est à dire des nuages de mots disposés autour d'un arbre qui indique leur proximité dans le texte. Le premier nuage arboré est apparu sur le blog de Jean Véronis en décembre 2007, vous pouvez maintenant créer les vôtres avec ce site web, ou avec le logiciel TreeCloud. Créez vos propres nuages arborés en ligne !
What's a word cloud? An attractive arrangement of randomly positioned words, where the most important words are bigger than the others. What are they for? Mostly for fun! ...and now you can print them automatically onto items: a great idea for making custom gifts! Plus they are fantastic at summarising large documents (reports, speeches, questionnaires, etc), teaching kids and more...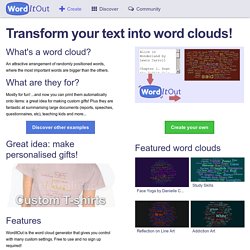 Domain Names Directory
List of unusual words beginning with P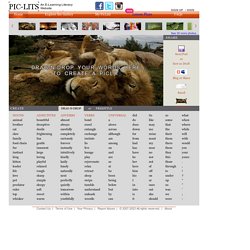 This is a tooltip bear collar
June 8, 2013 — Guess the Wordle is Moving Hello!! Just wanted to let you know that for the summer, Guess the Wordle is moving to the Discovery Education Student Edition. You will still be able to view the wordles — but only on WEDNESDAY !! You can view the Wednesday wordles by clicking the link below: http://blog.discoveryeducation.com/dsn/2013/06/05/wordle-wednesday/
Guess The Wordle »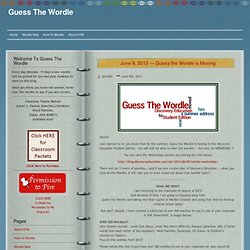 Tagxedo turns words -- famous speeches, news articles, slogans and themes, even your love letters -- into a visually stunning word cloud, words individually sized appropriately to highlight the frequencies of occurrence within the body of text. Create Shop Learn Gallery The following are a few examples to show the versatility of Tagxedo, especially how tightly the words hug the shapes. Feel free to click the pictures and play with them in Tagxedo. If you like these word clouds, you must also check out the Tagxedo Facebook page which has many more candies for your eyes, and read about the 101 Ways to Use Tagxedo.