Must have Wordpress
Hermes WordPress Theme
How do you feel when visiting a website with an eye catching fullscreen background and a proper visual impact? Now it is the time to tweak your WordPress blog into a really stunning portfolio and present your photos in the best way possible. Hermes is a premium WordPress theme help you to do that. Fullscreen and responsive are two of the popular trends in web techniques for 2012.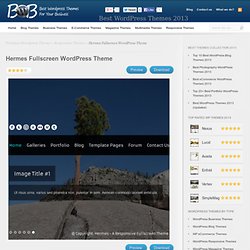 10 Best eCommerce wordpress themes 2012 (June)
This Best eCommerce WordPress themes collection shows you the top of premium WordPress themes for building effective online stores and other eCommerce websites in small/medium size. You know that WordPress is not only for blogging, it is also a right choice to establish a professional showcasing and selling products quickly and easily. By using premium WordPress themes which have beautiful design and be powerful enough to help you to get your business online with stunning look and full featured backstage. WordPress themes for eCommerce are flexible in functionality as well, you can combine the product pages with blogging section.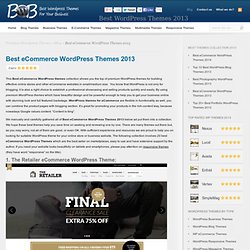 Premium wordpress themes - Best wordpress themes for business
s Blueprint - Must Have WordPress Plugins and Tools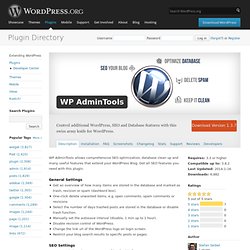 WP AdminTools
WP AdminTools allows comprehensive SEO optimization, database clean up and many useful features that extend your WordPress Blog.
7 Must Have WordPress Plugins For Every Blog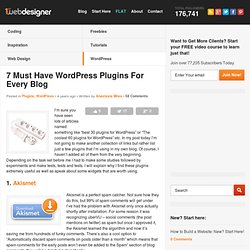 I'm sure you have seen lots of articles named something like "best 30 plugins for WordPress" or "The coolest 60 plugins for WordPress" etc. In my post today I'm not going to make another collection of links but rather list just a few plugins that I'm using in my own blog. Of course, I haven't added all of them from the very beginning. Depending on the task set before me I had to make some studies followed by experiments and make tests, tests and tests. I will explain why I find these plugins extremely useful as well as speak about some widgets that are worth using. 1.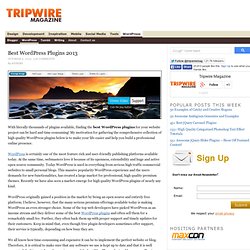 With literally thousands of plugins available, finding the best WordPress plugins for your website project can be hard and time-consuming! My motivation for gathering the comprehensive collection of high quality WordPress plugins below is to make your life easier and help you build a professional online presence. WordPress is certainly one of the most feature rich and user-friendly publishing platforms available today. At the same time, webmasters love it because of its openness, extensibility and huge and active open source community.
10 Must Have WordPress Plugins for the Modern Blogger
If you're new on INSPIRED [the web design lifestyle mag], you may want to subscribe to our RSS feed & Newsletter for extra goodies. Thanks for visiting! Been a while since we published the latest WP plugins roundup.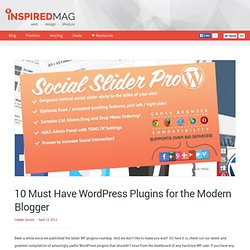 04 May 2013 This is an always-updated list of the best WordPress plugins that will add new functionality to your WordPress blog. All plugins are available for download in the WordPress.org repository. couch mode print story Here are the best WordPress plugins that will add new functionality to your WordPress websites that is otherwise not available in the vanilla version of WordPress software. These are all free and open-source plugins and you can download them from the official WordPress plugins repository.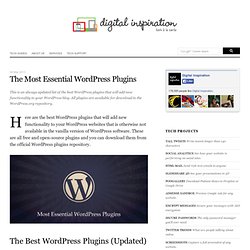 25 Must-Have WordPress Plugins for your WordPress.org Blog
10 Must Have WordPress Plugins Of 2012 Every Blogger Should Know About
How can you wow your readers when they visit your blog, so that they never want to leave again? With over 900,000 new blogposts that are freshly published every day, the competition is fierce for each and every author. Yet, making your articles the ones that readers want to come back to check out isn't so hard.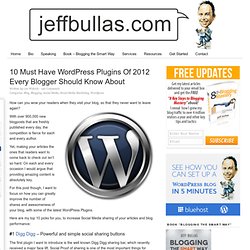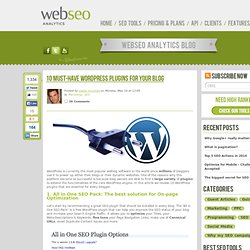 10 must-have Wordpress Plugins for your Blog
WordPress is currently the most popular weblog software in the world since millions of bloggers use it to power up either their blogs or their dynamic websites. One of the reasons why this platform became so successful is because blog owners are able to find a large variety of plugins to extend the functionalities of the core WordPress engine. In this article we review 10 WordPress plugins that are essential for every blogger. 1. All in One SEO Pack: The best solution for On-page Optimization Let's start by recommending a great SEO plugin that should be installed in every blog.