Data
Gapminder: Unveiling the beauty of statistics for a fact based world view. 6 Indispensable Free & Freemium SEO Tools. When you are working on search engine optimization for your own business or for a client's website, you will need some great SEO tools.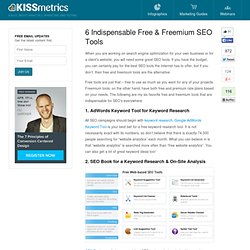 If you have the budget, you can certainly pay for the best SEO tools the Internet has to offer, but if you don't, then free and freemium tools are the alternative. Free tools are just that – free to use as much as you want for any of your projects. Freemium tools, on the other hand, have both free and premium rate plans based on your needs. The following are my six favorite free and freemium tools that are indispensable for SEO's everywhere. 1. Socrata | Making Data Social. Visualizing.org | Data Visualizations, Challenges, Community. Freebase. Social Development. Energy & Mining. Agriculture & Rural Development. Economic Policy & External Debt. Best Places to Live | Compare cost of living, crime, cities, schools and more. Sperling's BestPlaces.
SUOMEN WEB-SIVUSTOJEN VIIKKOLUVUT. 25. kesäkuuta 2012 lähtien TNS Metrix -palvelussa on käytetty uutta mittausjärjestelmää.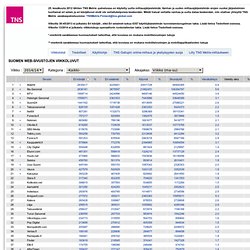 Vanhan ja uuden mittausjärjestelmän erojen vuoksi järjestelmien tuottamat eri selain ja eri kävijäluvut eivät ole vertailukelpoisia keskenään. Mikäli haluat vertailla vanhaa ja uutta dataa keskenään, niin otathan yhteyttä TNS Metrix -asiakaspalveluumme: TNSMetrix.Finland@tns-global.com Viikoilla 38-45/2013 ei julkaistu Eri kävijät-, eikä Eri selaimet-lukua iOS7 käyttöjärjestelmän tunnistamisongelman takia. Trendsmap - Real-time local Twitter trends. Topics. Free Public Records | Search the Original Directory Worldwide. Tweet-o-Meter - Giving you an insight into Twitter activity from. Is it true that, "New York is the city that never sleeps!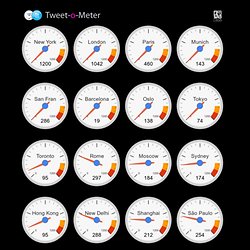 "? Do Londoners send more Tweets than New Yorkians'? Is Oslo a bigger Tweeter than Munich? Is Tokyo as much into Tweets as Barcelona? Map Your Twitter Followers. StatWorld - Interactive Maps of Open Data. Religion, World Religions, Comparative Religion - Just the facts on the world's religions.
---