Data
When you are working on search engine optimization for your own business or for a client's website, you will need some great SEO tools. If you have the budget, you can certainly pay for the best SEO tools the Internet has to offer, but if you don't, then free and freemium tools are the alternative. Free tools are just that – free to use as much as you want for any of your projects. Freemium tools, on the other hand, have both free and premium rate plans based on your needs. The following are my six favorite free and freemium tools that are indispensable for SEO's everywhere. 1.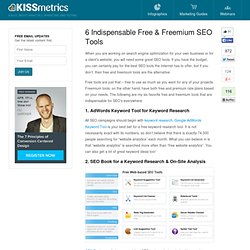 Social Development
Energy & Mining
Agriculture & Rural Development
Economic Policy & External Debt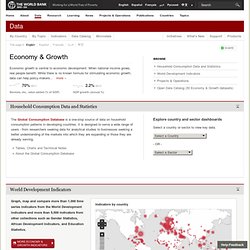 GNI per capita (formerly GNP per capita) is the gross national income, converted to U.S. dollars using the World Bank Atlas method, divided by the midyear population. GNI is the sum of value added by all resident producers plus any product taxes (less subsidies) not included in the valuation of output plus net receipts of primary income (compensation of employees and property income) from abroad. GNI, calculated in national currency, is usually converted to U.S. dollars at official exchange rates for comparisons across economies, although an alternative rate is used when the official exchange rate is judged to diverge by an exceptionally large margin from the rate actually applied in international transactions. To smooth fluctuations in prices and exchange rates, a special Atlas method of conversion is used by the World Bank.
SUOMEN WEB-SIVUSTOJEN VIIKKOLUVUT
25. kesäkuuta 2012 lähtien TNS Metrix -palvelussa on käytetty uutta mittausjärjestelmää. Vanhan ja uuden mittausjärjestelmän erojen vuoksi järjestelmien tuottamat eri selain ja eri kävijäluvut eivät ole vertailukelpoisia keskenään. Mikäli haluat vertailla vanhaa ja uutta dataa keskenään, niin otathan yhteyttä TNS Metrix -asiakaspalveluumme: TNSMetrix.Finland@tns-global.com Viikoilla 38-45/2013 ei julkaistu Eri kävijät-, eikä Eri selaimet-lukua iOS7 käyttöjärjestelmän tunnistamisongelman takia.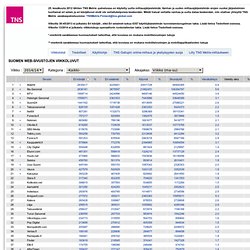 Topics
Is it true that, "New York is the city that never sleeps!"? Do Londoners send more Tweets than New Yorkians'? Is Oslo a bigger Tweeter than Munich? Is Tokyo as much into Tweets as Barcelona?