Crafts
Get flash to fully experience Pearltrees
We've had this boring old lamp for ages, and the other night I decided I couldn't bear to look at it anymore. I got out the hot-glue gun (my most favorite tool!), some vintage fabric I had stashed, and pom pom trim and went to town!
Oct 12 Yea! It's a piñata day!
I saw this photo the other day and fell in love with the wallpaper... I wish I knew where it was from! And because my handbag has slowly been converting into a giant pencil-case (I actually found three hole punches, a craft knife and two gluesticks in it the other day!)
Chain link bracelets, with colorful threads woven through them, have been popping up here and there . We adore Aurèlie Bidermann 's Do Brazil bracelets and thought it was about time we graduate to the ultimate "grown-up" friendship bracelet.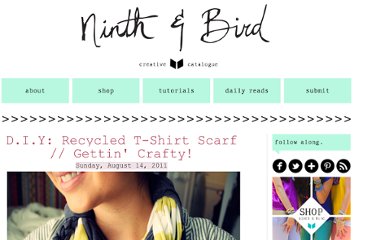 D.I.Y: Recycled T-Shirt Scarf 1} Gather a few old t-shirts you don't wear anymore; thrift them or buy new -- but choose thin, soft (preferably worn out) t-shirts.
My friend was wearing this super cute circle scarf from American Apparel and I wanted one!! Circle scarves, also called infinity scarves, are so popular this fall! I love the look of them!