TripleStore
WS1011-9-OWL_-_Syntax_und_Intuition_II
4store version 1.1.2 - 4store-support
The Semantic Web: Research and ...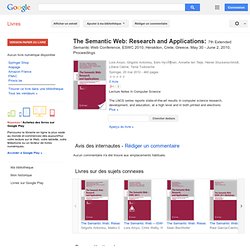 Grigoris Antoniou is Professor at the Institute for Computer Science, FORTH (Foundation for Research and Technology-Hellas), Heraklion, Greece. Aalto University, Finland Heiner Stuckenschmidt holds a post-doc position in the Knowledge Representation and Reasoning Group at the Vrije Universiteit Amsterdam where he received his PhD for work on Ontology-Based Information Sharing on the Semantic Web. His works include Semantic Web related topics such as ontology languages, knowledge-based meta data management and robust and scalable terminological reasoning.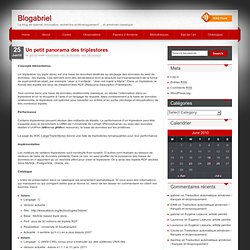 Concepts élémentaires Un triplestore (ou triple store) est une base de données destinée au stockage des données du web de données : les triplets. Ces derniers sont des déclarations dont la structure est invariablement de la forme de sujet-prédicat-objet, par exemple "Jean a 3 enfants", "Jean est marié à Marie".
Blogabriel » Blog Archive » Un petit panorama des triplestores