Matos Photo
Canon EF 50mm F1.4 USM Lens Review: 6. Conclusion & samples: Digital Photography Review-Mozilla Firefox. The EF 50mm F1.4 USM is Canon's mid-level offering in a range stuffed full of 50mm primes, covering all budgets from the ultra-cheap 50mm F1.8 mkII through to the stratospherically-priced 50mm F1.2 L USM.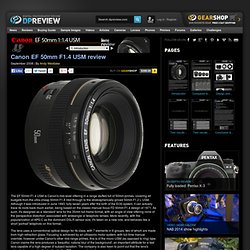 Although it was introduced in June 1993, fully seven years after the birth of the EOS system, it can actually trace its roots back much earlier, being based on the classic manual focus FD 50mm F1.4 design of 1971. As such, it's designed as a 'standard' lens for the 35mm full-frame format, with an angle of view offering none of the 'perspective distortion' associated with wideangle or telephoto lenses. Prise de Vue // Shooting.
Images photos. Canon - Les nouveautés - www.objectifs-canon.com-Mozilla Firefox. Photo, Vidéo & Optique Tous les produits en un coup d'œil-Mozilla Firefox. ★ Topic des objectifs pour réflex Canon ★ [Topic Unique] - Objectif - Photo numérique - FORUM HardWare.fr-Mozilla Firefox. Citation :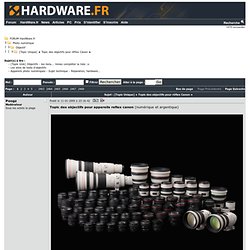 Canon EOS digital SLR system explained at Photo.net-Mozilla Firefox. The Canon EOS system of digital single-lens reflex (SLR) bodies and lenses is a standard choice among professional photographers worldwide.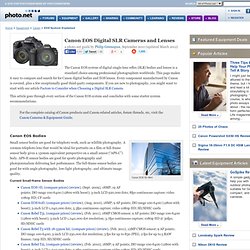 This page makes it easy to compare and search for for Canon digital bodies and EOS lenses. Every component manufactured by Canon is covered, plus a few exceptionally good third-party components. If you are new to photography, you might want to start with our article Factors to Consider when Choosing a Digital SLR Camera. This article goes through every section of the Canon EOS system and concludes with some starter system recommendations.
---