Articles/Discussions
Data Visualisation in Web Apps. A dashboard is a single screen showing the status of an application.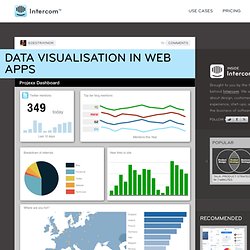 At a glance you should see what's going well and what areas are struggling. Customer retention is down. Visualising Data » Resources. Here is a collection of some of the most important, effective, useful and practical data visualisation tools.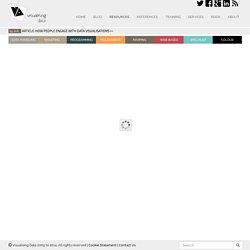 The content covers the many different resources used to create and publish visualisations, tools for working with colour, packages for handling data, places to obtain data, the most influential books and educational programmes and qualifications in visualisation itself. * Please note there are another 40-50 items to add to these collections but they are going to be saved for now and launched alongside the new version of this website around April * Data and visualisation tools.
De l'intérêt et de la difficulté d'exploiter un tableau de bord. Investir les médias sociaux est un travail de longue haleine qui vous demandera plusieurs années d'efforts avant de démontrer son plein potentiel.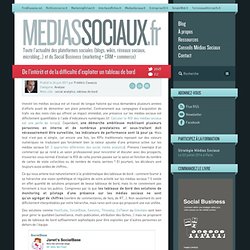 Contrairement aux campagnes d'acquisition de trafic via des mots-clés qui offrent un impact immédiat, une présence sur les médias sociaux est difficilement quantifiable à l'aide d'indicateurs numériques (cf. Calculer le ROI des médias sociaux est une perte de temps). Cependant, une démarche ambitieuse mobilisant plusieurs personnes en interne et de nombreux prestataires et sous-traitant doit nécessairement être surveillée, les indicateurs de performance sont là pour ça. Think Tank Business Datavis. L'atlas du financement des partis : comment nous avons travaillé.
Nous avons eu la grande chance de mener cet été une mission dédiée au journalisme de données à LEXPRESS.fr.
Une partie de notre travail a consisté à mettre en place cet atlas des partis français qui présente notre écosystème politique à travers le prisme de son financement. Ce genre de gros projet de journalisme de données n'étant pas encore très courant en France, nous avons choisi de raconter ici, point par point, comment nous avons travaillé avec LEXPRESS.fr. Le contexte Micros-partis, associations de financement et organisations satellites : ils ont surgi dans l'actualité française cet été, à la faveur de la polémique Woerth/Bettancourt, et mettent en lumière un vaste pan du financement de la vie politique via les dons entre partis.
---