Weird Shopping
An Unbearably Scary Solstice. We weren't going to make these this year.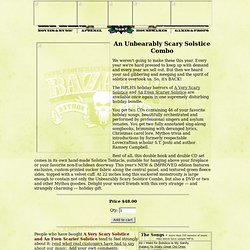 Every year we're hard pressed to keep up with demand and every year we sell out. But then we heard your sad gibbering and meeping and the spirit of solstice overtook us. So, it's BACK! The HPLHS holiday horrors of A Very Scary Solstice and An Even Scarier Solstice are available once again in one supremely disturbing holiday bundle. You get two CDs containing 46 of your favorite holiday songs, beautifully orchestrated and performed by professional singers and asylum inmates. James Hance - Relentlessly Cheerful Art. Kill Bugs With Diatomaceous Earth. Funny T-Shirts at Tshirtbordello.com - ArtFire.com - Premier handmade marketplace to buy & sell handmade crafts, supplies, vintage and art.
Etsy - Your place to buy and sell all things handmade, vintage, and supplies. Welcome to Little Green Machines, LLC - Outlet for the Unplugged. Archie McPhee & Co. - Toys, Gifts & Novelties. Think Geek.
---