Weird Shopping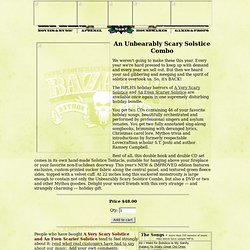 We weren't going to make these this year. Every year we're hard pressed to keep up with demand and every year we sell out. But then we heard your sad gibbering and meeping and the spirit of solstice overtook us. So, it's BACK! The HPLHS holiday horrors of A Very Scary Solstice and An Even Scarier Solstice are available once again in one supremely disturbing holiday bundle. You get two CDs containing 46 of your favorite holiday songs, beautifully orchestrated and performed by professional singers and asylum inmates.
An Unbearably Scary Solstice
James Hance - Relentlessly Cheerful Art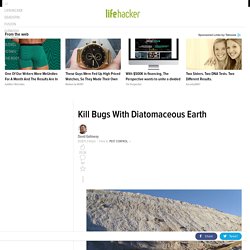 Diatomaceous Earth (DE) is a substance made up of the fossilzed remains of plankton; it looks like an off-white talc powder. It can kill any bug with an exoskeleton easily, but is safe for any mammal to eat. It is a popular way to kill bugs without using insecticide. Permaculture web site Rich Soil explains how DE works: Diatomaceous Earth is almost pure silica (with some beneficial trace minerals); under a microscope, it looks like shards of glass (glass is made from silica).
Kill Bugs With Diatomaceous Earth
Funny T-Shirts at Tshirtbordello.com -
Yes, resellers, not just supplies. Wedding gowns, designer knockoff handbags, I've even seen electronics being sold there now. The people running it don't allow any controversy, either. Reporting resellers or copyright infringing doesn't do anything and if you try calling attention to those shops you can get banned off the forums, at the very least the threads get shut down super fast. It's really sad. by phrensy Sep 28
Be sure to browse around. Etsy is now allowing resellers and not just handmade/vintage. :( by phrensy Jun 19
Welcome to Little Green Machines, LLC - Outlet for the Unplugged