Webcomics and Online Graphic Novels
Day by Day Cartoon by Chris Muir
Webcomics: Alternate Victorian
Webcomics: Adult Theme/Humor
It's the end of this (very long) story arc, so that means it's time for me to take a break from the regular updates in order to prepare for the next (probably also very long) arc. The main comic here on the site will return on March 31st, with a whole new story far away from the desert and Elan's family and all that. Downside: Less dinosaurs. Sorry. As for what I'll be doing for those six weeks, I wish I could say, "tropical vacation," but no such luck. Here are the highlights: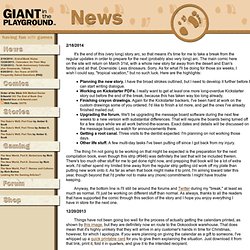 attu is 500 pages long as of today, which might be around halfway through the story but I'm not sure yet: I know all the important things that have yet to happen but I don't know how long they'll take. Thank you everyone for reading, and for bearing with this occasionally idiosyncratic and slow-moving project. The contents of the second book of Vattu, tentatively titled Sword & Sacrament, are heading towards a close now.
Rice Boy
Artiste Gullible - I've been cheating on my AG webcomic. I've got this idea for a new webcomic and it's distracting me. Granted, I often have ideas for webcomics that fall by the wayside. It is self-weeding that way and I am grateful for this.
A Girl and Her Fed
You know how it's really, really rude to talk on the phone with someone while they're on the toilet? Same thing for cyborg brain-talk. That's much more intimate than shouting through a closed door.